Our lives have transitioned online, powering a digital revolution. Connected TV (CTV) and over-the-top (OTT) has overtaken the linear TV experience, moving past video-on-demand (VOD) to everyday programming, movies, live streams, and so much more. An Integral Ad Science (IAS) study found that CTV has become mainstream in key APAC markets; 7 in 10 consumers in Indonesia have access to a CTV device, and a whopping 92% of consumers increased their consumption of streaming content during COVID-19. 
Meanwhile, nearly 9 in 10 people stream content on CTV devices in Australia, and the story is similar in other markets. SpotX research earlier this year found that 68.5% of consumers regularly watch OTT in APAC, predominantly through mobile devices. In more developed markets like Japan, Singapore, and Australia, CTV is also gaining popularity.
Most viewers seek free or low-cost, ad-supported video-on-demand services as they feel the increased strain on their wallets. According to the IAS report, 84% of OTT viewers in Indonesia are willing to see ads in exchange for free streaming content over a paid ad-free service.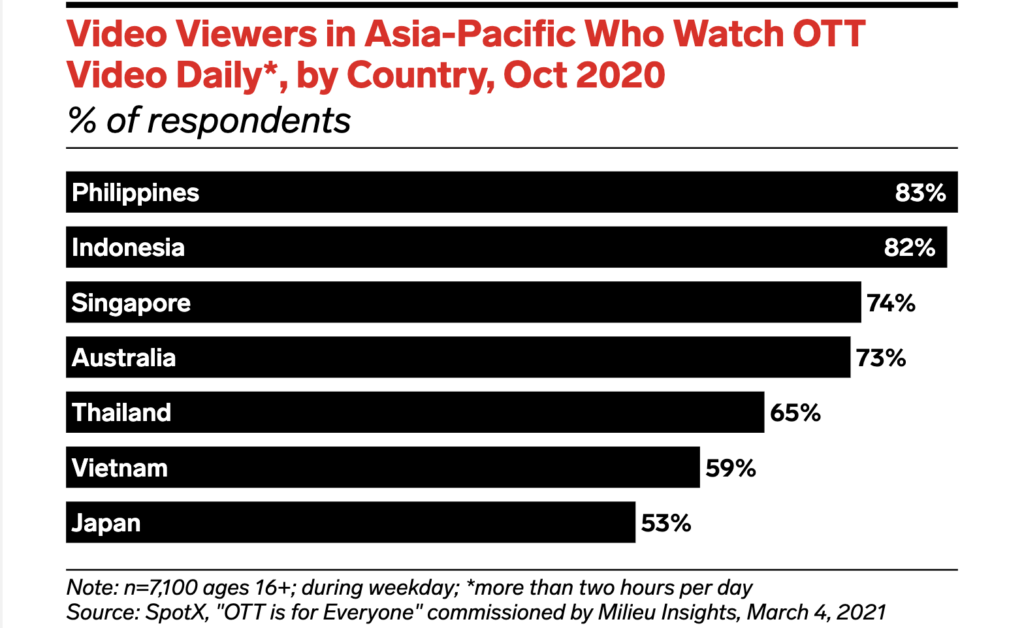 Programmatic opportunity in OTT and CTV
Traditionally, TV and OTT ad buys happened separately; however, advertisers increasingly consider them together, indicating an increasing trend of all TV transactions digitally. The efficiencies of programmatic buying and the opportunities to apply data to reach specific audience segments are huge benefits, accelerating the shift of traditional TV budgets to digital channels, especially when it comes to CTV and OTT inventory.
According to eMarketer, CTV programmatic video ad spend in the US is expected to exceed $6.73b in 2021 — accounting for 58.9% of US CTV video ad spend. The majority will be a private marketplace (PMP) and programmatic guaranteed deals, with rates often negotiated upfront. In APAC, many publishers predict more robust growth in CTV spending than their US peers, with a 34% rise in ad spend over the next 12 months compared with 20% for the US. The industry is working on advances in technology to allow a greater degree of addressability in CTV and more sophisticated decisioning for programmatic guaranteed buys across all video channels.
As programmatic OTT opportunities grow, streaming content creators and services will look to optimise yield while preserving a TV-like viewer experience. Programmatic technology is evolving to meet these complex needs of advertisers and publishers, and OTT header bidding has emerged as a powerful solution.
Safeguarding CTV inventory
Video content presents an immense opportunity for publishers and advertisers to maximise reach and revenue. However, with the proliferation of SSPs in the market, publishers can find it challenging to manage multiple integrations and optimise yield. 
The demand for CTV advertising is growing exponentially, fueled by increased targeting options, measurement, and transparency as part of programmatic buying. This will continue to open doors for advertisers to reach expansive audiences more efficiently and engagingly. Yet, CTV measurement is still evolving. Partnering with a trusted digital media quality provider can greatly help brands and publishers navigate this changing landscape. This will enhance advertisers' confidence in OTT and CTV advertising while increasing opportunities for publishers.
Measurement will fuel the future of CTV advertising
During the pandemic, Connected TV (CTV) became the go-to video source for millions of homebound viewers. eMarketer estimates that advertisers will invest over USD$14.4b (£10.8bn) into CTV this year, growing to surpass USD$24.7bn (£18.5bn) by 2024. According to IAS' Streaming Wars CTV study, CTV has become mainstream in Indonesia and Australia, with the majority of consumers having access to it and a whopping majority of respondents preferring the AVOD model and willing to see ads in exchange for free streaming video. CTV also remained the most viewable format overall, reaching 93.2% in H1 2021 according to our media quality report.
CTV, while still nascent in the region, offers a great advantage for marketers, combining the scale and attention achieved via traditional TV with the precision of digital. Across APAC, CTV viewers are watching for longer periods of time and choosing longer videos. Viewers are also watching a variety of content – from sports and travel to cooking and more.
We expect CTV consumption to grow in 2022 with the discoverability of content on CTV becoming a key focus. AVOD models have increased as video consumption increases, underpinned by the rapid growth of CTV the control and scale provided by programmatic will become even more essential. With the programmatic technology evolving, programmatic will not only facilitate investment into quality impressions but also drive value beyond verification with privacy-compliant, contextual avoidance, and targeting combined with enriched channel-level insights.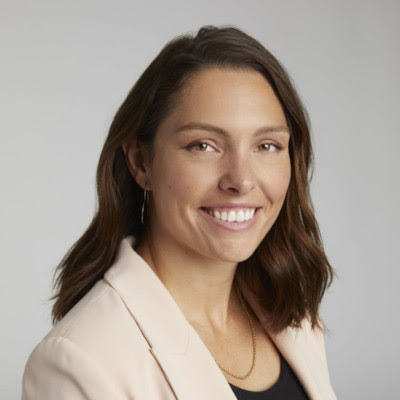 This article was written by Laura Quigley, SVP for APAC at IAS.
The article is published as part of MARKETECH APAC's thought leadership series What's NEXT. This features marketing leaders sharing their marketing insights and predictions for the upcoming year. The series aims to equip marketers with actionable insights to future-ready their marketing strategies.
If you are a marketing leader and have insights that you'd like to share with regards to the upcoming trends and practices in marketing, please reach out to [email protected] for an opportunity to have your thought-leadership published on the platform.