Kuala Lumpur, Malaysia – Creative agency FOREFRONT ushers in the Year of the Ox with a cheerful and colorful music video, with a track composed and produced by singer and songwriter, Ang Chee Ciang.
The campaign, dubbed 'A Return to Abundance', is a collaboration with its new sister tech venture FOUN. FOREFRONT said the campaign aims to represent new beginnings, good fortune, and positivity in this new year.
The film features the agency's team members which were filmed in the comfort of their homes and were creatively stitched by its video production team. The deliberate use of the character '锋' in the video, is derived from FOREFRONT's Chinese name '先锋'.
"It's truly heartwarming to witness how our team members come together virtually for this campaign despite the lockdown restrictions. It's important that we make the best of what we have in these difficult times. The road ahead may look rough now, but we are definitely on the road to recovery," commented FOREFRONT Group Founder Darien Mah.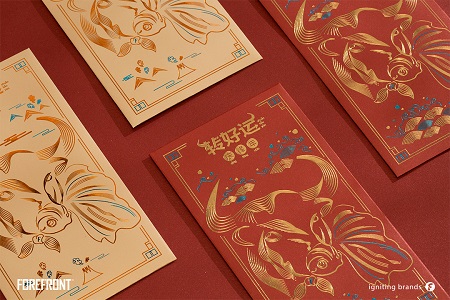 Following its annual tradition, the agency will be implementing a social media giveaway for its highly-anticipated angpow packets. The angpows' intricate design this year features a gold outline of an ox with horns pointed upwards which the company said alludes to an uplifting change in fortune. The design also features an optical illusion depicting a fish which symbolizes abundance. 
In addition, the campaign has launched a microsite to host a series of interactive content and for the official giveaway details of the limited edition angpows.