Philippines – Dingdong Dantes, a top local actor in the Philippines with a long-time leading man status in the local entertainment industry, has officially launched Monday, 19 April, Dingdong, his new tech startup, which offers commerce solutions for SMEs. Without the frills, the actor goes for his namesake for the business' official name.
Dingdong offers three solutions, namely, Dingdong Delivery, Dingdong E-commerce, and Dingdong Marketplace.
Dantes, whose real name is Jose Sixto Raphael Dantes, rose into popularity by the terse screen name which is often anchored to the perennial humor of its reference to 'doorbell'. And without any surprise, Dantes, who joins the band of celebrities opening up their own business ventures, uses the jovial connotation to his advantage, adopting the tagline – "You Ring it, We Bring it" for its delivery services.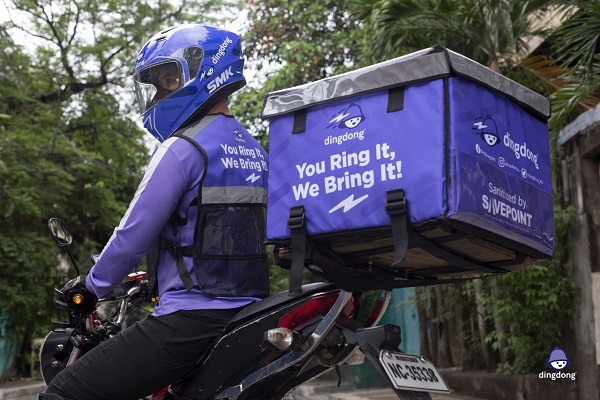 Its delivery service was first piloted to the market in August 2020 as a response to the blow of the pandemic on businesses' economy and peoples' livelihood. Meanwhile, its e-commerce API for SMEs is currently underway, while its online marketplace serves as the platform that merges both its delivery and e-commerce, offering consumers a place to make their food delivery orders.
The realization of the tech solutions firm, Dantes credits, to a time in 2019 when his wife, equally prime actress in the country Marian Rivera-Dantes, had to accomplish a delivery for her flower arrangement business in which the male Dantes had to step in, and thereafter, sparking the idea to bring a delivery service himself to fruition.
In partnership with software enterprise solutions company and PLDT-backed, Multisys Technologies Corporation, Dingdong's delivery service helps businesses and organizations to fulfill their last-mile delivery requirements. Meanwhile, Dingdong E-Commerce enables all entrepreneurs to promote and sell products in an online marketplace with user-friendly tools that automate the management of products, inventory, and orders. Its e-commerce solution also allows companies and businesses to aggregate with other merchants in a unified digital marketplace. Committed to becoming the leading and most trusted e-commerce platform, Dingdong E-Commerce also provides auxiliary training in general business topics like branding, accounting, taxes, and product-specific topics.
Dantes said that he recognizes first and foremost that his business venture is show business and that his strength lies in telling stories and realities through his craft. This time, he wants to be able to redirect the power of stories to uplift Dingdong's stakeholders – its merchants, riders, and consumers, with whom they intend to grow with and improve the lives of.
"At the core of dingdong and its solutions is excellent service that we give to all our stakeholders. We believe that excellent service is the key to all our business relationships and to all the doors of innovative solutions backed by technology," said Dantes in the virtual press conference.
Dantes added, "Dingdong as a brand, and as a service is definitely here to build lasting relationships [with] our fellow entrepreneurs, partner riders, and discerning consumers by enabling and empowering them. We understand that it is only through the empowerment of our community members that we will be able to co-create what we call the people-centric solutions that will allow all of us to thrive and progress sustainably amid adversity."
Currently, the Dingdong marketplace is only available through a web app. Consumers can make their on-demand and pre-booked food deliveries through marketplace.dingdong.ph. Meanwhile, businesses can learn more of its solutions through dingdong.ph.