Kuala Lumpur, Malaysia – Now that vaccination efforts are fast developing in the region, AirAsia has readied itself to welcome travelers with open arms when travel restrictions further ease with the launch of ASEAN Unlimited, a new product that would offer unlimited travel as well as free e-commerce delivery on its Asean super app for Malaysia-based AirAsia BIG members.
The users can enjoy unlimited flights to destinations within Malaysia, which include Alor Setar, Langkawi, Penang, Ipoh, Kuala Lumpur, and Johor Bahru. They can also opt to travel around ASEAN countries – Indonesia, Singapore, Thailand, and the Philippines.
By purchasing ASEAN Unlimited, consumers can also enjoy unlimited free delivery for every order made on AirAsia Shop, Fresh, and Food, which is available until 26 March 2022 for deliveries in the Klang Valley with more locations in the future.
The pass is priced at RM599 and is available to purchase on airasia.com/deals or the airasia ASEAN super app from 3 March (1000hrs MYT) to 7 March 2021 (2359h MYT). BigPay users will enjoy RM50 off their purchase when they pay with BigPay until 5 March 2021.
AirAsia has also extended the travel period of its previous AirAsia Unlimited Pass Cuti-Cuti Malaysia from 31 March to 30 June 2021. Launched in June 2020, the AirAsia Unlimited Pass Cuti-Cuti Malaysia, which costs RM399, allows pass holders to redeem unlimited flights (flight code AK) within Malaysia.
Furthermore, the AirAsia X Unlimited Pass and AirAsia Unlimited Pass Cuti-Cuti Malaysia pass holders are also entitled to Unlimited Free Delivery on airasia shop, food, and fresh until 30 June 2021.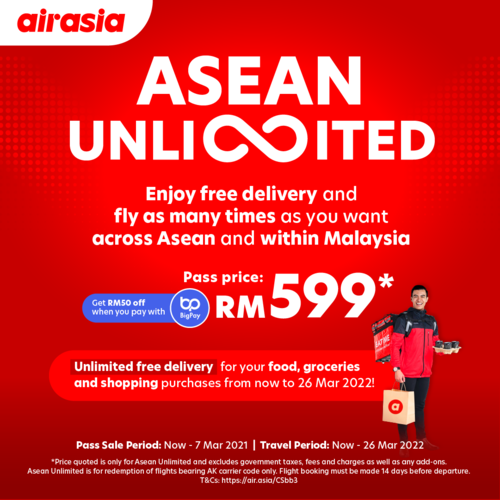 CEO of AirAsia Group Tony Fernandes commented that they have always been a disruptor and this time they are taking another unprecedented step to launch ASEAN Unlimited, as Airasia has expanded into a super app, offering much more than just travel products, e-commerce, and fintech products. AirAsia has received many positive responses and support on their new offerings, and they want to continue providing value to the customers.
"With positive developments on COVID-19 vaccination across the region, we are revving up our engines to ensure a smooth take-off when travel returns. As part of our preparations to welcome the recovery of air travel in the region and to further stimulate the local economy, we hope that this product can also catalyze as the ASEAN tourism industry gears itself for a post-Covid revival," said Fernandes.
Meanwhile, the CEO of airasia.com Karen Chan said that they are thrilled by the highly positive response when Airasia Unlimited's buy-now-travel-later pass was introduced in 2020.
"This time, we are offering even greater value to our customers by allowing ASEAN Unlimited pass-holders to redeem unlimited flights both domestically within Malaysia and internationally across ASEAN (when borders reopen on flight code AK) for future travel from 17 March 2021 up to 26 March 2022, subject to availability of flights. Aside from flights, pass-holders will also have unlimited access to free delivery services across the airasia shop, airasia food, and airasia fresh. Delivery is currently available within the Klang Valley with upcoming expansion into more cities across Malaysia," added Chan.