Korean pop music or most commonly known as 'K-pop' has now become a global force to be reckoned with, despite its relative local roots in South Korea. Part of the rising popularity of K-pop nowadays can be attributed to frequent use of social media. Data from Twitter shows that K-pop stars averaged 1.2 tweets per day by second-generation stars, 3.5 tweets per day by third-generation stars, and seven tweets per day by fourth-generation stars. The latter also tweeted 5.8 times more than second-generation stars, and two times more than third-generation stars.
With the combination of global popularity of these groups and the evident presence across social media channels, it is no wonder that a lot of brands, both locally and globally, have tapped into the growing popularity of K-pop groups to be their respective brand ambassadors.
There have been countless examples across the globe of the rising number of K-pop brand ambassadors, ranging from automotive brand Hyundai, insurance brand Prudential, to local brands such as Philippine telcos Globe and Smart, and more recently, global fast-food chain McDonald's.
Looking at these brand ambassador examples, most of them have unified reasons as to why they chose to tap into K-pop groups: bringing favorite groups closer to the brands' consumer base, while integrating the K-Pop group's trademark into the brand's objective into being customer-centric.
And while this seems like a positive message for brands to delve into, some customers feel like brands should instead focus on improving their services rather than tapping into K-pop brand ambassadors. For instance, insights provided by media intelligence and insights company Isentia unveiled that Filipino customers shared their concern about Philippine telcos tapping into K-pop ambassadors.
With these seemingly divided thoughts from brands and consumers, it begs the question: are K-pop brand ambassadors the new way for brand representation, or is it merely a ploy of some to garner traction and relevancy?
For our first-ever deep dive under The Inner State, MARKETECH APAC's feature series, we spoke with four public relations industry leaders: Li Ting Ng, director of innovation and client experience at DEVRIES Global in Singapore; Sailesh Wadhwa, chief strategist at Edelman Malaysia; Andrew Sha, managing director at RedTorch Communications in the Philippines; and Elya Eusoff, general manager at Ruder Finn Asia Malaysia, to once and for all, get their take on the tipping point for brands realizing the impact of K-pop brand ambassadors, and how integrating them can affect the overall health of their brand; their brand value and reputation.
K-pop brand ambassadors: why them instead of local ones?
According to Li Ting Ng of DEVRIES Global, part of the growing trend of K-pop brand ambassadors can be attributed to the fact that prior to its global expansion, K-pop stars have long been tapped by Korean brands themselves to be their front for both their local and global campaigns. However, with the spread of the so-called 'Hallyu' or 'Korean wave', there had been a steadfast rise of non-Korean brands finally hopping into the K-pop brand ambassador scene.
And with the now evident mainstream success of K-pop globally, Ng also noted that non-Korean brands tapping into the bandwagon can be highly likened to the phenomenon of roping in Western figures, like a Hollywood A-lister actor or actress who have been signed as a brand ambassador.
Such global recognition of these brand ambassadors, Ng notes, can now help brands be able to streamline their brand campaigns to a much wider and global scale.
"In addition, as the world is increasingly connected across geographies, consumers do not distinguish between what the brand does in different markets. Therefore, everything consumers come across from a brand – whether online or offline – contributes to their overall brand perception," she stated.
This is also agreed upon by Elya Eusoff from Ruder Finn Asia Malaysia, which, according to him, further stamps the brand's quality of their products or services, and therefore linking the brand to be labeled as 'international' and 'of quality'.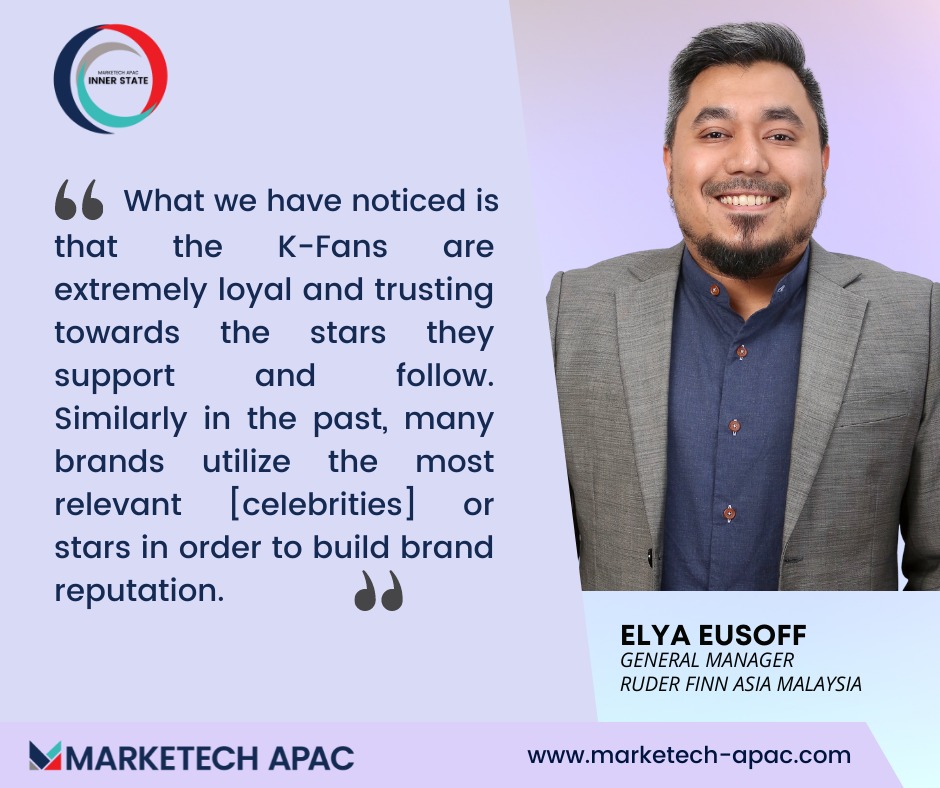 In an example given by Eusoff, he compares K-pop brand ambassadors to the fact that Malaysian brands have also tapped international celebrities in order to add recognition and relevance to their brand. For instance, athlete Usain Bolt was used to signify connection speed with Malaysian telco Celcom, while football player Roberto Carlos was showcased by AirAsia to signify 'the possibilities of daring to dream, among many other similar partnerships.
But perhaps, the most notable reason for the rise of these K-pop brands: the growing demographic of K-pop fans, which are well known to start large-scale fandoms. Ng notes that K-pop fandom is one unique asset within the K-pop scene, which in turn is a great opportunity for brands to tap into to grow their consumer base.
Sailesh Wadhwa of Edelman Malaysia also agreed to the aforementioned statement, noting that the heightened interest in K-pop groups can be hugely chalked up to the fact that the genre being a source of positivity for millions of fans worldwide, which pushes brands to think of innovative ways to incorporate the same cheer and positivity through their desired collaborations.
Meanwhile, Andrew Sha of RedTorch Communications also affirms the belief in seeing K-pop fans being the strength for brands tapping into K-pop stars, stating that long before 'Hallyu' became globally known, K-pop has been a dominant genre of interest across Southeast Asian nations, including Malaysia, the Philippines, Indonesia, Thailand, and Vietnam. He also noted that with K-pop fans providing a large purchasing power in support of their idols, it is no wonder that brands can also leverage this to generate engagement and sales.
Will riding the K-pop brand ambassador wave work always?
For Sha, brands hopping into the K-pop wave "will work," as long as it is done right. Sha uses the example of photo cards, a well-known merchandise among K-pop fans, and he notes that buyers from both the brand's home country and overseas will try to get hold of the product as long as it is relatable and appealing to them because they want to support their idol.
However, there are mixed thoughts about the effectiveness of K-pop brand ambassadors, as Eusoff states that while a K-pop affiliation may bring value to the brand, they would still need to adhere to their core values from a corporate aspect, and not just merely 'riding' the trend, which in turn can bring a negative impact to their existing customers.
Wadhwa also agrees with this reasoning, stating that while having K-pop brand ambassadors can have brands offer its customers a piece of the pop group's existing story and persona, there is still a critical point brands should take into consideration, or else it only ends up as an 'opportunistic tactic' by the brand, which does not add up genuinely to the brand's value.
Furthermore, Ng supports this reasoning by noting that brands should also take into consideration the proper affinity of the brand and the group they are pitching to be their front. She also added that just because K-pop has an international following or any related group, for that matter, doesn't mean brands should immediately jump into this endeavor. Rather, they should ask themselves the purpose of the brand ambassador's appointment, whether it is for the longer run or merely just to get a boost of attention and sales.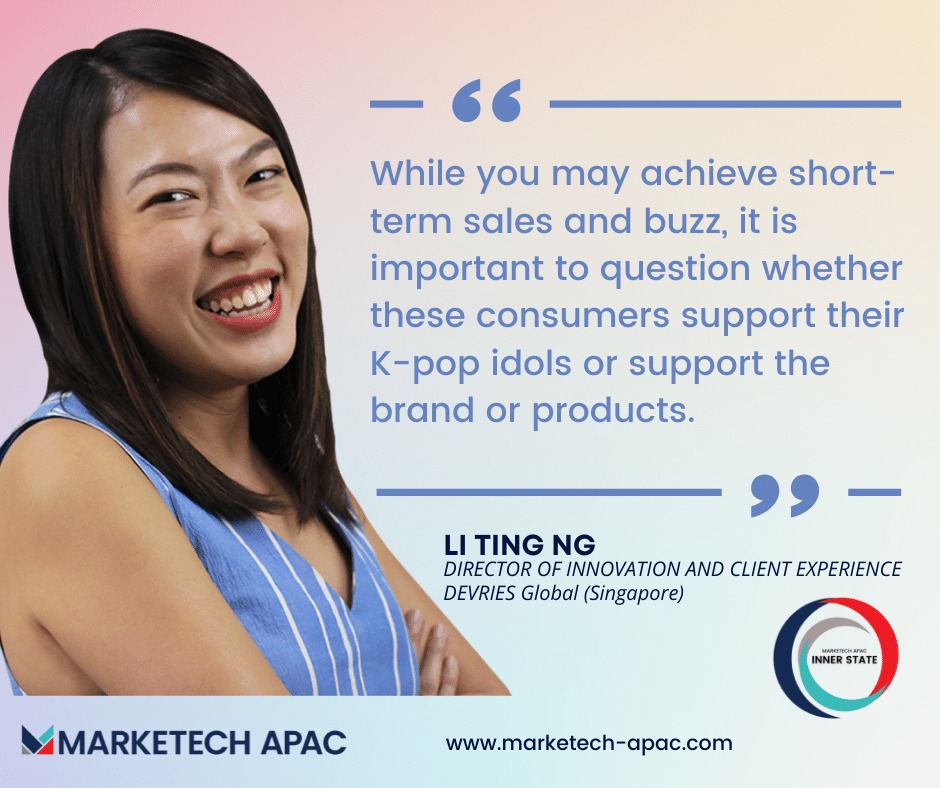 "We have seen many instances of K-pop collaborations resulting in products selling out almost instantly for the latter. However, while you may achieve short-term sales and buzz, it is important to question whether these consumers support their K-pop idols or support the brand or products," Ng stated.
Tipping the pros and cons of K-pop brand ambassadors
Content, gamification, and activation or pure engagement: this sums up what unique experiences brands should apply as with any brand ambassador, according to Wadhwa.
"We'd like to view them as creative collaborations. And the best natural fit aside from values, personality and talent attraction fit, is their willingness to curate unique experiences for your brand. Given their currency with the audiences we intend to connect with, the brand story needs to have a natural fit, else we run the risk of being left out from the romance," he stated.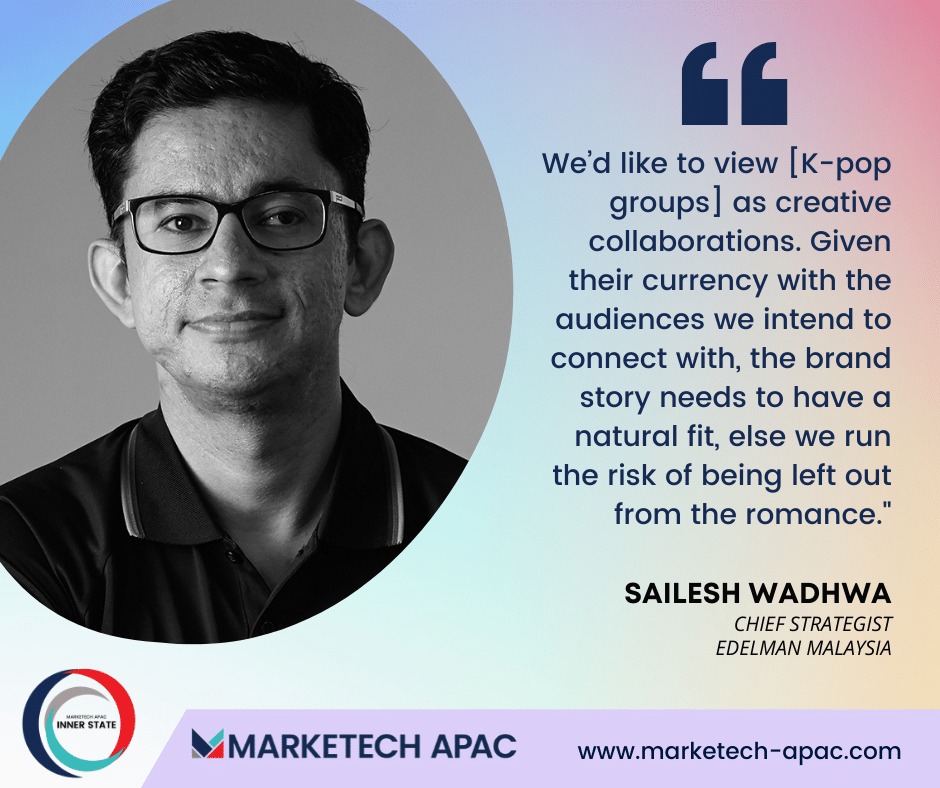 Meanwhile, Eusoff notes that the factors of global link and reach to a much wider audience, as well as the possibility of faster and higher impact results are some of the advantages of tapping K-pop brand ambassadors. This was agreed upon by Sha, who added that factors such as increase in return of investment (ROI) and the brand being the front and center of buzz online or offline gives the brand an advantage to win some brand love.
On the other hand, almost all of the public relation leaders agreed that extremely expensive fee and strict rules in engagement are the main factors that pose a low point for a brand seeking a K-pop brand ambassador, with Sha adding that one wrong move from the brand would result in immediate backlash from the fans, and Ng adding that the K-pop brand ambassador could potentially outshine the brand and its product or service being offered.
Pointers to ponder for brands venturing into the K-pop brand ambassador space
Both Sha and Eusoff agree that in order to truly work out a K-pop star-brand partnership, there should be questions considered regarding the relevance of the group to the consumers, as well as on the match of the K-pop star's story and persona against what the brand truly embodies.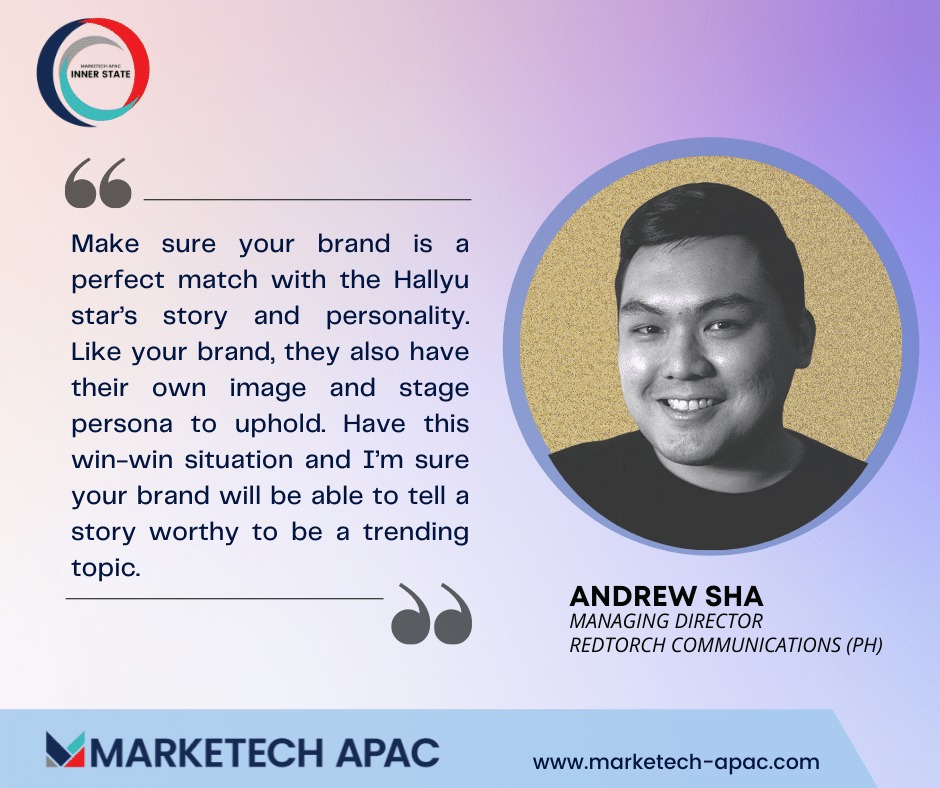 Wadhwa agrees with this as well, stating that in addition to the science and rigor of choosing an ambassador is ticking the boxes on ROI metrics where the real question to ask is – what would the brand's role going to be when these stars are romancing their audiences.
Meanwhile, Ng's stance is for brands to take a precautionary route, noting that with issues emerging from the industry such as perpetuating toxic beauty standards, bullying, and its notorious training boot camps and contracts, brands should ask themselves how they should align themselves with the groups or idols they desire to work with.
"If you've decided that engaging a K-pop ambassador would benefit your brand, it's key to recognize that K-pop talents and groups are brands of their own. Choosing the biggest and most popular talent or group may not necessarily add value to your brand, especially if it becomes all about your K-pop ambassador rather than your brand," she concluded.