Kuala Lumpur, Malaysia – Utility giant in Malaysia, Tenaga Nasional Berhad (TNB), has recently launched its Chinese New Year film centered around the folklore behind the festivities of the occasion. 
The film features the fictional recount of scared villagers who are protecting themselves against Nian, a mythical beast terrorizing the village. After seeking help from an old master they chased Nian away from the village, thanks to displays of red colors, loud sounds, and bright lights.
The film shows the importance of unity in the mid of hardships. In it, villagers realized that as a community, they ultimately hold the power to defeat Nian with a joyful spirit and positive energy. The film brings the message that finding joy is the key to unlocking prosperity and moving forward.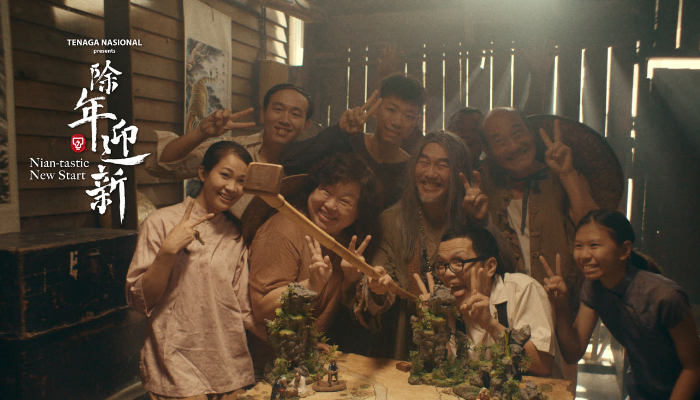 "Many are looking to make a new start in 2021, especially on the back of the multitude of challenges brought about by the COVID-19 pandemic. Offering an age-old wisdom and timeless folklore, this short film weaves the legend of Nian with a slight twist, and we hope it inspires people to embrace the new year with the spirit of joy and unity that underlies Chinese New Year traditions," said Mohamad Ariff Zainol, TNB's chief corporate services officer.
The film was created in collaboration with marketing consultancy Entropia, and directed by award-winning director Quek Shio Chuan.
For April Toh, principal at Entropia, the film speaks to a greater need to join forces and rise in the mid of adversity, as Chinese New Year itself symbolizes new hope and prosperity.
"There's no better time to re-tell the tale of Nian, as it metaphorically explains the situation we are currently in. We're facing a common enemy that requires us to join forces to rise above adversity. And that's precisely what this TNB film wanted to remind us of: together we can conquer anything," Toh commented.
Meanwhile, Zaheer Kaisar, creative director at Entropia, commented that the film itself is heavily inspired by old Chinese comedy action films, and with a twist of modern-day elements.
"Legend has it, an old wise man got the villagers together to defeat the monster Nian by beating drums and gongs, and lighting fireworks with bright red decorations and clothes. When we dug deeper, we realized it was not so much the actions that chased the Nian away, but it was all about joy and good energy. We retold this story in the most entertaining, action-packed, and cinematic way," Kaisar stated.
Currently, the film has garnered more than 4 million views on YouTube, and has been shared across TNB's socials. Viewers can also interact with an alternative personality from the film, the master, on his Instagram account.