Five steps to gain a competitive edge in the race for student mindshare
As enrollment across higher education institutions continues to slow, many colleges and universities are painfully aware of the budget and funding cuts that can quickly follow. In an effort to stave off these downsizing exercises, the competition for new students has become fierce.
For the admissions and marketing departments tasked with driving enrollment and retention, the stakes have never been higher. And with the student and campus experience increasingly taking place online, schools understand the growing importance of the digital experience they deliver to both prospective and current students.
According to a study by higher ed enrollment and fundraising solutions, Ruffalo Noel Levitz (RNL), a college's website ranks as the no.1 informational resource students use in their college search, while the same data showed that 76% of students will fill out a submission form on the school's website to get more information.
Most marketing and admissions teams know they need to focus on enhancing their digital student experience; yet the biggest question is, "Where do we start?" With the sheer size and complexity of the typical college or university website and digital presence—not to mention the siloed nature of those contributing content—it can be daunting to figure out how to build a focused, high-impact digital strategy to drive enrollment and retention.
This 5-step guide explores how higher ed marketing and admissions teams can apply forward-thinking digital strategies to help siloed departments work in unison—and gain the buy-in they need from leadership—to drive enrollment and retention and support the success of their institutions.
1. Establish a benchmark for your digital marketing efforts
An effective digital strategy starts with taking inventory of your school's current digital performance. After all, with budgets under pressure, marketing and admissions face increased scrutiny around the cost of digital tools and campaigns. Demonstrating need and proving results requires you to identify which metrics are the most important to drive buy-in from leadership.
Start by thinking about your digital marketing efforts and how they relate to the high-level ROI factors that leadership will use to assess them. These factors typically include:
•Volume
•Quality
•Value
•Cost
From there, it becomes much easier to evaluate each of these factors across your institution's digital presence—from webpages to SEO, paid campaigns, form submissions, and more.
Take note of poor performers
During this initial digital audit, make a list of the weakest links in your digital strategy. Is your content meeting student needs? Is your SEO strategy driving new prospective students to your website?
As you move into step two and begin to draft your digital strategy, these 'poor performers' can serve as a quick way to start delivering incremental progress through:
• Quick-win opportunities: Showing you where you can make small changes to drive fast, easy improvements to your digital student journey.
• High-impact opportunities: Identifying the areas to apply limited resources in order to make the biggest impacts on key outcomes like site traffic, conversion applications, virtual tours, and more.
2. Align your digital strategy with your institution's strategic goals
In addition to the inherent challenges associated with the numerous semi-independent schools, departments, and divisions, each silo in your institution's ecosystem has slightly different objectives regarding its digital assets.
For example, some departments may have an internal application process to weed out students and keep class sizes down. These departments may need focused web content that delineates the application process, prerequisites, and other important preparation resources. Other departments, however, may suffer from a lack of awareness and need a stronger search and SEO presence to drum up student interest.
Despite these different sub-goals, every department's objectives should still ladder up to your institution's overarching strategic vision. Think of the way these two sets of objectives align as a sort of educational hub-and-spoke model. The departments represent the spokes, addressing their specific needs—but each one also connects to the university's central strategy, keeping the wheel turning and your institution driving forward towards enrollment growth.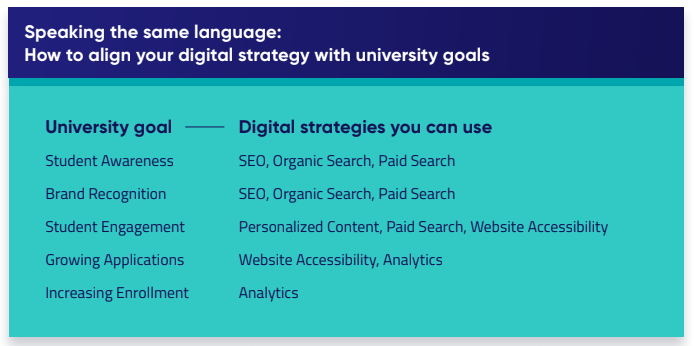 Start small—then scale up
After your initial website audit, you may find that there is a lot of work to be done. However, trying to tackle everything at once—across dozens and dozens of departments and divisions—is a surefire path to failure. Start with one gap, for example, that may be in terms of accessibility, SEO, and content, and then focus on that. As you demonstrate incremental ROI, you can build new initiatives into your digital strategy over time.
3. Create an inclusive digital student environment to match your inclusive campus
As digital solutions continue to replace many traditionally in-person student experiences, higher ed's commitment to accessibility changes. Schools need to ensure their digital assets are truly accessible for all students and provide powerful opportunities to increase enrollment, engage students and support them on their path to graduation.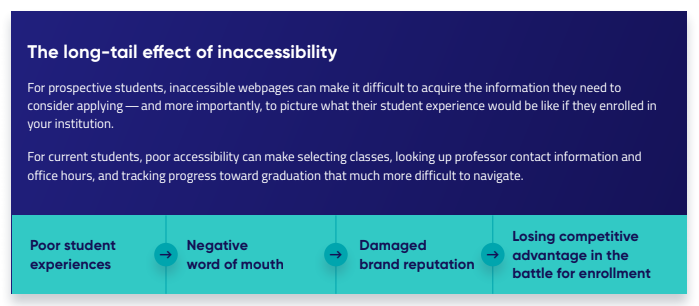 Without seamless accessibility to mission-critical webpages, initiatives in SEO and search won't have the desired effect—making accessibility the perfect place to start your digital evolution.
Identifying accessibility issues
Bounce and abandon rates often serve as the 'red flag' that a specific webpage may not be meeting student UX expectations. But they also lead to as many questions as answers. So how do you turn these inaccessibility symptoms into a true diagnosis that includes actionable steps to cure UX issues?
To identify the underlying cause of accessibility and UX issues you may need to invest in tools that provide a deeper look at how users are interacting with a page. Behavioral analytics features like heat and scroll maps can empower marketing and admissions teams as they review user sessions and identify specific causes of user friction.
Armed with these insights, it becomes much easier to make the subtle adjustments that will enable more users to have meaningful interactions with your website—bringing them one step closer to enrolling in your institution, choosing a class, or declaring a major.
4. Improve SEO and optimize ad dollars with an empowered team
Most marketing and admissions teams know that SEO and paid search are valuable, but very few higher ed institutions have a real search strategy. Most schools fall into one of two buckets:
Set it and forget it
Many schools developed an SEO strategy back when they launched their website—when they had to write all the web copy, page titles and tags, and all the other stuff that feeds Google's algorithms. They may have done a great job, but they're not regularly evaluating and adjusting their search strategy.
Constant adjustment
Other schools regularly evaluate and adjust their search strategy. Sometimes too regularly. SEO is a long-term strategy—a bit like the stock market. You can't judge performance based on a few days, or even a few weeks. Making constant, hasty adjustments is hardly better than having no search strategy at all.
The best approach falls between these two extremes. You want to build a search strategy that ladders up to the brand values and differentiators of your institution. Put tools in place that make it easy to monitor search performance. And if you've built a solid strategy, you'll want to take a long-term perspective on judging and adjusting that strategy.
Identifying SEO champions across the institution
Before you start identifying keywords, make sure you have SEO champions across the schools and departments in your institution. These champions help you drive compliance with SEO strategy, ensuring that every web page is going through the same SEO lens.
Take a student-centric perspective to choose keywords
It's likely that each school and department within your college or university will have its own set of unique keywords and key phrases. To help ensure keyword quality, it's important to make sure they're all starting from the same student-centric perspective:
• What questions are students asking?
• What search terms are students using?
• Where are students searching from?
Get everyone using the same tools
Picking a single, intuitive tool to use across all departments and schools will not only reduce administrative and IT burden, but it will also provide organization-wide visibility, and measurable progress toward your SEO goals.
5. Foster an identity that replicates the campus experience
With higher ed enrollment on the decline, it's no surprise that most of the attention from marketing and admissions teams focuses on attracting and engaging prospective students. But student retention is equally critical to a school's success.
Invest in your 'digital campus'
Colleges and universities invest heavily in their physical campuses. But they should also be continually investing in the 'digital campus' to keep pace with expectations and drive satisfaction among the student body.
Deliver a mobile-optimized experience
Students today expect to pull out their smartphones to get an answer or complete just about any task. Make sure your students are able to access the digital assets—course materials, campus information, and other resources—they want from their mobile device. Moreover, make sure that your digital experience is just as great on a mobile device as it is on a desktop or laptop.
Give students real-time connections
We live in a world defined by instant gratification. Fair or not, students bring the same expectations to the 'digital campus'. When they want help or need an answer, they want to connect with someone right now—and frustration mounts with every passing minute. Integrating chat boxes and other real-time communication tools make it easy, fast, and intuitive for students to connect with professors and admin to get the support they need, right when they need it.
Keep marketing conversational
Today's higher ed students see right through 'marketing speak'. Yet marketing teams must still reach out to engage students with offers—whether it's course enrollment information, campus events, and opportunities, or other services. The key is to make sure your marketing communications use friendly, casual language. Messages should feel like they're coming from a helpful peer—not a lecturing parent, and definitely not a salesperson. Think of your tone and language like the landscaping and other aesthetic features of your physical campus: They have a big impact on the 'feel' and experience of your digital campus.
Figuring out where to start (or where to focus) can be the toughest part of improving your college or university's digital presence. But by following the actionable steps offered in this guide, you can begin building a high-impact, forward-thinking digital strategy that's geared toward the outcomes that matter most: driving enrollment and protecting student retention. Just as importantly, these achievable strategies will help you realize measurable results and build powerful momentum behind your digital initiatives.
This article is by Siteimprove.
---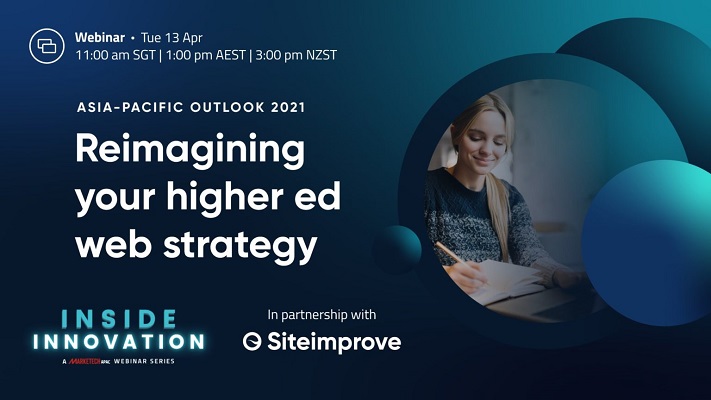 Join us as we bring you an in-depth webinar on how you can improve online strategies, one that's able to deliver a seamless and intelligent digital experience that would effectively accelerate student recruitment efforts as well as improve student retention. Register here.