Sydney, Australia – Norwegian sustainable cruise operator Hurtigruten has tapped the creative talents of Australia-based publishing agency Grin Creative in launching its first-ever 'immersive' digital magazine, initially set to roll out in Australia.
Hurtigruten is known for their cruise routes locally in Norway and through the Arctic region, such as Svalbard, Alaska, Iceland, as well as Antarctica, the Carribean, the British Isles and parts of Europe and North America. Hurtigruten Magazine is its first foray into publishing.
The new 'immersive' digital magazine will make full use of immersive videos and sound, the first issue of the magazine allows readers to tour Norway's coastal kitchen with Danish food and travel blogger Anders Husa, embark on a visual journey to Antarctica with award-winning Australian travel photographer Dan Avila, and follow in the footsteps of Norwegian explorer Fridtjof Nansen.
Hurtigruten's digital magazine will also feature the cruise line's mission for sustainability, showcasing stories about the first all-women team to overwinter in the Arctic, and discover how ice samples in Greenland are helping scientists to predict the future.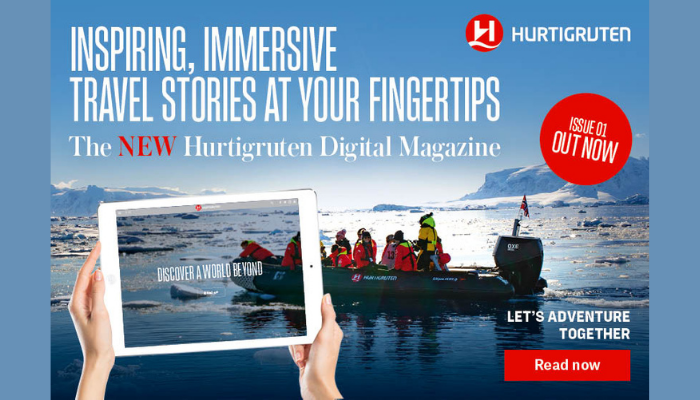 "Much like our hybrid ships, we're embracing new technologies to keep our audiences' travel dreams alive through an interactive and immersive experience that goes beyond brochures," said Damian Perry, managing director of Hurtigruten Asia Pacific.
The digital magazine will be published quarterly and will be optimized for mobile phones, tablets and desktops.The creation of the digital magazine was spearheaded by Joel Victoria, head of marketing for Hurtigruten Asia Pacific, who believes that the magazine will serve as a 'temporary escape' and an inspiration for travel in future, still restricted by the ongoing global pandemic.
"We're finding that cruises exploring remote destinations are performing exceptionally well at the moment for forward bookings; nearly 80% of bookings in the last quarter of 2020 were for Antarctica, fuelled by an 'All-Inclusive' marketing campaign. Svalbard, in the Norwegian Arctic, has also proven popular with Aussies," Victoria stated.
After its initial release in Australia, the printed edition of the magazine will roll out in the UK with translated editions also available in France, Germany and Norway and soon to roll out in Sweden, Switzerland and Denmark.