Manila, Philippines – Alternative payment tools have emerged as mainstream for e-commerce payments in the Philippines and accounted for 30.7% in total e-commerce value in 2021. This was according to the latest data from data and analytics company GlobalData.
According to the data, the share of alternative payments in the total e-commerce payment value in the Philippines stood at 30.7% in 2021, up from 21.0% in 2017. Alternative payments were followed by cash and payment cards, which accounted for 29.8% and 23.5%, respectively.
In addition, the Philippines' e-commerce payment market is crowded with several domestic and international alternative payment solution providers with GCash, Maya , PayPal, and GrabPay leading the space. According to a previous 2021 financial services consumer survey, GCash alone accounted for 18.2% share of the total e-commerce payment value in 2021.
Nikhil Reddy, payments senior analyst at GlobalData, said, "Although 'cash on delivery' continues to remain one of the preferred payment methods for Filipinos, alternative payment solutions have surpassed cash to become the most preferred payment tools for e-commerce purchases over the last few years. This is supported by the rising internet and smartphone penetration, growing consumer preference and rising merchant acceptance."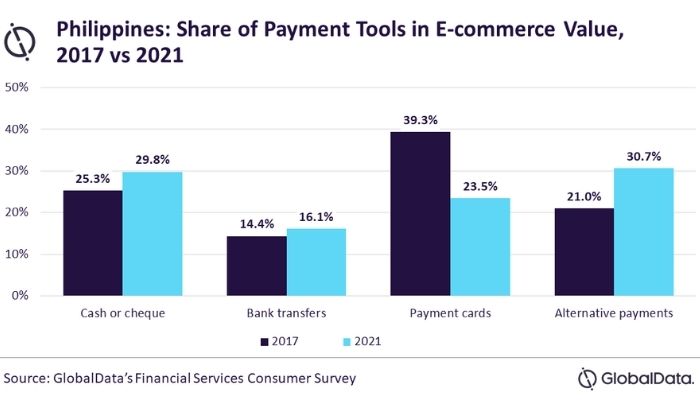 He added, "The COVID-19 pandemic has pushed the adoption of e-commerce payments in the country, as wary consumers increasingly favoured online shopping to avoid getting exposed to disease vectors. This has also benefited alternative payment tools, with consumers citing convenience, speed, and reward benefits as key factors."
The rise of alternative payment methods allows the e-commerce market in the Philippines to grew at a compound annual growth rate (CAGR) of 19.8% between 2017 and 2022, is expected to further grow at a CAGR of 15.8% over 2022-25 to reach PHP495.2b (US$9.7b) in 2025.
"While alternative payment tools lead the Philippines e-commerce payment space, they are also now increasingly being used for in-store payments. With the growing adoption of QR code-based solutions among merchants and government initiatives to push electronic payments, alternative payments are poised to disrupt the country's overall consumer payments space," Reddy concluded.