Manila, Philippines – Video-sharing app TikTok has recently launched a new fact-checking prompt for users' content, and the feature is now available for Filipino users.
The platform announced the new feature in February in an aim to counter inauthentic, misleading, or false content shared by users, which was first rolled out in Canada and the US, and to be integrated into TikTok platforms globally over the coming weeks.
TikTok will now be checking if a certain content shared by a user is factual, and will be delivering necessary prompts and implementing appropriate actions to notify users accordingly.
When a video has been reviewed but that its content cannot be conclusively validated, a prompt in form of a banner will appear in the video. If a viewer attempts to share the flagged video, they will see a prompt reminding them that the video has been flagged as unverified content.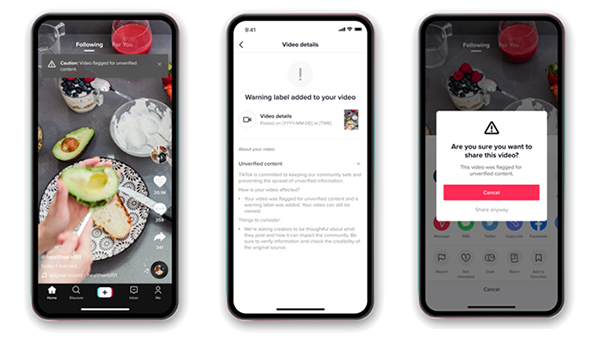 Meanwhile, if it is finalized to be false content, the video will outrightly be removed from the platform. In the event that content is not able to be confirmed by the fact checks, the video will be ineligible for recommendation into the app users' 'For You' feed, helping limit the spread of potentially misleading information.
The platform said that the additional step requires for people to pause and consider their next move before choosing to 'cancel' or 'share anyway,' which is exactly what TikTok aims to do, to help users "be mindful about what they share."
For the new feature, TikTok has partnered with fact-checkers at PolitiFact, Lead Stories, and SciVerify to help assess the accuracy of contents. It also shared that the feature has been initially tested with Irrational Labs, a behavioral science lab.
TikTok has previously launched a series of educational videos called 'Be Informed' which was created in partnership with the National Association of Media Literacy Education. TikTok said the new fact-checking feature is part of its ongoing work to advance media literacy.