After over a year of enduring lockdowns and restrictions, there is no stopping the e-commerce wave. Driven by boredom and necessity, shoppers continue to flock to online shopping platforms in droves as evidenced by record-breaking numbers across the board on e-commerce platforms. According to Facebook and Bain & Company, about 70 million more people have turned into avid online shoppers in Southeast Asia since the start of the pandemic.
This boom in online shopping is a tremendous opportunity for brands to seek and deepen audience engagement through digital channels. With the year-end shopping and holiday season approaching, this is a critical period for brands looking to cap off the year with a bang.
In today's digital age, where audience attention spans are shorter, simply trying to stand out among the competition is no longer enough due to the sheer amount of content dispensed on every page and with every click. Online consumerism is no longer merely about purchasing products, but also the customer journey and experience. One way to embrace this period of disruption and retain consumer attention is through harnessing the capabilities of video and creative for genuine audience-brand connection.
It is also no surprise that video consumption has grown amid the pandemic, especially in mobile-first Southeast Asia and Asia Pacific regions. Results from a 2020 study conducted by Media Partners Asia revealed that mobile video streaming increased by 60% across Indonesia, Malaysia, the Philippines, and Singapore, with social media videos being one of the top channels for the discovery of new products.
The rise of Connected TV
Standing out amid the rise in video consumption, Connected TV (CTV) continues to grow and dominate viewing habits worldwide, with 42% more attention going to CTV since lockdowns began. Compared to the United States, Europe, the Middle East and Africa, CTV ad spend in Asia Pacific is forecasted to have the fastest growth by a Forrester study, contributed by new CTV channels and devices entering the market.
The growth of CTV presents plenty of avenues that advertisers can leverage; its scalable and premium qualities, along with unskippable content, provide prime advertising real estate. As CTV viewership increases, brands should utilize this opportunity to adopt an audience-first strategy through tailor-made, data-driven, and relatable content relevant to their target audiences. As a massive canvas on which multiple formats can be experimented, CTV provides the perfect opportunity for storytelling and engagement within high-quality environments. This could come in the form of branded frames to reinforce product visuals, dynamic overlays to supercharge the viewing experience, and even opportunities for the audience to customize their own products on-screen.
Television and on-demand viewing platforms are often referred to as 'lean-back' media due to the audience experience of being relaxed and served content without being fully engaged. Hence, to capture attention, transfer the experience from TV to mobile device, and encourage further interaction, consider supporting CTV ads with a seamless purchasing experience across multiple screens. A great example would be a click-out feature, where consumers can scan a QR code for products to be instantly added to their shopping carts – seamless, quick, and fuss-free.
Genuine emotional engagement
People forget what you say, but they will not forget how you made them feel. Emotion has always been a powerful tool in engaging and creating valuable connections with consumers. Video is one of the best mediums to evoke emotion and drive emotional engagement, and subtly help audiences respond more strongly and favorably to a brand. This helps to enable brand recall in peak moments and influence post-viewing behaviors, including brand perception and decision making.
Advertisers can better equip their ads for memory by leveraging a mental short-cut known as the peak-end rule – affecting how users remember the past through selected snapshots of memories that shape their perception and feeling about an event. To take advantage of this, place important takeaways at intense positive or negative moments, also known as its 'peaks', as well as the final moments of an experience.
It is also important to select the right mix of emotions to be evoked in ad campaigns, as the right emotional mix can have a huge impact on brand building and sales uplift: the right visuals, copy, sounds, and placements can all stir feeling and impact. Playing around the full spectrum of emotions – from positive to negative – can create that much-needed spark.
When it comes to season shopping, no other holiday evokes stronger emotions than Christmas, and the pandemic seems to have further amplified those feelings. Based on a study by video ad platform Unruly, amid the pandemic, 2020's Christmas ads were found to be 51% more emotive than the global average, and even increased the average purchase consideration score by 41%.
In the Philippines, the same study found that Christmas ads evoked 14% more intense emotions than the average ad, and the top positive emotions associated with Christmas ads were happiness, inspiration, and warmth. Similarly, in Australia, a study of 2020 Christmas ads saw a 36% increase in intense emotions than the average ad. 
Captivating viewers with creative
Apart from cookies and targeting, which are some of the primary drivers of today's campaigns, a Nielsen study found that creative is responsible for 47% of the uptick in sales from advertising.
Ultimately, creative should continue to be aligned with specific media goals, as well as its audiences, screens, and placement types. Capture audiences' attention by telling engaging, relevant stories across all screens.
Brands can also capture viewers' attention with short-form videos, where shorter ads can deliver higher dwell time, completion rate, and brand recall.
Interaction is key
Interactive video ads provide unique and engaging experiences for audiences, allowing them to live through your brand's narrative and driving immediate action. Standalone interactive elements, or a combination of elements, can take the viewing experience to greater heights.
A common example today is the use of QR codes; their popularity has been further driven by the pandemic as viewers may take action almost instantly. Particularly useful in CTV, QR codes are an efficient way of getting viewers to continue the consumer journey on their mobile devices – including downloading an app, adding an item to an online cart, or even redeeming a gift.
Other elements that help push users down the conversion funnel include countdown clocks, which heighten the sense of urgency and excitement for promotions and product releases, and shoppable videos, which provide an instant path to purchase.
As CTV and video continue their rise as one of today's most important marketing channels, it is time for brands to start riding on the wave of video and creative to unlock growth. With the close of 2021, it's now time to harness the host of possibilities that CTV and video bring, to engage with audiences uniquely and personally for the most unforgettable shopping moments.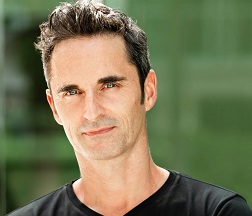 This article is written by Greg Fournier, senior vice president of global strategy at video advertising platform Unruly.