We know that the consumer is ever-changing but the fluidity of their behavior has taken an entirely different meaning this pandemic – with unprecedented changes that unfolded such as the constraint on physical interactions and the economic plunge of markets, this completely overhauled how brands and businesses engaged with their target consumers.
Last September 21, MARKETECH APAC, in partnership with CleverTap, gathered marketing leaders from all over the APAC region representing different industries, for the roundtable "Business Growth Levers from Acquisition to Retention" to discuss how the pandemic has shaken brands' current playbook on consumer acquisition and retention strategies.
Growth and marketing heads from the edtech, grocery, TV, airline, fitness, fintech, fast food, and publication sectors each shared their unique challenges and how their teams adapted to emerging brand new cohorts, shifting priorities among consumers, with new desires and motivations at the front. 
The rise of new consumer segments amid the pandemic
The areas of educational platform, publication, and fitness witnessed the arrival of new consumer personas borne out of the heightened digital lifestyle.
Marisha Lakhiani, CMO of Mindvalley, a learning platform for self-help and entrepreneurship, shared that during the period, the platform suddenly attracted younger users, a group it didn't predominantly draw in before.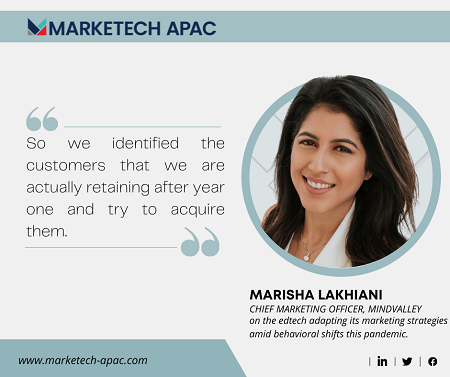 Meanwhile, for global fitness brand Les Mills International, it found that its main fitness consumer now favors a split between in-gym and home digital workouts.
"The consumer's new normal is 60:40 in terms of live and digital fitness; so if they're doing 5 workouts in a week, 3 of them they want to do it in a club, in a live environment, and 2 they want to do as a digital workout," shared Anna Henwood, CMO of Les Mills International.
As for publications, Philippines' Summit Media saw these changes most evidently on how consumers shifted their patterns in finding and consuming content. Specifically for its parenting brand, Smart Parenting, Facebook used to be its biggest acquisition channel, but over the current period, the channel has not been giving the volatility that's expected, according to its Growth Lead Iza Santos-Cuyos.
During the roundtable, David Lim, the vice president for marketing of grocery platform HappyFresh, pointed out that whatever strategies that may have served marketing teams pre-pandemic can now be officially considered bygones.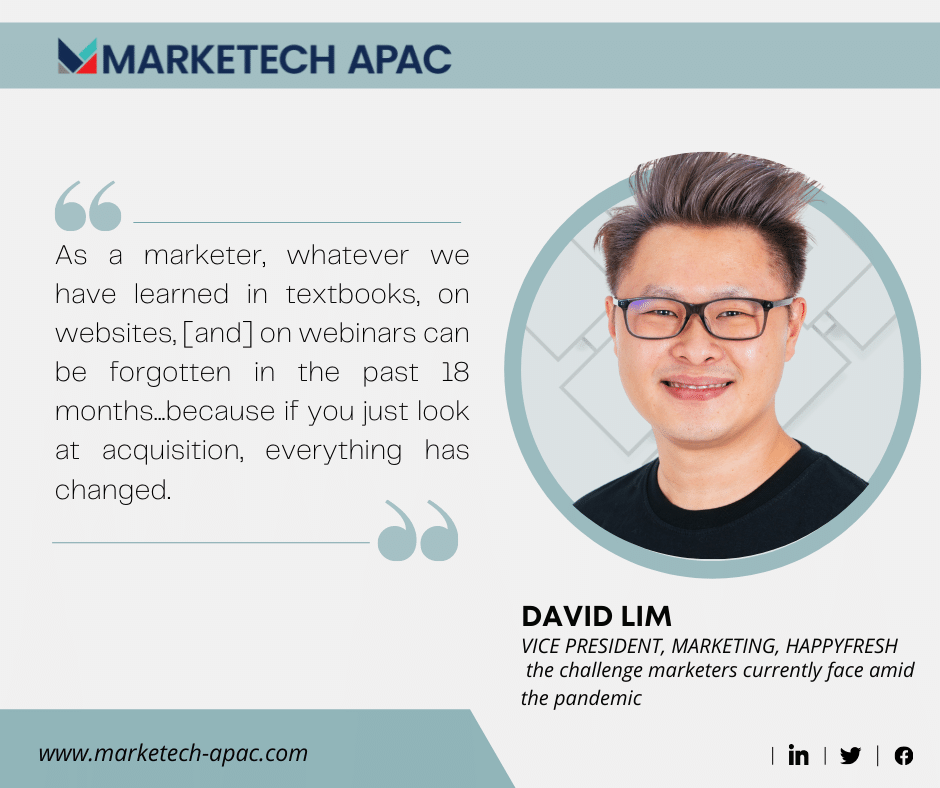 "As a marketer, whatever we have learned in textbooks, on websites, [and] on webinars can be forgotten in the past 18 months…because if you just look at acquisition, everything has changed," said Lim.
Lim adds, "I think when it comes to the topic of acquisition, everything has to be extremely localized. We have to look at each market on its own, we have to look at each cohort on its own, and then link it back to how they retain, how they come back month after month in a very granular [manner], much more granular than before."
For acquiring consumers, improving SEO and search strategies have been the common thread, while forging strategic partnerships showed itself to be the redeeming factor among marketing teams to both acquire and retain consumers in the current market climate. At the roundtable, marketing leaders also emphasized the importance of first-party data.
For Mindvalley and Summit Media, it has been the same go-to response – focusing and investing more in search and SEO.
"We identified the customers that we are actually retaining and try to acquire them, so like micro-acquiring a particular audience," said Mindvalley's Marisha Lakhiani.
Summit Media's Iza Santos-Cuyos shared that as they bolster their search strategies, the publication realized that it is in fact attracting a different set of cohorts on search versus those coming from Facebook, bringing them to conclude that they cannot now discount Facebook altogether while focusing on search.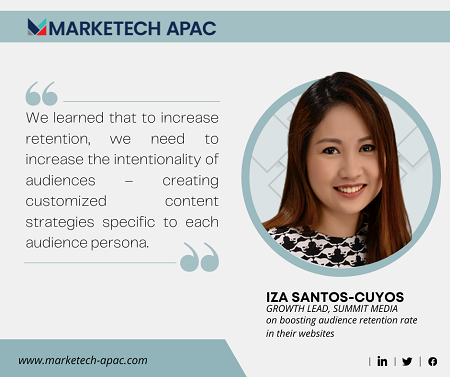 "What we learned from doing that is to devise a separate strategy for audiences acquired on Facebook versus those acquired on search," said Santos-Cuyos.
Brands forming strategic partnerships to cushion drastic market changes
The fast-food industry took one of the biggest hits during the pandemic, with the phased-out in-person interactions blowing the footfall for dine-in.
In the roundtable, KFC Malaysia's CMO May Ling Chan shared that partnering with food delivery platforms acted as a safety net, where within the e-commerce scene, the QSR sector has not been the fastest in adoption.
"I think what happened during the pandemic was [the] growth of food aggregators. For us, I think that's the biggest part of acquisition that we see," said Chan.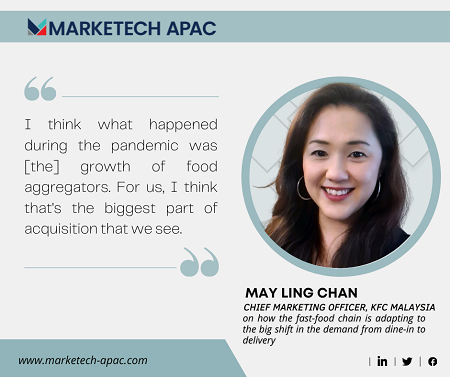 Online food delivery has seen an unprecedented rise in adoption by both brands and consumers. According to a report by Statista, in Asia, revenue in the online food delivery segment has been projected to reach US$223,372m this year.
Singapore's supermarket chain NTUC FairPrice echoes the same gameplan, where its convenience store Cheers inked a tie-up with top delivery platforms GrabFood and foodpanda in order to answer to the surge in need for on-demand and fast delivery of food products.
Vivek Kumar, NTUC FairPrice Group's director for strategic marketing & omnichannel monetization, cited 'Supper moments' which Cheers aimed to create through the partnership, where consumers can not only see product offerings in a snap but to "go ahead" and complete their transaction in real-time.
"Supper moments on food delivery platforms is quite a unique opportunity. [When] restaurants are closed and you [still] want your beer and your nachos and your croissants, and stuff like that, this is the place to go to." Kumar said.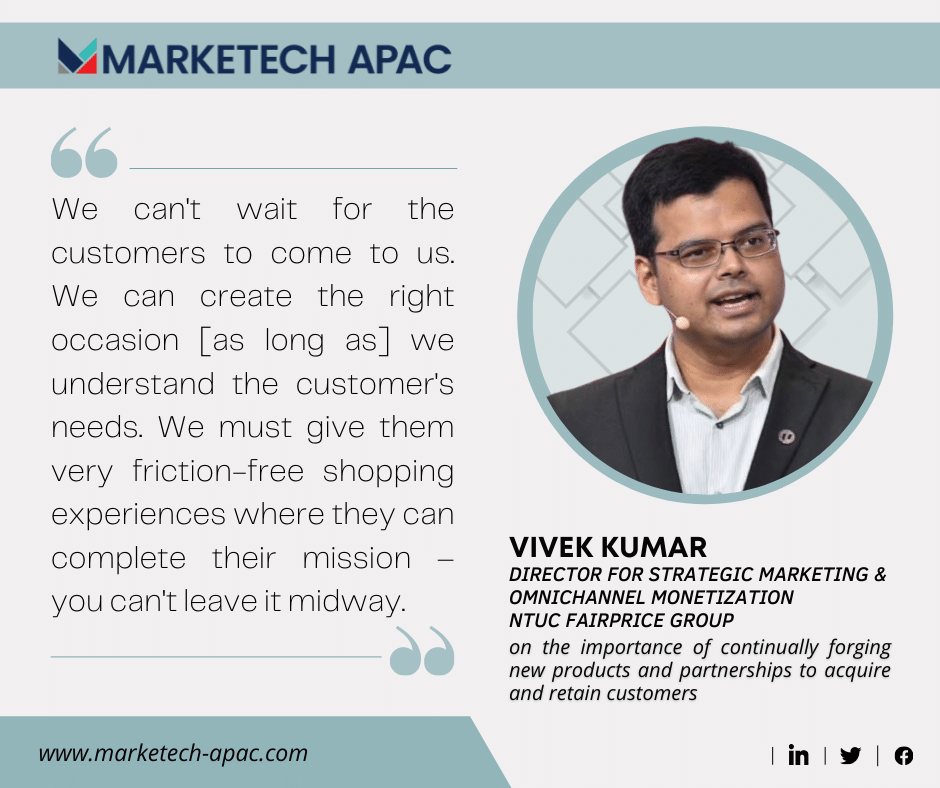 He adds, "We can't wait for the customers to come to us. We can create the right occasion [as long as] we understand the customer's needs. We must give them very friction-free shopping experiences where they can complete their mission – you can't leave it midway."
The fast-changing consumer patterns pressing the importance of first-party data
Global cross-border payments platform OFX was also one of the brands that participated in the roundtable and its Global Head of Digital Acquisition Shad Haehae shared that as the pandemic pushed the stronger need for brands to know their customers a lot more, this made the platform re-evaluate the quality of data it obtains.
"We're a money business, and people send money for particular reasons, so those reasons have changed," said Haehae.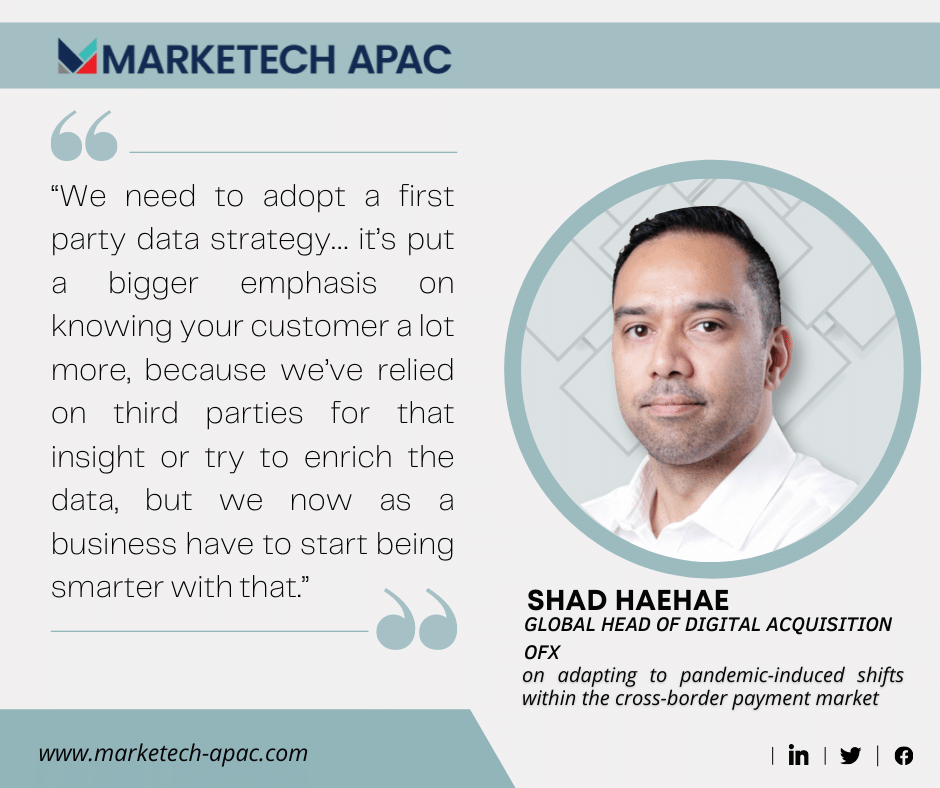 OFX previously relied on third-party data for insights, but Haehae shares that as a business, OFX figured that it needed to be smarter on this front.
"We adopted new partnerships, new types of technologies [not just] from [a] martech [and] adtech perspective, even from a data perspective. We've done a lot of consolidation on platforms and data."
The same is the case for TV and radio operator giant, Astro, in Malaysia.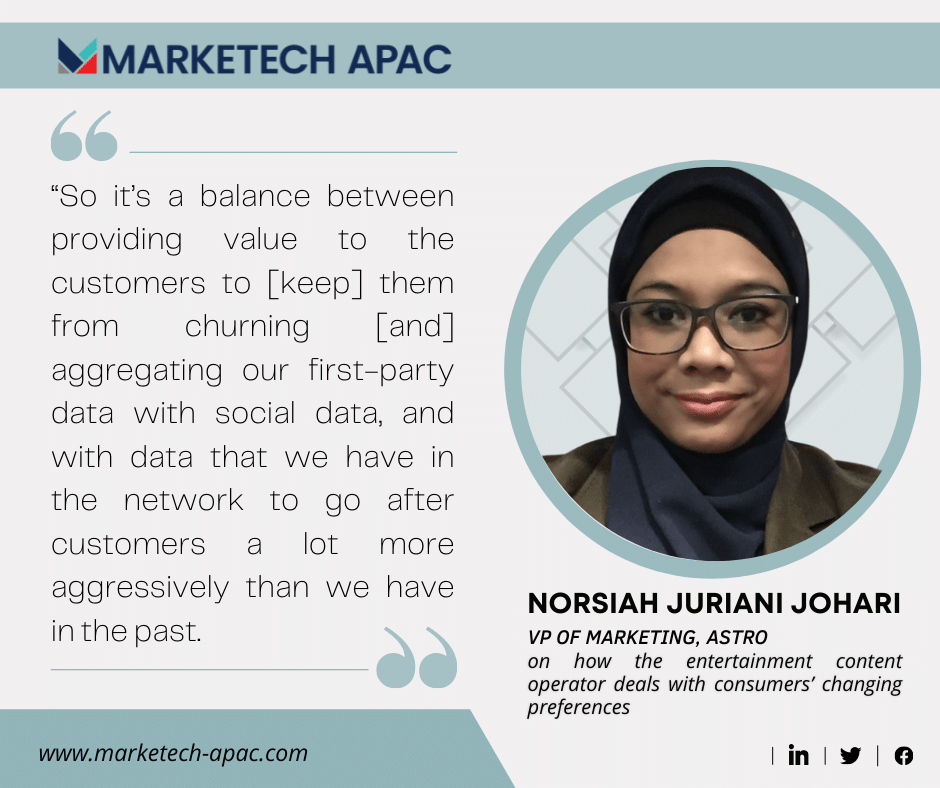 "So it's a balance between providing value to the customers to [keep] them from churning [and] aggregating our first-party data with social data, and with data that we have in the network to go after customers a lot more aggressively than we have in the past," said Norsiah Juriani Johari, Astro's vice president of marketing.
For Les Mills International, they eventually leveraged first-party data which it successfully included in its marketing strategy because of the direct-to-consumer journey it now has via its own fitness app. Predominantly, its consumer was a gym member which Henwood admits the brand had no prior visible data of as well as on how its products looked like.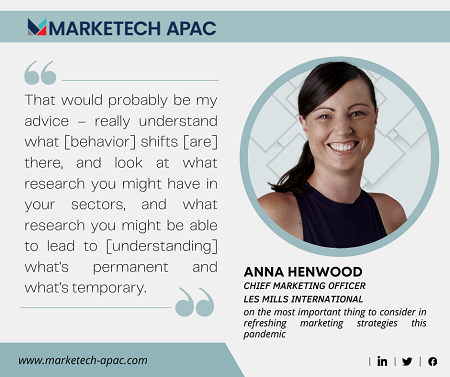 With digital fitness now ingrained in people's exercise routines, Henwood shared that content has become its differentiator, which is what makes "people stay."
"So how we film our content [in] the lockdown, how we do that more and more so it's really engaging with the customer, and how we [connect with] different personalities through [our] content – that's been a big part of our retention strategy," Henwood shares.
For Cebu Pacific Air, meanwhile, one of the Philippines' leading airlines, answering to pandemic-induced shifts meant working inward and letting the team adapt to new ways of implementing marketing strategies.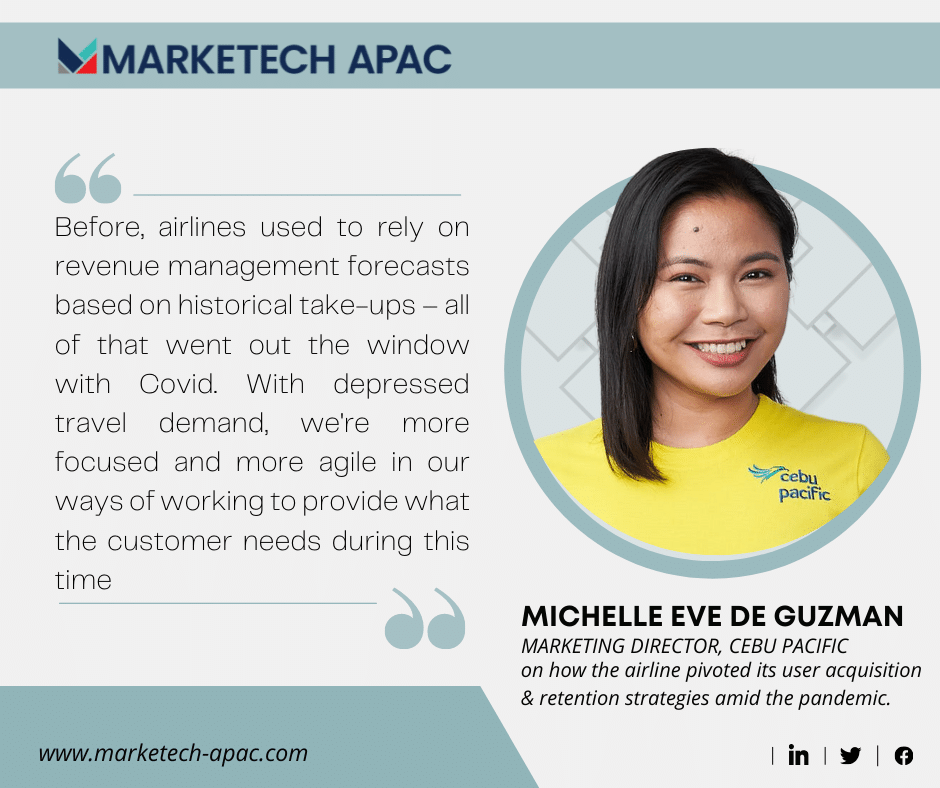 Alongside relying on new consumer segments during this period, Michelle De Guzman, the airline's marketing director, said, "Even the ways of working that we have as a marketing team, it has changed as well when it comes to user acquisition and retention."
She shares, "We have also developed agile marketing sprints – and that was not something that was done before, but [has become] very important on what we do now."
Consumer acquisition & retention in 2022 and beyond
While overcoming each of the hurdles in their industries, marketing leaders agree that staying on top of the game is all about being continuously aligned to the shifts – from the minute to the massive transitions – in consumer and market behavior.
HappyFresh's David Lim believes that we cannot apply the same methods of acquisition anymore, and in 2022, one of the beliefs and assumptions that their team has is things would not be the same as pre-covid.
"Every country has [its] own announcement, every country has [its] own waves of covid with different government announcements. I think when it comes to the topic of acquisition, everything has to be extremely localized," said Lim.
Building trust among consumers also remains a vital factor in the consumer engagement journey, says Katherine Cheung, CMO of edtech Snapask.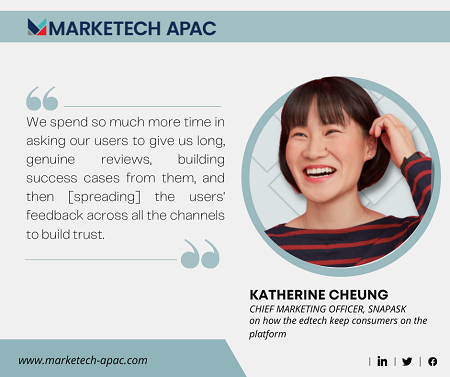 "One key factor that we have in Snapask on user retention and how to retain customers to our platform is of course by building trust. We have to bear in mind that since the pandemic, people have so much more free time, as most of the regions are still experiencing lockdown and they are not allowed to go out from time to time. We have to bear in mind that users have so much more time to invest in your product," Cheung said.
FairPrice's Vivek Kumar's advice to leaders, "As a marketing leader, we need to create that vision and then keep people involved in the journey, so that becomes their objective and their mission and not just [acting according to] marketing teams' wishlist – the moment that silo happens, we have lost the battle."