Hong Kong – The consequences of the pandemic are unprecedented and felt around the world, wreaking havoc across the retail industry. Euromonitor International, the global independent strategic market research provider firm, has revealed its list of the top companies within the retailing industry in the APAC region for 2020, and in Hong Kong, more than half of the leading companies in 2019 are still the ones that ruled 2020.
The majority of the 10 companies on the list maintained their sales growth and rankings in 2020. International health and beauty retailer AS Watson Group has retained its standing, coming out to reign the rankings as the top retailer. This was followed by Dairy Farm International Holdings, the pan-Asian retailer that operates across food, health and beauty, and home furnishings, and restaurants, with Japan-based distribution business firm Seven & I Holdings Co landing in the third spot.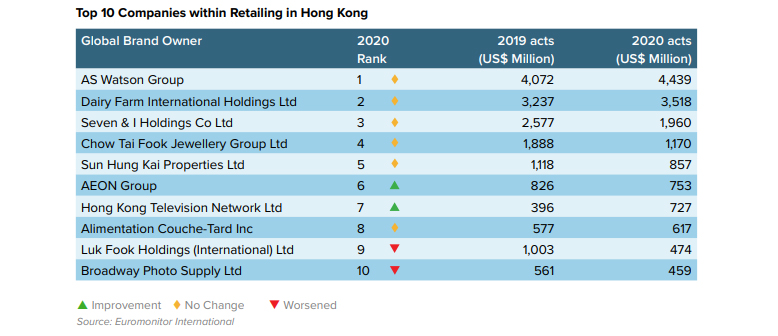 Meanwhile, jewelry company Chow Tai Fook Jewellery Group also maintained its sales as well, coming out in the fourth spot, while property developer Sun Hung Kai Properties caps the top five. One of the firms that have also retained growth for the year is convenience store firm Alimentation Couche-Tard ending in the eighth spot.
Two out of the top 10 firms have registered improvement in sales, namely, retail and financial services company AEON Group and multimedia business firm Hong Kong Television Network, landing in the sixth and seventh spots respectively.
On the other hand, jewelry retailer firm Luk Fook Holdings and retail chain company Broadway Photo Supply have dropped sales in 2020.
AS Watson Group, which registered $9.8b in sales in 2020 came out as the 34th leading retailer in the Asia region. For the region, Alibaba Group Holding took the crown with $367b in total sales for the year.
According to Euromonitor, the pandemic has had a significant negative effect on consumer confidence, leading many to rein in their spending, which impacted many retailers adversely enough to exit the market. However, the pandemic has been a boon for grocery retailers and e-commerce and will continue to enjoy strong growth in retail current value sales, as consumers become more interested in home cooking and following a healthier diet.
In 2021, the research firm believes that brick-and-mortar sales will begin to rebound, while retailers that depend on tourism will be the slowest to recover, including stores selling jewelry, watches, and apparel, as well as footwear, and luggage.