Manila, Philippines – The current state brought by the global pandemic has seen a rise in consumption of over the top (OTT) media, particularly in the Philippines, a new report by technology company The Trade Desk stated.
According to the report, 36 million consumers streamed about two billion hours of OTT content per month – making OTT one of the fastest growing media channels in the country. OTT services enable viewers to stream professionally-produced video content over the internet on-demand, from any device including smart TVs, personal computers, or mobile devices.
More than half, or 55 percent, of all Filipino OTT users report streaming more OTT content during the pandemic than before. These habits are likely to persist even in a post-COVID world as 65 percent say they plan to maintain or increase OTT consumption after the pandemic ends.
Mitch Waters, SVP of Southeast Asia, Australia, and New Zealand for The Trade Desk, supports the idea that the pandemic has accelerated consumer trends in making OTT the next big thing in the market of TV media consumption.
"The shift to OTT streaming in the region, and specifically the Philippines where more than half of viewers are turning to OTT than ever before at higher viewing rates than other countries in the region, demonstrates the undeniable inflection point for TV consumption that will most certainly never turn back to the way it used to be," Waters stated.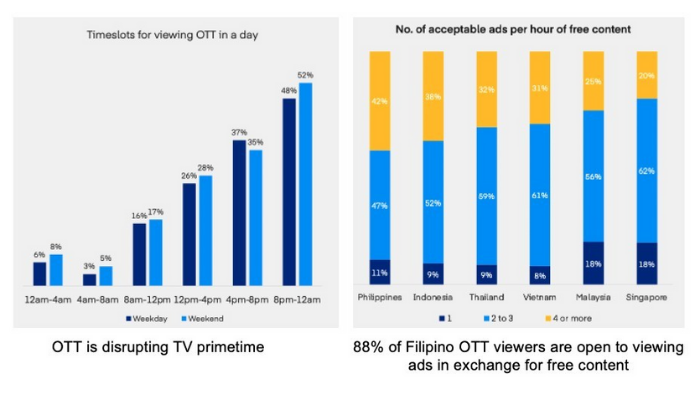 In terms of tuning in, 1 in 2 users prefer to tune in between the hours of 8 PM-12 AM, bringing streaming into direct competition with traditional TV for valuable primetime audiences. Filipino viewers are also looking to OTT for their favorite content, with 62 percent tuning in to OTT to watch their favorite programming versus just 54 percent on traditional broadcast.
Furthermore, more than 20 million Filipinos tune in to at least one ad-supported OTT platform, with 55 percent of all OTT viewers between 16-34 years of age, providing a new channel for brands to build relationships with this high-coveted demographic.
"As more young, engaged, and active Filipinos shift to OTT and are willing to view more ads, advertisers have an enormous opportunity in front of them. This provides an opening for advertisers to employ a data-driven approach with an improved advertising experience in a way that's not possible with traditional TV," said Waters.