Manila, Philippines – The 11.11 Christmas sale of e-commerce platform Shopee is undoubtedly around the corner, and the Philippine leg of the brand has bolstered its marketing efforts to build on its momentum, giving shoppers in the region a chance to win ₱1M.
Called "Shopee Milyonaryo," with the word milyonaryo meaning millionaire, the raffle draw has started 25 October, with succeeding draws up until 11 November. In order to join, Shopee users need to claim their code within the mobile app for a chance to participate in a televised game to win the cash prize.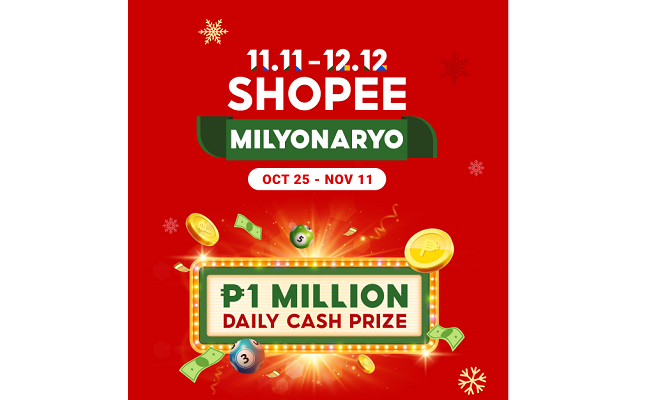 The claiming is not perpetually opened and is only activated from 6:30pm each day until 4pm the next day. With this, Shopee has created a "remind me" feature to help users remember to participate.
Ever since its 8.8 sale event in August, Shopee PH has partnered with popular afternoon variety show Wowowin, implementing different branded activities to engage its Filipino shoppers. The daily winner of the milyonaryo raffle is similarly announced on the show every 5:55pm, where the chosen user, through a phone call, plays a game where he or she is asked to choose from a number of boxes, with one of them containing the one million peso cash prize.
What Shopee's main placement has been on the show is a simple phone call engagement where host Willie Revillame chooses from a list of submitted contact info from its Facebook page, and calls the person for him or her to simply say "Salamat Shopee" or "Thank you Shopee," in exchange for a ₱20K cash prize.
Just recently, the e-commerce platform has also revealed one of its newest endorsers ahead of 11.11, the country's Queen of All Media Kris Aquino. An ad of Aquino and her digital banners have already been rolled out across channels.