Jakarta, Indonesia – Globally known Walt Disney Company launches Marvel Studios exhibition in Indonesia, the largest Marvel exhibition in Southeast Asia. Marvel fans in Indonesia will be immersed in the multi-sensory world of the Marvel Cinematic Universe (MCU) at the Marvel Studios: A Universe of Heroes Exhibition Indonesia.
The exhibition will showcase an impressive collection of more than 60 MCU original movie props, costumes, and concept art from selected movies. Visitors can also relive the past decade of Marvel Studios' storytelling through a wide array of galleries chronicling the epic adventures of their favourite superheroes, including Iron Man, Captain America, Thor, Doctor Strange, Guardians of the Galaxy, Black Panther, Wanda Maximoff, Ant-Man, Black Widow, Hawkeye, Shang Chi, Eternals and Moon Knight.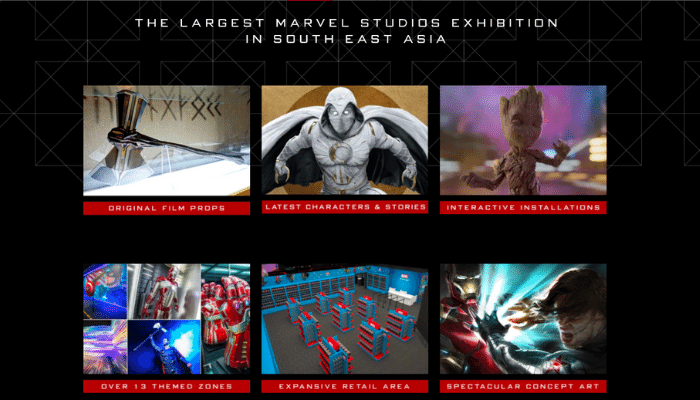 General Manager of The Walt Disney Company, Indonesia, Vineet Puri, said, "For the past decade and more, Marvel continues to tell epic stories of superheroes that resonate with Indonesian audiences of all ages. We hope we can continue to look for more creative and innovative ways to create an emotional bond and be a part of everyday lives of our fans here in Indonesia and open new doors of entertainment for everyone."
According to Puri, they collaborated with Visindotama Medikarsa Prima and Beast Kingdom to bring these iconic stories and characters closer to their local fans through the exhibition for the very first time.
To bring Marvel Studios' stories closer to Marvel fans in Indonesia, the exhibition will also hold a variety of interactive engagement activities, collaborating with various local creative communities that will be announced in the upcoming days.
Dendy Triadi, project director and the exhibition's organizer and promoter from Visindotama Medikarsa Prima, said, "We're honoured to collaborate with The Walt Disney Company Southeast Asia and Beast Kingdom to hold not only the first Marvel Exhibition in Indonesia but also the largest Marvel exhibition in Southeast Asia."
Moreover, Triadi commented that Marvel Studios' stories have captivated the hearts and minds of loyal fans all over the world, including Indonesia. "We hope that Marvel fans and visitors can relive Marvel Studios' epic storytelling through this exhibition, immerse themselves into their favourite Marvel characters and stories and enjoy all the engagement activities that we've arranged throughout the exhibition," added Triadi.
The exhibition officially launched at Pondok Indah Mall 3 and will be accessible to supporters up until 14 September 2022.