Australia – With the original formation of a KITKAT chocolate, everyone knows that the best way to eat it is to break the partitions and enjoy it finger by finger. After all, this is where the famous slogan of the brand comes from, "Have a break, Have a KitKat." But through the years, people have been less traditional and are taking a bite out of their KITKATs with the way they like and how they think it is most enjoyable.
In a fun and light campaign by Nestlé Australia on TikTok, the brand is finally acknowledging the passionate debate swirling online about the correct way to eat a KITKAT.
Done with creative agency Wunderman Thompson, the 'Have a bite' social campaign sees KITKAT jump in to respond to the many people proudly flaunting their innovative and somewhat intriguing approach to the correct KITKAT consumption method.
The natural tendency is to tear the pack, break off a finger, and snap in half. But some people have opted to take a giant bite out of all four fingers, or even nibbling off the chocolate layers.
The campaign, which will be running until 30 September, kicked off with prominent TikTok creators throwing their voices into the debate by showing how they have a bite. Roped in the commotion to shed more light is screen legend Michael Caton who bit into a KITKAT himself and asking Aussies, "Is this wrong?" 
Commenting on the campaign, João Braga, chief creative officer of Wunderman Thompson, said, "As Australia's favorite chocolate bar, we know that people have some serious love for the iconic treat, but we wanted to discover new ways to engage with the fanbase online. What better way to do this than by jumping into the heartfelt and passionate debate over the true, right, and 'correct' way to eat a KITKAT."
Joyce Tan, Nestlé's head of marketing, added, "We knew it was time to finally weigh in on the conversation regarding how to properly eat a KITKAT and acknowledge the weird and wonderful ways Aussies eat theirs."
"Teaming up with Wunderman Thompson, we were able [to] leverage the power of TikTok creators and iconic Australian actor Michael Caton to generate real-time conversation about the many ways that a KITKAT is enjoyed," Tan said.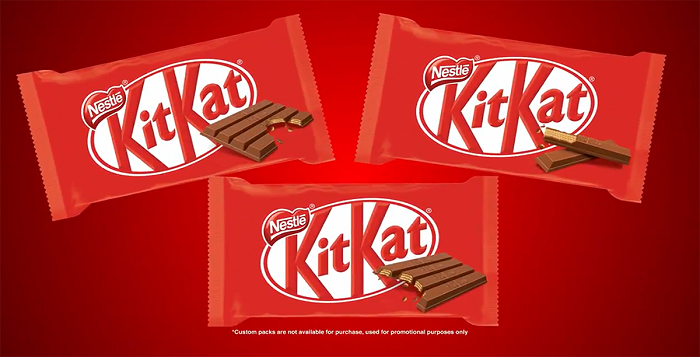 Ultimately, Nestlé said in a press release, KITKAT is OK with how you choose to eat your KITKAT "as long as you're taking a break to enjoy it."
To show that 'other' ways of having a bite are at least being entertained by the brand, KITKAT is testing the waters with some limited-edition packs, where the iconic snapping fingers printed on the pack are replaced with some of the different ways Aussies bite their KITKATs.
According to Wunderman Thompson, the campaign has gained 4.3 million views organically across TikTok and Instagram in the first 48 hours of launch, and the attention of some very passionate KITKAT fans with more than 70,000 votes in a Twitter debate.