Hainan, China – Japan-based beauty brand SK-II launches 'House of Miracles', an interactive social retail pop up store in Hainan where shoppers are granted the opportunity to learn more about their skin, receive customised products, and also have the opportunity to personalise its entire storefront design with a gamified experience on Wechat.
The SK-II House of Miracles pop-up store in Hainan is part of the brand's ongoing foray into retail innovation and a global transformation to connect with a new generation of consumers who are yearning for more meaningful experiences with the brands they know and trust.
SK-II's House of Miracles is full of unique personalised experiences from start to finish. According to SK-II, shoppers will be introduced to the Miracle Generator where shoppers are encouraged to download the store's Wechat Mini Program digital companion, a miracle generator that gamifies the shopping experience. Shoppers collect and grow Miracles in Wechat as they shop throughout the store and customise their Miracle as they wait in line to check out.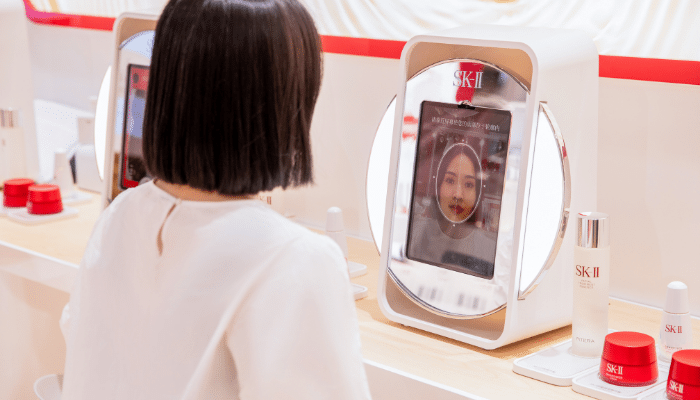 Shoppers can also enjoy a personalised skin analysis with SK-II's latest contactless skincare counselling innovation, the Mini Magic Scan. SK-II's Mini Magic Scan is an AI-enabled skin analysis tool that allows visitors to gain understanding of their skin strengths and potential, unlock their skin age as well as receive personalised skin analysis and personalised product recommendations.
Shoppers can learn about PITERA™ and SK-II products in a whole new way by discovering the content with intuitive eye-tracking technology. By simply looking at a product on the wall, they can embark on a personal skincare learning journey about PITERA™ and key information and benefits about SK-II's core products.
Shoppers also get to experience the Miracles Tester Bar which is the first thing shoppers encounter when they enter the gorgeous ode to PITERA™, the Miracle Chandelier. Every time a shopper picks up a bottle of iconic PITERA™ Essence it triggers a delightful celebration of light from the Chandelier.
Moreover, when shoppers check out, they will be invited to scan their customised 'Miracles' to broadcast it on the store's interactive digital store skin which is made out of floor to ceiling edge-to-edge LED screens. This allows them to personalise the store façade with their very own created Miracles in a visually impactful display.
SK-II has launched several pop-up Stores in Hainan, Tokyo, Shanghai, Singapore, and even in the Consumer Electronics Show (CES) and China International Import Expo (CIIE).
Through creating immersive, unique and personalised skincare experiences, SK-II hopes to make her shopping experience and journey even more meaningful and relevant by allowing to browse, shop and learn about her skin at her own pace and on her own terms, in a safe, yet engaging way.
The SK-II House of Miracles pop up store is located in the HaiTang Bay Duty Free Shopping Centre and Haikou Mova Mall by China Duty Free Group (CDFG) and will be open for a limited time only from 1 to 29 June 2022.