Manila, Philippines – Globe's enterprise arm Globe Business is launching a new set of programs and initiatives for SMEs, starting off with a Digistore.
The Digistore is supported by the country's Department of Trade and Industry's (DTI) Negosyo Center and the DTI Bureau of SME Development, which was developed to boost the sales of partner entrepreneurs through cross-selling on Globe's digital platforms.
The Digistore will encourage Filipinos to support local MSME brands by buying from the live-selling activities hosted by Globe Business on its Facebook page.
Another one, which is also probably one of the biggest in its recent initiatives, is Globe Business's search for MSMEs to provide them a grant to help boost their business and expedite their digital transformation.
Globe is on the lookout for five businesses and said enterprises must have recently been proactive in tapping the power of digital technology to pivot their operations in responding to the pandemic. The telco giant will be giving an SME showcase worth ₱50,000. 
Lastly, Globe is launching a loyalty program for new and existing Globe Business customers called the Globe Business Upstart. The program is designed to empower micro, small and medium business owners through three core pillars: digital leadership, business enablement, and exclusive partnerships. Members will have access to the program starting 5 July when they register for the program.
"Globe Business is a staunch supporter of the MSME sector and is committed to being their partner for success in every way possible," said the company.
Globe has also launched its 'Saludo SMEs' campaign, or which translates to 'Salute SMEs' – Globe Business's annual initiative in recognizing the contribution of MSMEs to sustainable economic development.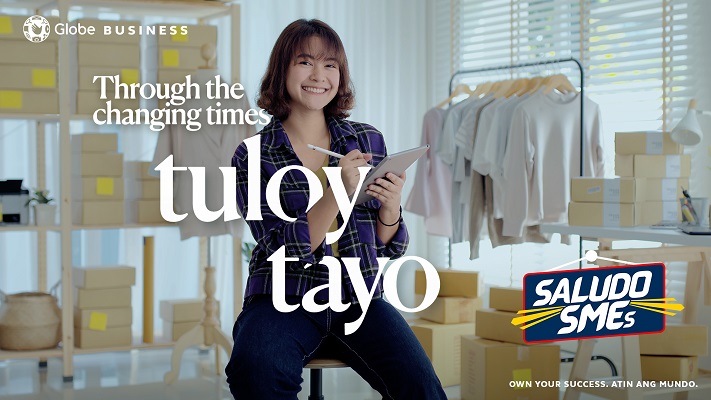 "Every business that has survived and beaten the pandemic odds carries an inspiring story of creativity, grit, and resilience worthy of recognition," said the telco.
The campaign was first launched in 2019 to shine a spotlight on SME challenges and successes and inspire other entrepreneurs facing similar struggles. Coming off a troubled 2020, the campaign message feels more poignant and emotionally-charged than ever with the theme – "Through The Changing Times, Tuloy Tayo!" or "Through The Changing Times, we continue forward!"
The campaign was kicked off through a short film depicting the humble entrepreneurial journey such as that of an ice cream vendor. The feature, which was released on its Facebook page, shows values of grit and determination in the middle of the struggles brought by the pandemic and asserts how partnering with Globe Business helps accelerate SMEs' growth and digitization. 
"Our MSMEs have gone through their toughest year yet and through our Saludo SMEs initiative, we want to celebrate their resilience and longevity, and encourage them to cultivate a mindset of "Tuloy Tayo" in order to forge ahead with confidence into the future despite the changing times. And they can be assured that Globe Business will continue to be their steadfast partner in uplifting their businesses with innovations through our reliable digital solutions," said Maridol Ylanan, Globe Business MSME group strategy and marketing head.