Singapore – Singapore-headquartered e-commerce for Southeast Asia, Lazada, is taking its marketing to new heights as it announces its very first regional ambassador for in-app mall, LazMall; and it's none other than top K-drama leading man, Hyun Bin.
Last October 2020, Lazada has also unveiled a massive first for the brand that similarly involved the K-pop craze – signing on top K-pop actor Lee Min Ho as the first regional-wide ambassador of the brand. Prior to launching regional ambassadors, Lazada's marketing strategy has always relied heavily on local endorsers, partnering market-specific stars to bring in the engagement with consumers.
Hyun Bin has been a prominent actor among Hallyu, or the term coined for the 'Korean wave'. He is one of South Korea's top celebrities and known for K-dramas and movies Secret Garden, Memories of the Alhambra, and The Negotiation. Most recently, his popularity surged even more when he starred as the leading man of the Netflix-produced romantic comedy K-drama, Crash Landing on You. The series gained global craze and afforded both Hyun Bin and the show's leading lady Son Ye-Jin numerous brand partnerships following the success of the series.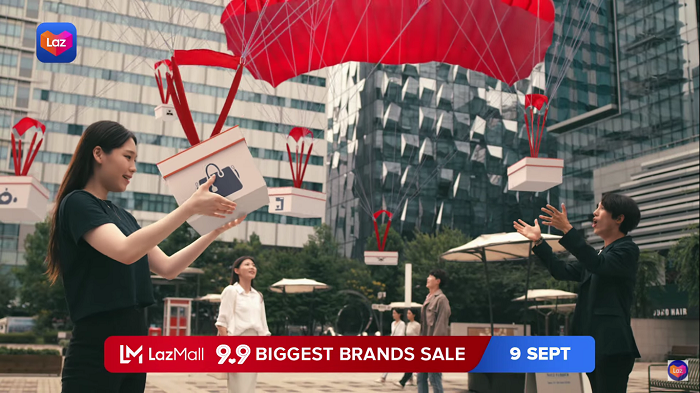 On the new ambassador, Lazada Group's CMO Mary Zhou, commented, "Lazada was the first to bring the virtual 'mall' concept to Southeast Asia and we are delighted to welcome renowned superstar Hyun Bin as LazMall's first regional brand ambassador. With his expansive portfolio of critically-acclaimed films and television dramas, Hyun Bin is a familiar personality respected for his genuine personality and extraordinary dedication to his craft by fans all over the globe. This highly resonates with LazMall's brand promise of authenticity, quality, and a trusted online destination for consumers to enjoy a convenient shopping experience."
The announcement comes as Lazada celebrates the third anniversary of LazMall as well as 9.9, the first of the year-end mega campaigns. For starters, Hyun Bin headlines an action-inspired ad. Also known as a great action celebrity, the short ad aims to capture the imagination of fans that is reminiscent of Hyun Bin's popular action sequences. 
In the TVC, Hyun Bin stars as an agent on a covert mission commanding a crew of operatives. In a fun and celebratory twist, his character targets the mission of releasing thousands of LazMall care packages to the public.
On his LazMall ambassadorship, Hyun Bin said, "I'm very happy to be joining the Lazada family and connecting with fans in Southeast Asia as LazMall's first regional brand ambassador. I look forward to creating lots of fun times together, starting with the 9.9 shopping festival. I wish everyone good health and hope you stay safe until we can meet again in person."
He added, "Shooting the short film for the campaign was incredibly fun, especially when we got creative in demonstrating the efficiency, reliability, and variety of products that LazMall offers to shoppers through a secret agent mission storyline."
LazMall is Lazada's in-app mall that features flagship stores from both established and starting merchants. This differs from independent sellers in the app. Earlier in August, LazMall introduced a new personalized portal, LazMall Prestige, featuring an extensive portfolio of eight categories with over 50 premium brands such as Bacha Coffee, Bang & Olufsen, Elemis, and Longines, as well as Polo Ralph Lauren, and Salvatore Ferragamo.
In addition to popular features like Brand Mega offers and an improved returns policy across the region, consumers will gain access to brands through an intimate, visual storytelling experience. This includes an enhanced discovery spotlight via 'The Prestige Edit', which features content-rich thematic editorial sections.
In line with the special online launches, Lazada's mascot Lazzie will also make his idol trainee debut via Lazada's newest addition on LazGames – Lazzie Star.