Australia – A lot of things changed when the pandemic marked its arrival, to say the least. One right off the bat, and probably the most important, is that everything has been transitioned to online, if it hasn't already; switching workplaces to now take the form of our personal four corners, to making almost every human activity – from consumer purchases to travel – a feature of digitization. All had their own share of adjustments, and this is also very much true with the academic community.
In the recently concluded webinar by MARKETECH APAC's Inside Innovation, 'Asia-Pacific Outlook 2021: Reimagining your higher education web strategy', speaker and digital marketing consultant for global SaaS solutions Siteimprove, Rick Elenbaas, shared the pivotal development in the education space, one that many may have been cognizant of for a while, but a topic that's also equally begging of further attention – the increasing count of digital natives in the university.
In his presentation, Elenbaas shared that between the years of 2014 to 2018 – now considered to be a pre-pandemic period – the generation that birthed digital natives are growing up and are slowly taking space in educational institutions, outnumbering other students. Referencing a PwC study, Elenbaas said that there are three types of students today: the traditional, those that went through academic instruction before the emergence of the internet; the transitional, students that have experienced the internet at a young age but are still navigating school in a hybrid way, and lastly the digital natives, those that have had internet access right from their toddler years, and whose lifestyle has been deeply integrated with the internet.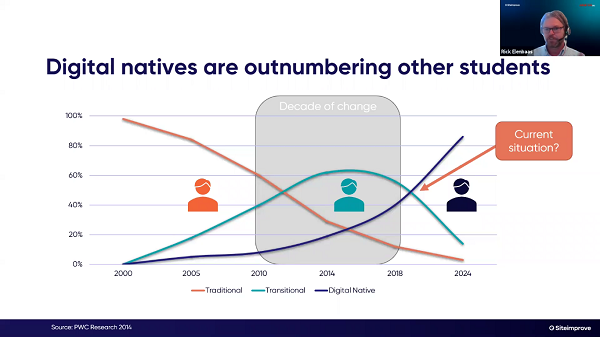 "The rise and decline of the traditional student that is happening is what we call the 'decade of change', and currently we are now in a situation where we really are at that final cross-line where those traditional students are leaving the universities, and we're only dealing with digital natives," said Elenbaas.
The pandemic may have served as the ultimate push to finally pay close attention to the digital space in higher education, but digital natives have long been showing dominance even way before this massive disruption and it is now time to ramp up universities' digital campus.
So what do this new group of individuals expect for the university online experience to be? First of all, Elenbaas said the student experience must be exactly what it promises – an end-to-end online experience – "they are expecting [that] everything happens online," said Elenbaas.
"From the day they leave high school, the day they start searching for a study [program], and eventually [to] when they leave the university, [they expect] that they still have access to online resources, so everything in their student life, they expect to be online," he added.
Furthermore, digital natives, having been innately accustomed to online – which lends closer lens to just about every entity and content – expect that the student journey is personalized. This means that every data point, from mobile, web, and social app access down to the basic emails sent to them, they expect to be tailored to their needs.
And lastly, Elenbaas said, this type of students would ask for online experience to be one thing – consistent. That means having a single customer view with consistent data across the entire student journey. This pertains to the type of data and quality presented. With the massive space in digital, a lot of touchpoints will be begging for their view and mind space and students would want an online experience that would help bring focus rather than add to the clutter.
Elenbaas said that in order for universities to meet these needs, they need to do three things: achieve a single and uninterrupted digital student journey, make their digital student journey accessible, and transform their strategies to become digital resilient and future-proof.
Elenbaas has shared in a more comprehensive view this topic on the webinar, which is now available on-demand. You may register here to get your access. In his presentation, he discussed in even greater detail the roadmap that universities can follow and apply to refresh and accelerate their digital campus in order to truly cater to the needs of digital natives in the new normal.
The webinar also presented an expert panel, comprising Paul Gower, deputy director for marketing & user experience at Curtin University, and Monica Hong, the digital marketing national manager of Australian Catholic University, and that which is moderated by Gabriel Ponzanelli, the vice president of Siteimprove for the Asia Pacific region and Japan, to discuss in depth the current challenges and opportunities of universities in their digital marketing strategies amid the surge in online activity.
Obtain access to the on-demand webinar here.