Last 2 December, MARKETECH APAC, in partnership with Adzymic, gathered marketing leaders from top brands in the Philippines to discuss the future of personalization in marketing in 2022.
Moderated by Marilyn Romero-Ventenilla, senior director for communications and marketing at Teleperformance Philippines, the panel roped in Allenie Caccam, head of marketing of AirAsia Philippines; Anvey Factora, the head of marketing communications, e-commerce and retail at Canon Philippines; and Mark De Joya, chief operating officer of Max's Restaurant.
Data – leveraging it to learn and adapt to the nuances of the consumer – this is what all marketers agree as the sureshot personalization strategy that will sail brands in the right direction, no matter what the changes will be in 2022.
Factora of Canon Philippines said in the panel that planning way too ahead would turn counterproductive to the situation at hand since the consumer is rapidly changing in tandem with the fast shifts in the pandemic. Coming up with multiple strategies then would be the best approach.
"I think the best approach or strategy is to come up with multiple strategies that you can realistically activate in this constantly evolving world that we all have right now because at the end of the day, if you plan in advance, maybe a year, it may not be as effective as it could be in the next three weeks or two weeks because of all the lockdowns happening, because of all these pandemic variants coming into the picture," said Factora in the panel.
When the pandemic struck in 2020, Canon Philippines greeted a boulder of a challenge with the creative and imaging industry being one of the badly hit industries. Since local travel came to a halt and events all pivoted to virtual, there had been less reasons for people to buy and invest in imaging products.
Caccam of AirAsia Philippines, on the other hand, shared what the airline industry had to deal with in order to retain consumers amid shut local and international travel. Being a highly regulated sector, Caccam shared that answering to multiple stakeholders became a top challenge for AirAsia. Aside from thinking of ways to keep the airline in consumers' top-of-mind, it also inevitably carried the responsibility to build up the confidence of travelers as travel gradually reopens.
"So when the pandemic hit, everything was constantly changing; from safety protocols to travel regulations, imagine the coordination that needed to happen for us to personalize our marketing efforts. It was definitely a challenge."
Max's restaurant, a well-known local F&B brand in the Philippines, meanwhile, was thrust fast into digital transformation during the pandemic. Its COO Mark De Joya on the panel shared that from being an analog brand, it has become something that is very much reliant on digital fulfillment.
Leveraging data acquisition in 2022
With the consumer now becoming more unpredictable due to the rapid changes in lifestyle, it demands brands be more granular and targeted in their approaches; and marketing leaders agree that this can be achieved by continuously obtaining real-time data.
Caccam said, "I think personalization based on data will help us offer the right product at the right time [and] at the right price. So this is hard but by listening to customer pain points from different channels and combining it with data trends, I think brands can stay relevant."
Moving forward in the pandemic, consumers would be zeroing in on brands that bring greater convenience considering the inevitable distress the current situation is causing them. With this, Caccam also believes being a one-stop-shop for customers would be a crucial determinant of how they choose what brands to trust.
"So it's really creating that personalized trust and being a one-stop-shop for your customers especially because I'm in the airline industry and you know our product is basically really good service, so I think that's one personalization strategy that I would stick with coming into 2022 which is a recovery period for our industry," said Caccam.
This is also something that De Joya agrees with, especially that Max's is part of a larger group together with local and franchised F&B brands.
"Personalization comes from having more and more parts to stitch together and with the array of brands we have, covering separate cohorts and different territorial strengths [has grown in importance]," said De Joya.
De Joya adds how the current times present a good opportunity to experiment combining brands, or for that matter, services together in order to create a new value for consumers.
"We have such a great opportunity here to blend our brands together and make sure that if I'm not eating Sinigang today and I want to eat pizza tomorrow, and I want donuts on the weekend, [we] are able to blend together the branded offerings," said De Joya.
De Joya further comments, "So our definition of personalization here is understanding that there is more to life than the dish in front of you or the particular dish that we're craving. It's an integrated ecosystem of different brands which leads to several service platforms that we had to come up with…just to be able to make sure that we're all able to offer that variety."
While on the maturity of data acquisition, De Joya says, "I think [data] is something that we have truly invested many resources into. We really [are] able to identify the nuances in the behavior of our customers now not just the basic stuff like frequency, recency, [or] basket size but even trying to get the nuances [such as] what sort of dishes do they favor [and] what are the cross-brand usages that they have."
With this, Factora agrees, "Data remains to be king when you [personalize] campaigns. You have to understand really how your customers are, how the data would be helpful to that campaign. I think the best approach in terms of creating a holistic strategy towards personalization is number one, properly understand your data. Having the right platform is important [together with the] right message and right channel."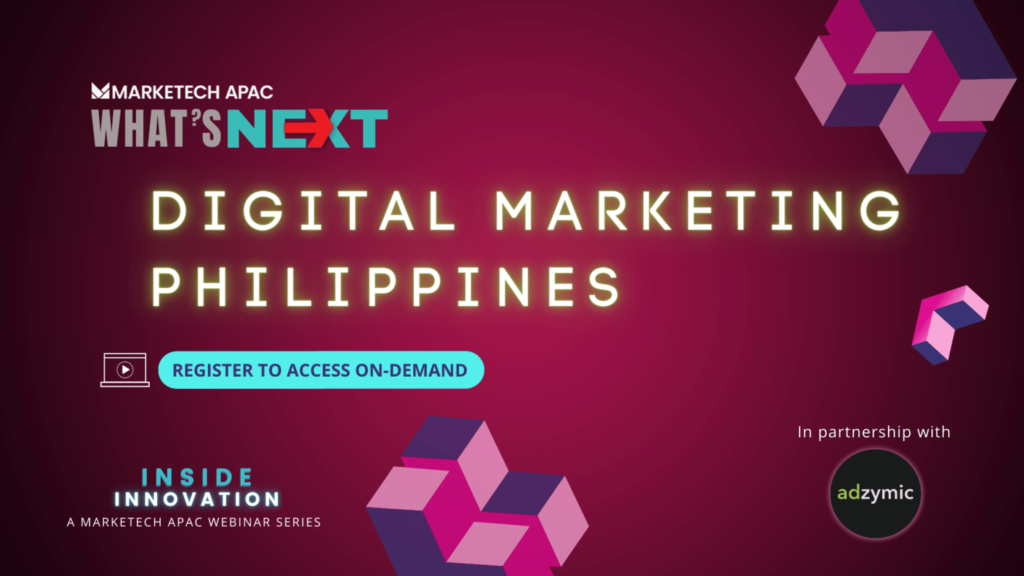 The panel was part of the webinar What's NEXT: Digital Marketing in the Philippines which was held last 2 December 2021. Register here to gain on-demand access.
———
The article is published as part of MARKETECH APAC's thought leadership series What's NEXT. This features marketing leaders sharing their marketing insights and predictions for the upcoming year. The series aims to equip marketers with actionable insights to future-ready their marketing strategies.
If you are a marketing leader and have insights that you'd like to share with regards to the upcoming trends and practices in marketing, please reach out to [email protected] for an opportunity to have your thought-leadership published on the platform.