Bangkok, Thailand – Thailand-based SCG Bi-ion, a tech solution for cleaning air indoors, has partnered with Wunderman Thompson to launch an innovative campaign that aims to encourage Thais, especially those living in the metro in Bangkok, to take the 'extra' step in breathing clean air.
'Bangkokians' have been used to engulfing unhealthy air for a long time and may see intentional steps such as installing SCG Bi-ion's tech as 'vain' rather than necessary. In order to prove its point that it's just the opposite, the campaign, conceptualised by Wunderman, has developed a giant lung installation–made of defective face masks.
The life-size art sculpture under the #CleanairMatters movement is formed through more than 60,000 defective face masks which aim to symbolise the number of Thais that have died from airborne diseases during the years 2019-2022. The huge installation bears a potent message at its base that says, ''When was the last time you really breathed clean air?''
Inside the monument gives an immersive sound experience of clean air areas such as a deep forest, beach, and waterfall. People can scan a QR code to learn more about the dangers of poor air quality, airborne inflicted illnesses, and ultimately, how to improve air quality with the SCG Bi-ion.
In addition to the giant lung installation, the brand's campaign also launched another innovative on-ground initiative called the 'Airbulance', which is a mobile experiential space fitted with SCG Bi-ion. The mobile unit aims to let people experience breathing clean air effected by the brand's tech. It reports a live monitoring of air quality index and passersby were invited to go inside it.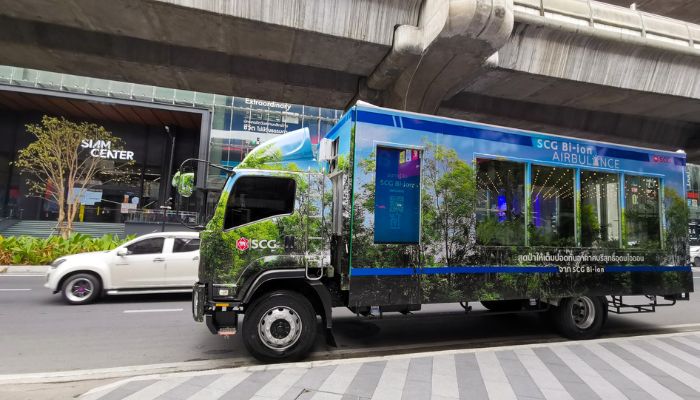 Wachirachai Koonamwattana, head of service solution business at SCG, said, "Under our axiom of 'PASSION FOR BETTER LIVING', SCG has always worked at our fullest capacity to integrate innovative solutions for living improvement. Especially, inside the buildings where we spent most of our time. Therefore, we have to ensure that indoor air quality must be clean and safe for everyone, so that our future generations can have the finest quality of life."
Uraiwan Pongthavornsawat, associate creative director of Wunderman Thompson Thailand, commented, "Bad air is a life and death issue, with too many deaths caused by this. Thai people have silently put up with this problem long enough and I think it's time we need to start a conversation and do something about it before it's too late".
According to the agency, the campaign reached more than a million Bangkokians and dramatically garnered 1,300,000 THB in PR value. Social media also recorded above 30,000 social engagements, which triggered a lot of heated conversations on clean air.
The two initiatives have been followed by an original documentary film, 'LIFE AND BREATH', which tells the story of people working the most dangerous jobs and how they risk their lives from just breathing bad air.