Kuala Lumpur, Malaysia – How many times have you wished to get your favorite celebrities for a personal message? Probably too many, and probably one that remains unfulfilled.
Regional event hiring platform Effro has just launched a new service arm Gueststar, which allows costumers to commission a media personality to produce unique video content for personal use. 

The company behind the new platform, Effro, provides a talent and services database, which helps event organizers easily find needed talents and services, such as emcees, performers, videographers, and appropriate venues, among others. With its new and one-of-a-kind service, consumers need not grapple to accomplish an often 'special' gift for special occasions – a personal video from a favorite celebrity.
From birthday messages to wedding proposals, and from jokes to pep talk, costumers are able to engage their favorite local stars in Malaysia and Singapore.
Gueststar is a unique platform that aims to bring your favorite stars closer to you. Through digital means, time and space are no longer deterrents in creating a beautiful experience for your loved ones. With Gueststar, the distance between you and your favorite stars is brought closer

Adam Tan, Founder, Gueststar
Through the Gueststar platform, costumers can submit a request to the star of their choice and include pointers for the video's content. Within 7 days of a submitted request, which is subject to approval, a video ranging from 20 seconds to 2 minutes will be produced and delivered.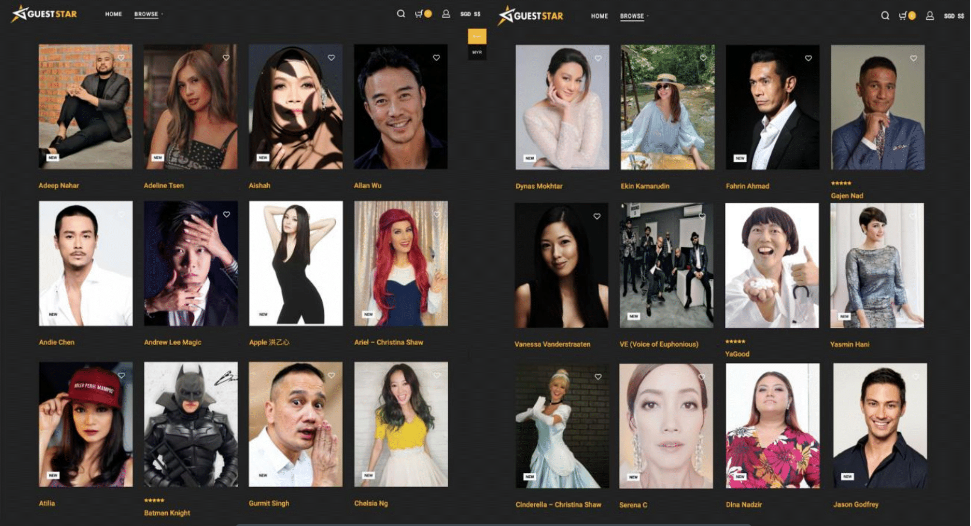 On its celebrity roster, 50 stars are available on request. Singapore stars include Allan Wu, Andie Chen, Gurmit Singh, and Jason Godfrey among others; while for Malaysia stars, Gueststar has Adeline Tsen, Aishah, Atilia Haron, and Dina Nadzir, among others.
Clients can also request for special characters such as Batman and Cinderella, impersonators for Michael Jackson and Taylor Swift, and also magician Andrew Lee, who is a past finalist on Asia's Got Talent and Britain Got Talent.
The costs of engagement range from RM30 to RM3500. While videos are produced mainly in English, users can request for other languages such as Bahasa Malaysia and Mandarin.
Gueststar is now available for customers.