Australia – The carbon-neutral mobile and internet provider in Australia, Belong, has partnered with advertising agency Howatson+Company, to launch 'The Book of Limbo', an offline-online wormhole designed to keep Australians entertained while they set up their new phone.
'The Book of Limbo' aims to help people navigate 'phone limbo' – the period of disconnection that occurs when you transfer all your data from an old device to your new one. It is designed to be the world's first offline online wormhole, channeling the joyful chaos of the internet into over 100 pages of left-field content.
In addition, the new book has been created in partnership with some of Australia's best multimedia artists, including Andrew van der Westhuyzen and Indigenous artist Saltwater Dreamtime. Its original artworks were also created using CGI, Illustration, and the internet itself, via generative adversarial network (GAN) technologies.
Meanwhile, the back page of every copy includes a free Belong mobile SIM card with an AU$80 credit to use in Australia, enabling readers to re-enter the real internet after their new phone is set up.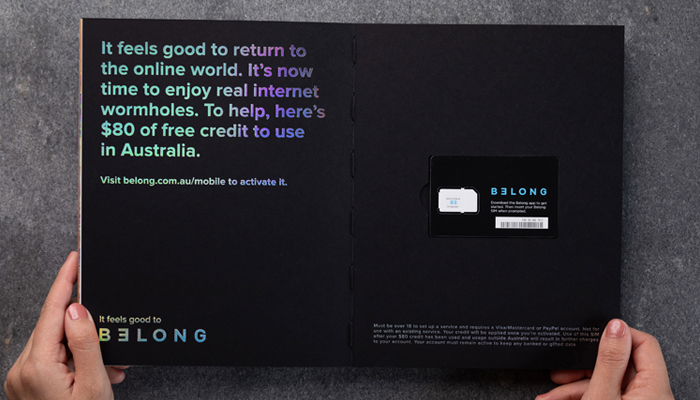 Jana Kotatko, Belong's CEO, said that transferring everything over to a new device can be a time-consuming experience, and with more than eight million new handsets purchased last year, it's become a universal feeling. 
"The Book of Limbo is our way of making phone limbo a joyful moment, while also sharing our love for all of the weird and wonderful content the internet has to offer," added Kotatko.
Gavin Chimes, Howatson+Company's executive creative director, shared that there is nothing like losing yourself in a good book, and there's nothing like getting lost in the depths of an internet wormhole.
"We've found a way to combine the two and bring joy to that period of nothingness when you're stuck between two phones," said Chimes.
The limited-edition Book of Limbo is available to pre-order online, with a digital edition and an audio edition being made available for those that cannot secure a physical copy.
The latest work comes after the appointment of Howatson+Company as Belong's creative and media strategy agency of record. Earlier this month, Howatson+Company also launched Belong's new fully integrated brand platform, 'It feels good to Belong', extending across brand communications, product, sim card packaging, and website, as well as UI/UX, and staff collateral, among others.