India – Tata Starbucks Private Limited is celebrating its 10 years with the opening of a Starbucks Reserve store in Mumbai, Maharashtra. Starbucks Reserve is a program by Starbucks, and involves operation of worldwide roasteries.
The new Starbucks Reserve store is designed to bring the coffee experience to life for customers. The premium coffee experience unique to Starbucks is evident in the new Starbucks Reserve store's stunning aesthetics. Taking centre stage, the Starbucks Reserve bar is set off by renowned architect and artist Ankon Mitra's undulating sculpture reminiscent of clouds.
As customers enter beyond the twin arches, based on Mumbai's architectural heritage with a modern colour palette, they are welcomed by a vibrant floor-to-ceiling mural featuring the Starbucks Siren, created by local Mumbai artists Sonal Vasave and Makarand Narkar. The mural comes to life at the tap of a finger through augmented reality (AR) when customers scan the nearby QR code with their Instagram camera.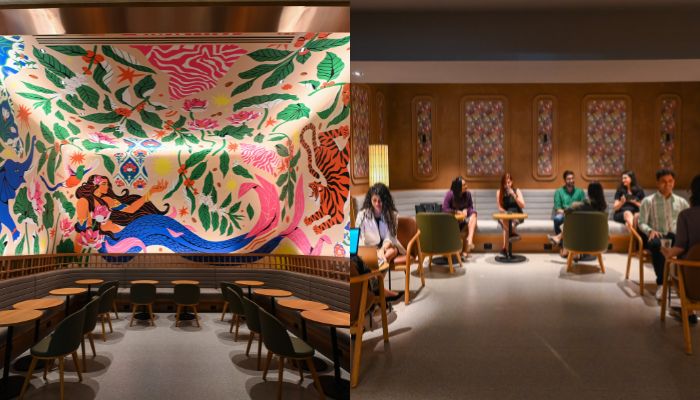 At the Starbucks Reserve bar, customers can enjoy a lineup of Starbucks Reserve small-lot single origin coffees, some of the most exquisite and rarest coffees in the world, including Bolivia Sol de la Mañana, Rwanda Sholi and Sumatra Kerinci brewed and served by Starbucks black apron coffee masters.
Michael Conway, group president of international and channel development at Starbucks said, "India is one of Starbucks fastest-growing markets and we're proud to open our first Starbucks Reserve store in Mumbai, where our Starbucks journey began a decade ago. Since entering India, our green apron partners continue to deliver the iconic Starbucks Experience across the market. We look forward to serving more customers and communities through different store formats, digital acceleration, and product innovation as we continue to grow in India."
Meanwhile, Sushant Dash, CEO at Tata Starbucks, commented, "For 10 years, Starbucks has been elevating coffee craftsmanship and bringing unique experiences to our customers in India. We value the strong connections we have with our customers and will continue to innovate and develop to enhance India's coffee culture."
He added, "Starbucks Reserve is a selection of the rarest, most extraordinary coffees Starbucks has to offer, and transports customers and coffee aficionados to an immersive and personalised coffee journey. It is all about the customer experience and engagement, the story of our coffee and the craft of our baristas."