Bangkok, Thailand – Euromonitor International, the global independent strategic market research provider firm, has revealed its 'Top 100 Retailers in Asia 2022' report, with three retailers from Thailand entering the SEA rankings, including omnichannel retailer Central Retail Corp with US$5.06b in 2021 sales, which ranked seventh amongst the other 25 retailers from Cambodia, Indonesia, Laos, Malaysia, Myanmar, the Philippines, Singapore, and Vietnam.
The other two are conglomerate Charoen Pokphand Group with US$4.44b in 2021 sales, landing at 10th place, as well as hypermarket chain operator Big C Supercenter PCL with US$2.53b in 2021 sales, ranking 15th. The list was topped by Shopee's parent company Sea from Singapore, with US$16.06b in 2021 sales.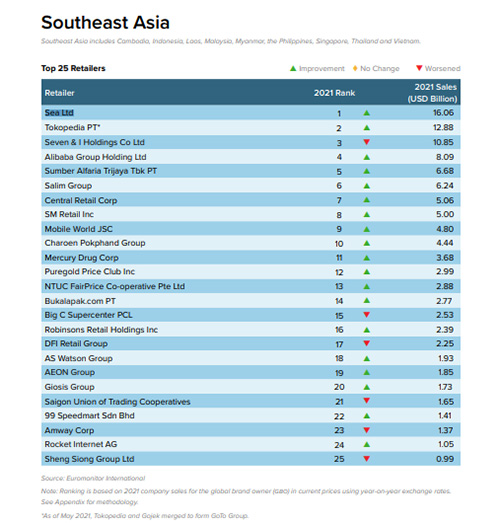 In last year's report by Euromonitor, Big C Supercenter PCL was ranked 12th in SEA rankings, while Central Retail Corp and Charoen Pokphand Group did not make the cut.
The 'Top 100 Retailers in Asia 2022' report found that retail performance in 2021 reflects the pace of channel shifts, and e-commerce players outperformed other distribution channels, especially in markets with lower online penetration. It also revealed that pricing, marketing, and customer service also need to reflect individual market dynamics. When well-executed, localised approaches give retailers and manufacturers a steadfast and longer-term competitive edge.
"SEA is home to more than 500 million people with diverse ethnicities, cultures, and religions, as well as online shopping habits. Conquering this market is complex. Regional e-commerce players must create localised strategies like search engine optimisation for respective countries and languages or product lines catered to various cultural needs," said Euromonitor.
According to Euromonitor, retailing current value sales in Thailand fell for the second year in a row in 2021, with the rate of decline accelerating into double digits. Due to lockdowns, non-essential retail outlets, such as department stores and variety stores, underwent closure for an extended period. However, retailing current value sales were supported to an extent by an increase in welfare payments and subsidies by the government.
This 2022, retailing current value sales will begin to expand again, with the rate of growth accelerated over the course of the forecast period. However, in constant value terms (2021 prices), retailing value sales will not surpass their 2019 level until 2025. Growth will be supported by an anticipated post-pandemic economic rebound, with a revival in inbound tourism playing a significant role in this.