Manila, Philippines – In retrospect of the recent observance of World Press Freedom Day last 3 May, non-profit organization Reporters Without Borders has launched a new solidarity campaign alongside French advertising company BETC in support of Filipino journalist veteran Maria Ressa, who is also currently the CEO of Philippines-based online news outlet Rappler. 
Reporters Without Borders is an international non-profit and non-government organization aimed at safeguarding the right for freedom of information. The organization works in defense of journalists who work at high risk environments. Part of their advocacy is to release press statements and investigative reports on threats to press freedom, as well as providing assistance to journalists in terms of physical and digital security.
The campaign, titled '#HoldTheLine For Maria Ressa', allows users to submit their support videos on the campaign's dedicated microsite, which will play on loop through a YouTube livestream, and will continuously play until actions have been made by the Philippine government to drop charges against Ressa and cease pressure against her and Rappler.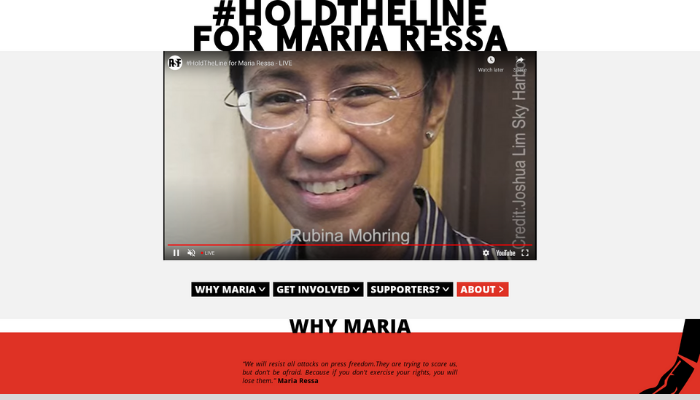 Maria Ressa, one of the most-celebrated journalism figures in the world and who's also best known for her current position as CEO and co-founder of Rappler, has been a proactive and strong critic of the current Duterte administration in the Philippines, where Rappler actively covers various controversies of the current administration, including the infamous 'War On Drugs' and the promulgation of fake news during the 2016 national elections.
Despite having nine open cases against her and having faced 10 arrest warrants under two years, Ressa has been well-recognized for her work as a journalist, earning her a spot as TIME Magazine's 'Person of the Year in 2018', and winner of this year's UNESCO/Guillermo Cano World Press Freedom Prize. She is also one of the 25 leading figures on the Information and Democracy Commission launched by Reporters Without Borders.
#HoldTheLine is an international coalition that has come together in support of Maria Ressa and independent media in the Philippines. It consists of more than 80 groups led by the Committee to Protect Journalists (CPJ), the International Centre for Journalists (ICFJ) and Reporters Without Borders (RSF).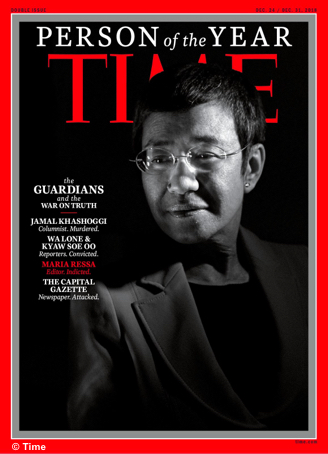 "The Duterte regime's vicious attacks against Maria Ressa are attacks on journalism itself, and on democracy. At RSF we have been proud to stand in solidarity with this courageous journalist, and now we call for the international public to mobilise in her support, which could provide her with vital protection as she faces the escalating threat of a possible lifetime in prison," said Christophe Deloire, secretary-general at RSF.
The campaign speaks as well on a realist sense, as Reporter Without Border have reported in their 2021 World Press Freedom Index where the country ranks 138 out of 180 countries, smeared by the impunity for violence against journalists who are reporting on the pseudo-war on drugs being waged by the Duterte regime, which has resulted in mass extrajudicial killings.
"We will resist all attacks on press freedom.They are trying to scare us, but don't be afraid. Because if you don't exercise your rights, you will lose them." Maria Ressa stated.
Aside from submitting a video, supporters can also sign and share the #HoldTheLine petition calling on the Philippine government to drop all charges against Ressa and Rappler.