Jakarta, Indonesia – As we enter the third year of the pandemic, we see how the popularity of over-the-top (OTT) streaming increases further as the content consumption of choice. In Southeast Asia, Indonesia currently leads the region in OTT consumption, with a 40% year-over-year rise, according to research by The Trade Desk.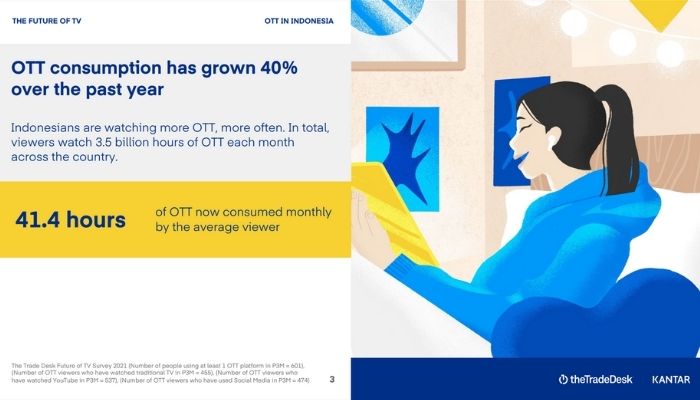 Based on the report, one-third of Indonesians now view OTT content, with 3.5 billion hours of OTT video consumed each month. Furthermore, Indonesia emerged as Southeast Asia's most ad-tolerant market. For each hour of free material, 42% of Indonesians are willing to watch four or more advertisements. As Indonesians' appetite for on-demand material rose, ad-supported viewership increased, ad-supported OTT is used by more than 50 million Indonesian viewers in comparison to the previous year which marks a 25% increase in ad-supported viewership.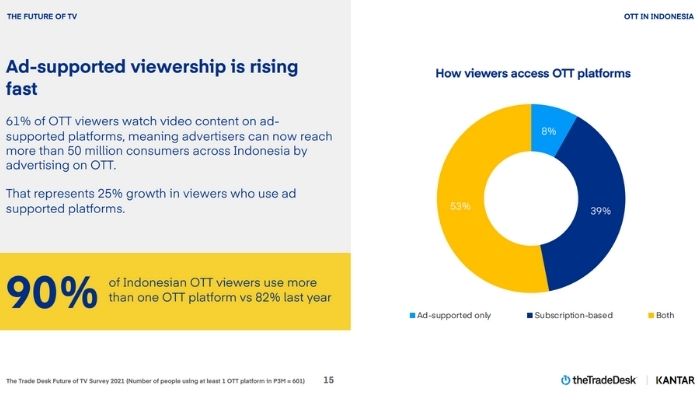 The data also showed that Indonesian users prefer to watch their favourite shows on OTT rather than on regular TV. The difference in viewing favourite shows between OTT and traditional TV was only 13%, but has already widened to 22%. With a large margin of 27%, Gen Zs in Indonesia led the pack, showing the growing aversion to traditional television among younger generations. The report notes that advertisers prize these age groups because they are at a stage in their lives where they are forming long-term brand loyalty and are looked to asare trendsetters for all ages.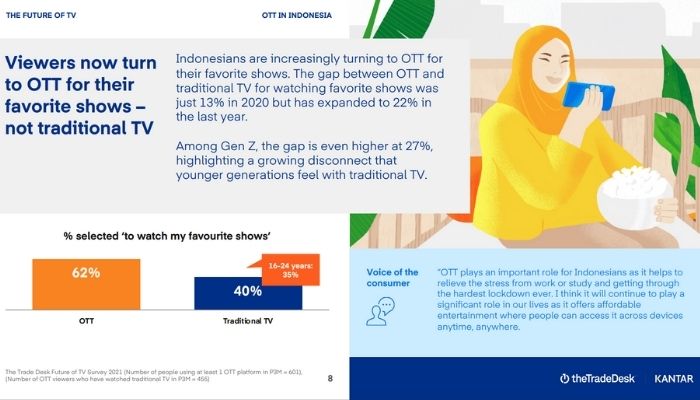 In terms of the type of content, Korean content is undoubtedly the most popular OTT genre in Indonesia. While 57% of OTT users identified Korean as one of the top two genres, its attractiveness to female viewers is apparent. Korean content is preferred by three-quarters of respondents (75 percent). Meanwhile, the number of OTT viewers who viewed Western programming declined by 9 percentage points from the previous year. On the other hand, male Gen Z and young Millennial viewers in Indonesia prefer comedy, action, and Japanese anime to Korean drama, which remains the most popular genre among female Gen Z and young Millennial viewers. Young male Millennials are also big fans of live sports.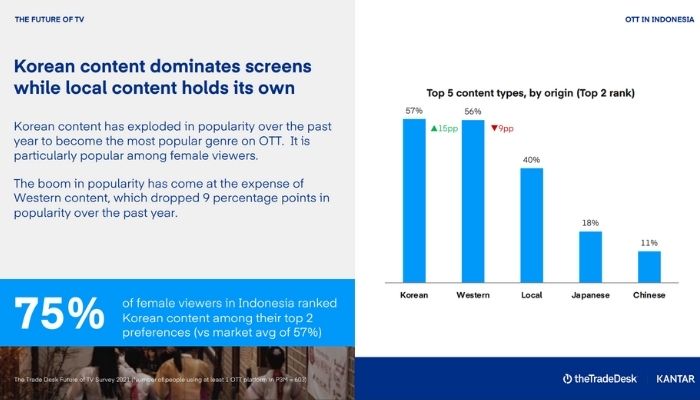 Florencia Eka, country manager at The Trade Desk Indonesia, shared, "consumers are aggressively moving towards a new model of content consumption, and this means marketers will have to develop new strategies for reaching them. OTT allows brands to reach their audience with more precision and accuracy because data can be applied to OTT campaigns in a way that's not possible with linear TV. This incremental reach is an important element of a comprehensive TV ad campaign."