Shanghai, China – Midea, the global appliance manufacturer headquartered in China, has announced its upcoming state-of-the-art virtual factory – the Midea Thailand Smart Factory – and it has partnered with creative technology company MediaMonks to create an innovative immersive experience for Midea's customers.
MediaMonks was named partner during this year's Midea RAC (Residential Air Conditioning) Online Canton Fair, with the aim to deliver richer, and more interactive experiences to consumers, and to give greater clarity and understanding on its brand, vision, and products. The smart factory is only one of the two main projects that the two are working on, with the other being the Midea Vision or what is also called the M-Vision project, a digital interactive platform. Both aim to demonstrate Midea's strong vision for the future.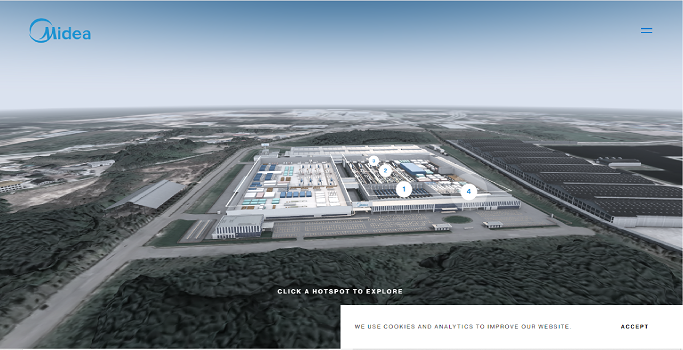 On the smart factory in Thailand, MediaMonks utilized a WebGL experience to provide customers with all aspects of its construction. To give them a comprehensive view of the innovative construction process, MediaMonks came up with the idea to create a virtual tour to this 'future factory'. Customers are able to freely explore the facets of the factory online and get a deep understanding of its key features and highlights.
According to Technical Director for MediaMonks Shanghai Ron Lee, the virtual factory environment was achieved with the combination of aerial and ground photography footage built upon a 3D modelling technique called photogrammetry. 
"On the fly through experience, we enabled our digital visitors to navigate across a 3D modeled factory represented in the clean, modern aesthetic of minimalism," Lee said.
Lee further explains that visitors can now explore interactive hotspots. Alongside the archived time lapse videos, customers can choose to watch a live camera feed for a real-time look at the factory's construction, and finally, a dedicated news tab keeps customers up to date with relevant information.
Ramzi Chaabane, also a head of strategy for the Shanghai team, said, "The factory of the future is characterized by the integration of digital technologies into manufacturing processes. The 'smart factory' – or Factory 4.0 – aims to achieve further competitiveness and will rely on the convergence between the industrial and digital worlds."
"This is hinged on existing tools and creativity – sensors, automation, big data, IOT, cloud computing – being propelled, and the arrival of new activities in energy, green products, robotics, molecular biology, genetics adding value and innovation to marketing. This thinking will empower Midea and its partners and help future-proof and create lasting business impact," Chaabane adds.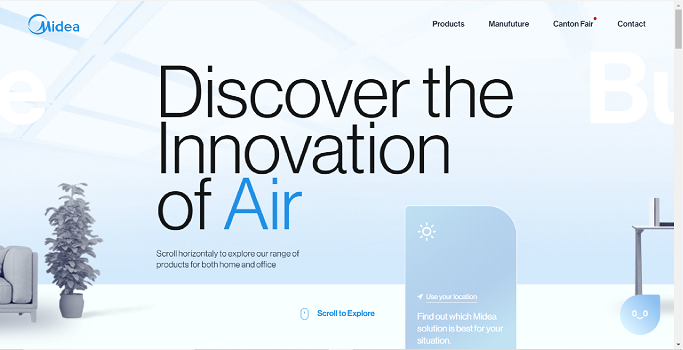 Meanwhile, the Midea Vision, which is under the air conditioning line of Midea, is a digital interactive platform, which will be the integrated home to all the latest RAC and Light Commercial Air-Conditioner (LCAC) products, as well as core technologies, branding, manufacturing and company information. It will also be including the RAC Canton Fair virtual center, enabling Midea RAC to connect all global business customers closely by utilizing a cutting-edge AR product launch event, interactive live streaming and immersive product experiences. 
"Midea is a category leader when it comes to R&D, manufacturing, and shipping to name a few. The ambition is to build a solution to solve ongoing business challenges and pave the path for the future. The core of what we try to deliver is to allow users to have more discovery moments and information touchpoints to create a seamless experience," said January Zhang, head of marketing department at Midea RAC OSC.
As part of the efforts with Midea Vision, MediaMonks will also be building Mia – Midea's holistic AI solution – which will help solve a host of business challenges. In the near future, Mia is targeted to be a tech that helps achieve a variety of things not seen before, such as knowing customer insights and applying them on behalf of every user to improve R&D, and engaging directly with customers and managing manufacturing, shipments, logistics and production lines to improve the sales experience.
Midea Vision is already live and Mia 1.0 has already been launched this month. Meanwhile, the Thailand Smart Factory is slated to open in October 2021.