Jakarta, Indonesia – As the music genre of K-pop continues to be more appreciated globally, thanks in part to the prominence of K-pop groups on Twitter, more and more K-pop fans take to Twitter to show support and appreciation for the genre. In 2021, the Southeast Asian nation of Indonesia ranked first in countries globally talking about K-pop on the platform, according to the latest insights released by the social media platform itself.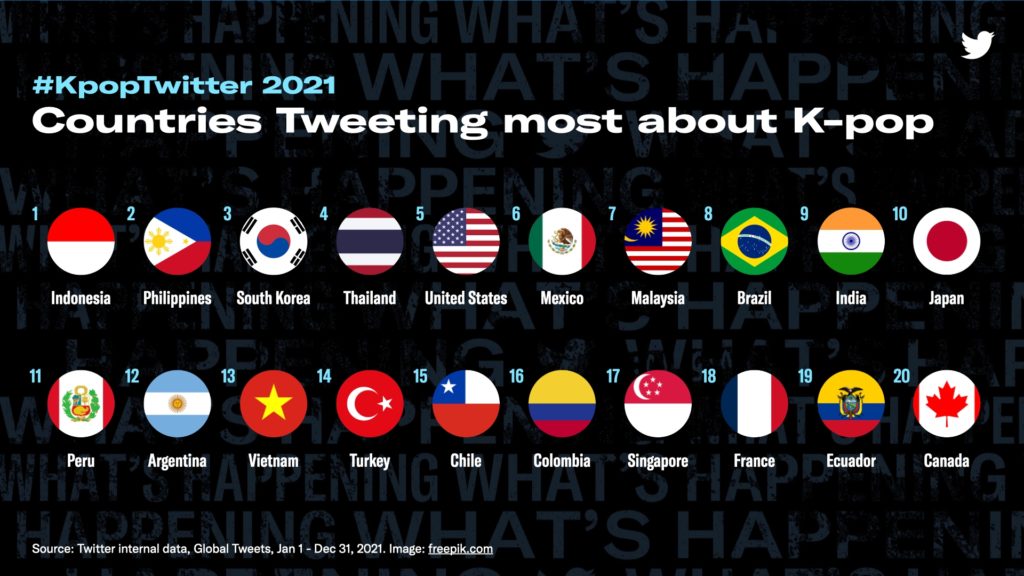 Indonesia also ranked first in the countries globally who have the most active K-pop fans in the platform. It bested other countries in Asia such as the Philippines, Japan, Singapore, Thailand and even South Korea itself in regards to online engagement related to K-pop.
In terms of most-tweeted K-pop groups globally, K-pop boy band BTS ranked first, followed by fellow K-pop boy bands NCT, ENHYPEN, EXO, and K-pop girl group BLACKPINK. Meanwhile, in terms of emerging K-pop groups, ENHYPEN ranked first, followed by TOMORROW x TOGETHER, TREASURE, aespa, and ITZY.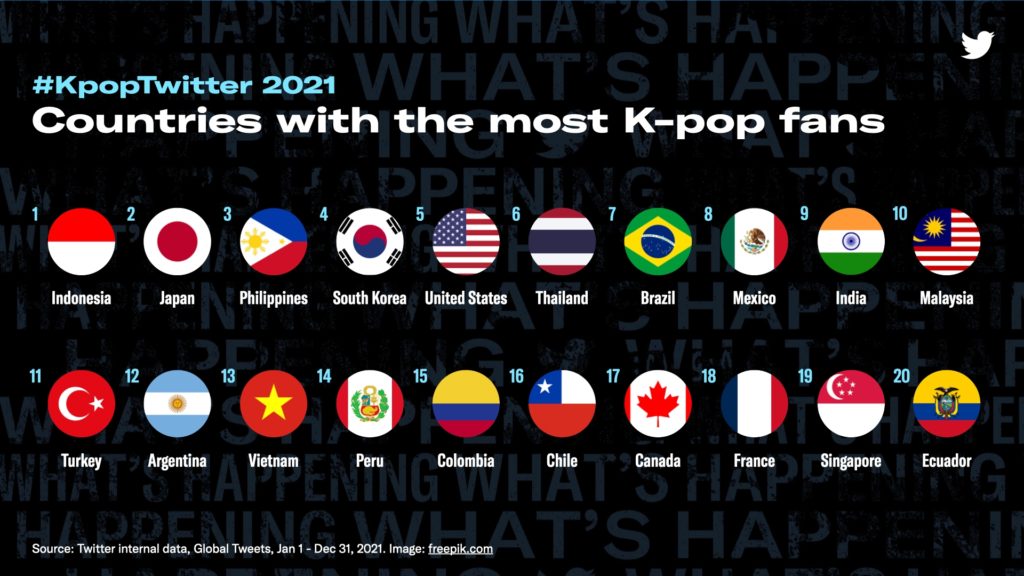 For YeonJeong Kim, head of global K-pop partnerships at Twitter, as the global consumption of Korean content grows, they look forward to seeing even more diverse conversations on Twitter and providing more content you can see exclusively on the platform in 2022.
"In 2021, with BTS and NCT leading the conversation, we could also see an increase in conversation related to rising artists such as ENHYPEN, aespa, and ITZY. But beyond K-pop, we've also seen discussions about Korean content across the board on Twitter growing with K-pop fans talking about not just their favorite music, performances, concerts, and daily lives, but showing increasing interest in dramas and webtoons with K-pop soundtracks or starring K-pop idols," Kim stated.