Immersive technology used to be a far-fetch concept, provided only by lofty-funded companies and experienced and appreciated only by banked consumers capable of grabbing cutting-edge tech. Today, innovation in tech has seen more than just a sophistication in features but has evolved to provide the most important development of all – AR and VR can now be experienced by everyone.
When mobile game Pokémon GO was released in 2016, AR had started to become a household name. Now, with the unprecedented digital lifestyle brought on by the pandemic, AR and VR had similarly risen to new heights – becoming brands' top consumer engagement strategy, infiltrating people's everyday life.
For the latest episode of MARKETECH Spotlight, we sat down with Malaysia's fast-growing digital experience agency Unicom Interactive Digital (UID) to deep dive into how these digital experiences are developed. Through a conversation with its Chief Operating Officer Jareth Eng, we were let on the behind-the-scenes of AR development, and most importantly, the best practices and future trends in immersive technology straight from the experience builder.
Pivoting from on-ground activations to digital experiences
Pre-pandemic, UID started out as a provider of on-ground activations, but just like every business during the pandemic, the digital agency had to pivot to meet new demands with the firm finding itself at the cusp of a challenge and an opportunity.
"UID is in [the] position [of] bridging traditional marketing norms with digital touch," said Eng in the MARKETECH Spotlight interview.
With its core specialization in physical to hybrid marketing activations, it didn't come easy for the agency to shift to crafting purely web and digital experiences.
"Suddenly, there was an influx of inquiries [asking] could you do this web-based campaign for us, could you build this digital site for us, and then we thought, why not?" shared Eng.
Before the demand for digital risen, UID had worked with brands like Clarins, Victoria's Secret, and TeaLive, and a staple of the on-ground activations UID mounted was installed with touch-screen and sensor devices that amplified consumer engagement.
Transforming the firm's value proposition to delivering web-based experiences was not something that UID was a stranger to. As Eng puts it, UID had the skillset and the 'tools' to build 'software' and that although partially an uncharted territory for them, there had been no reason to "stop us from trying."
"Since then, we went full-force ahead, trying out [and] testing out what works [and] what doesn't work, and we just kept finding our process, and that's how we got to where we are today," said Eng.
The characteristics of a good digital experience
With consumers locked in the four corners of their abodes at the height of the pandemic, the ways to explore products and services have been drastically reduced. With the presence of e-commerce, consumers are still able to fulfill their transactions, but only a similar live brand engagement can answer to consumers' indulgence – and this is what has been the greatest role of AR and VR at this period.
After over a year, UID is finding firm its ground and has since launched a virtual concept store for skincare brand Sulwhasoo and AR applications for FMCG Nestle and Ascenda, telco Maxis, and skincare Aiken, among many others.
First off, Eng says that the common denominator among successful campaigns is content, emphasizing on the importance of 'personalizing' content. Eng's advice? Be real, be sincere.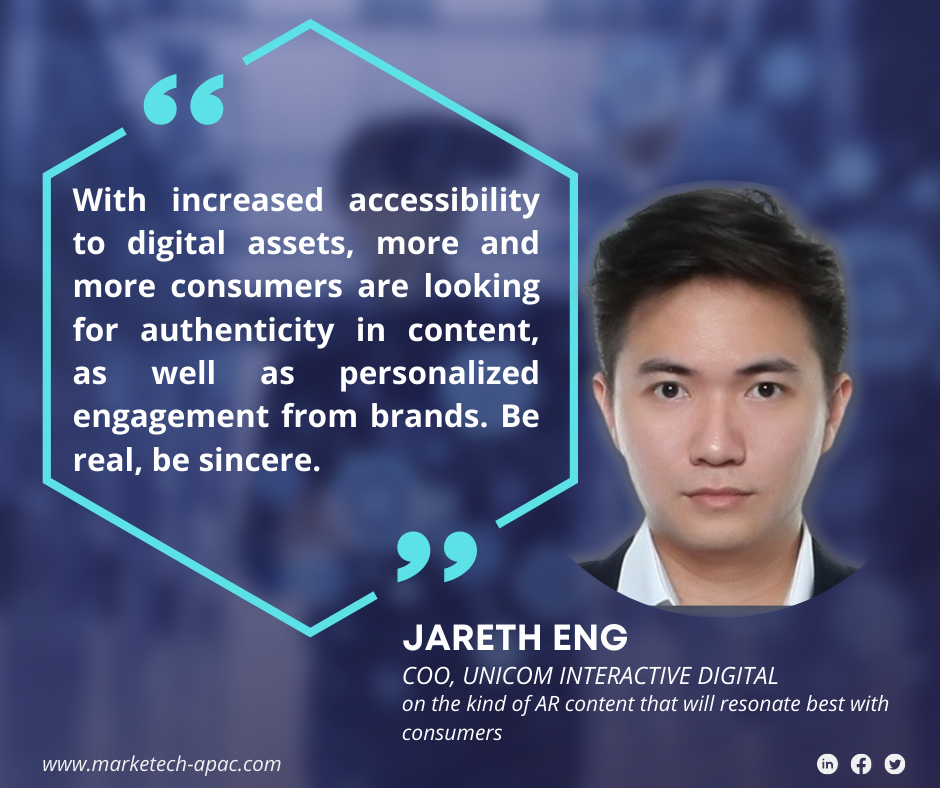 One of the things enjoyed today is the increased accessibility to almost any type of digital content and comes with that is the heightened demand to rummage through and find the one that's most engaging and trustworthy, therefore, making personalization and authenticity top values, according to Eng.
"More and more, let's be honest, we start to get bored of the same stuff, and we start to look for authenticity in content, because there are so much paid advertisements today [and] so much paid endorsements, and we reach a point where we do not know what is being said is real or not."
Technically, Eng cites the element of building a good digital infrastructure, more specifically on the issue of loading speeds, as a vital aspect of a good digital experience. On-demand is now the name of the game and said area, when overlooked, can be a dealbreaker for brands.
A basic example would be, Eng continues, when a brand is running an AR campaign based on QR codes and upon scanning, a consumer is made to wait, that dead air becomes a potential pitfall where they ought to abandon the experience.
"It's a matter of milliseconds that you will lose a potential customer, this is why infrastructure is very important," said Eng.
Now, Eng says that besides knowing the components of a highly-engaging digital experience, brands must simply decide to be a proactive player in the digital space. With digital the present and future of marketing, this is the way brands are able to stay 'relevant'.
"The drive towards digital transformation may have been fueled by the pandemic but even as the world recovers and we are no longer restricted by social distancing constraints or pandemic constraints, the perks of adding digital elements to campaigns have proven themselves during the past year. Even as we head back to a norm that we were used to, digital elements will still play a part," said Eng.
Lastly, as a digital partner themself, Eng stresses the importance for brands to find a 'good match'. He says it all boils down to the chemistry between the brand and agency.
"Finding a good digital partner is very important. We could be a good fit, we could not be a good fit," Eng commented.
He adds, "A digital partner that understands what your brand is trying to achieve is gonna be key."
With UID's case, Eng believes the firm's strongest suit is their unique perspective of having been able to execute both on-ground and digital campaigns, and therefore having a good combination of the skills and knowledge of both.
"As a company that was borne out of delivering on-ground campaigns to the digitalization of campaigns…I'm not saying that we are the best but [we] have learned the lessons," said Eng.
The process of building a digital experience
According to Forbes' tech council, remote try-on capabilities will be one of the biggest tech trends that will impact business and consumer marketplaces moving forward, and therefore, VR and AR will carve an even more pivotal role in making this stride possible.
In order to bring this to fruition, players in the digital ecosystem must work hand in hand. A brand with a platform to engage and influence the consumer must forge strategic partnerships with VR and AR experience builders that share the same values and vision.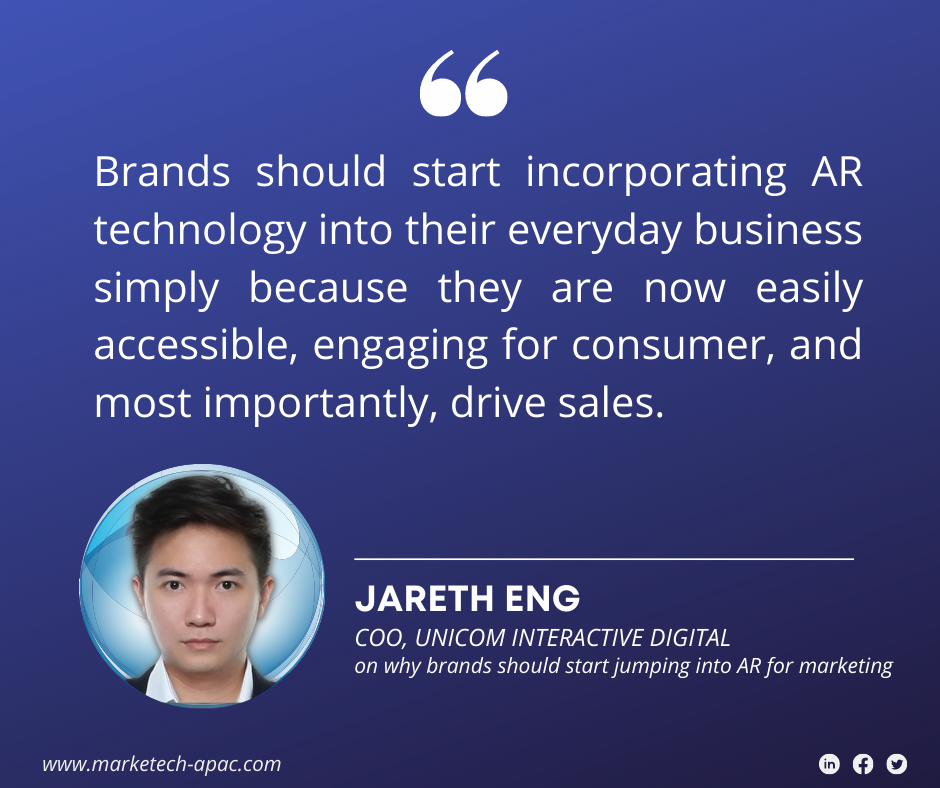 A combination of simplification, innovation, and strategic data, Eng says, is what will hit the ground running for both agency and brand, and what would, eventually, set the record for one-of-a-kind and out-of-the-box marketing campaigns.
First, the process from conceptualization to execution must be simplified. Eng shared that in UID's case, the process is made seamless by simply removing any technical jargon from the communication.
"As former marketers ourselves, we understand the pain that marketers face especially when dealing with tech. We don't bombard you with all the technical jargon," said Eng.
With AR and VR a fixture of the burgeoning new-age tech, innovation will always be at the heart of building these ultra-immersive brand engagements, and Eng couldn't agree more.
He says that with UID, innovation is built from dealing with the roots, that is, learning a brand's story – how they operate pre-pandemic so that the agency is able to bring out a digital experience that is both never-before-seen but also a continuity of a brand's identity.
"As brands are restricted by physicality in recent times, such restrictions don't apply in the digital space," said Eng.
He adds, "Tell us what you used to do before the pandemic, what your objectives were, which touchpoints were important to you, and what your measure of success [was] for on-ground campaigns…for your audiences, it is like you [have] always been there."
Lastly, strategic data or the right metrics is what will keep the campaign team aligned – the brand and the agency to be on the same page. With the wave of creative innovation today, marketers on the client and agency side must not lose sight of best-serving metrics that will assure precedents to enable the repetition of success, and foolproof action plans from rewriting mistakes.
On UID's side, Eng says that its strength comes from the team's marketing background; that as former marketers, they know which metrics will best serve as compass for directing efforts into the most befitting strategies and channels.
"We filter off what is coined 'white noise' and keep the data that matters," said Eng.
He adds, "Again, as former marketers ourselves, we know the type of metric that you need for improving customer retention, we know the type of metric in driving your sales."
The future of AR
AR has started to penetrate the general consumer's lifestyle and campaigns have been evolved to commercialized and friendly formats to make AR inclusive – not just for those that have hi-tech devices to experience and not only for the tech-savvy to appreciate. So if AR is the present, what more can we expect for the development of this area in immersive tech?
Eng says that the amount of research & development had been immense in the past year, and immersive tech definitely hasn't seen the best it's yet to offer.
Tech and social media behemoths Apple and Facebook are determined to lead the way in immersive tech by announcing futuristic new features and products with premature news surrounding Apple's launch of a headset and glasses with AR and VR capabilities and of course Facebook's investment in the metaverse.
Not getting too ahead of ourselves, Eng said that a much proximate innovative feature that's as exciting to both brands and consumers is that AR is no longer restricted by app-based experiences.
"The beauty of web AR is you don't need to download an app for ease for accessibility," said Eng.
When face-to-face interactions were phased out in the pandemic, brands had to cruise through with the biggest question of all: How can we show our products to consumers?
"Brands no longer [have] consumers going to them, [in your] brick-and-mortar stores and retail shops," said Eng.
"Augmented reality provided a way for consumers to experience a product and to still be educated, and to have a sort of [an] experience with a brand," Eng adds.
Now, with just a simple scan of a QR code, and by being connected to holy grail social media platforms such as Facebook and Instagram, consumers can be transported to different realities, be entertained with games, and even go as far as experiencing AR-activated concerts without lifting a finger.
"Brands should start incorporating AR technology into their everyday business simply because they are now easily accessible, engaging for consumers, and most importantly, drive sales," said Eng.
Brands who want to reach out to Unicom Interactive Digital may visit their website at uid.asia and may contact the agency at [email protected].
Listen to the full conversation between MARKETECH APAC's Regional Editor Shaina Teope and UID's Chief Operating Officer Jareth Eng on Spotify: