Kuala Lumpur, Malaysia – Malaysia's Ikano Centres, the IKEA-anchored shopping destination, is welcoming Malaysians back to their malls after the easing of extensive movement control orders (MCO) with a heart-warming campaign featuring a herd of charismatic and incredibly social Llama influencers.
Developed together with creative agency TBWA\Malaysia, the campaign plays off the warm phrase 'lama tak jumpa', a greeting commonly used when there has been a very long absence between catch-ups.
Natasha Aziz, head of customer experience and digital at Ikano Centres, said, "We have certainly missed our visitors. After such a long time, it feels so right to be welcoming them back with 'Iama tak jumpa'. 'Lama tak jumpa' oozes warmth, excitement, and optimism as we move ahead. We are looking forward to safely welcoming back our communities to our shopping centres as restrictions start to ease."
The campaign went live on 1 November, and each Llama influencer, whose personalities were made to radiate warmth and confidence, represents one of the four Malaysian Ikano Centres' malls dotted across the country:
The fun and friendly LIPPIE represents the IPC Shopping Centre, while the always on-trend and stylish LLAMY is the llama of MyTOWN Shopping Centre.
Meanwhile, TIA, the active skateboard-riding llama represents Toppen Shopping Centre, with the artsy graffiti-spraying BEEKA llama is for Ikano Centre's offering in Batu Kawan, Penang.
The campaign draws on experiences visitors had forgotten they were missing at Ikano Centres' shopping centres such as the thrill of trying on new clothes, playing with gadgets to the smell and taste of cinema popcorn, and the general overall buzz of an environment filled with people once again.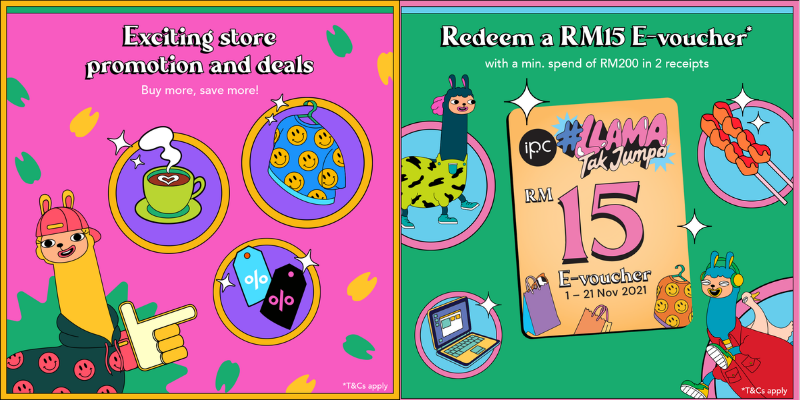 In addition to an animated music video, eye-catching social media content was developed to capture these memories and sensory experiences. As the malls open, shoppers will have the opportunity to collect the herd of vibrant Llama influencers during their shopping visits.
Yee Hui Tsin, TBWA\Malaysia's CEO, said, "Our partnership with the Ikano Centre's portfolio of malls in Malaysia is an exciting challenge as we work to ensure efforts are capturing a sense of freedom of movement and excitement, while also helping Malaysia's assimilate into a 'normal' endemic lifestyle."
Yee Hui Tsin adds, "The changing face of retail and shifts in consumer behavior has been extraordinary. However, retail remains the anchor of the Malaysia economy, evidenced by a distinct parallel between the strength of the economy and how well retail is fairing."
On awarding the business to TBWA, Aziz said, "TBWA's insight to our re-opening was spot on; they aptly captured the emotion around everything people were missing from visiting our shopping centres; the sounds, smells and shared experiences and how together we can create endless possibilities for when people come together."
TBWA\Malaysia said it was awarded the business after a competitive pitch in August. TBWA\Singapore manages the IKEA brand across Singapore and Malaysia.