When brands are about to launch a campaign, oftentimes, enlisting a celebrity or social media influencer to be its face is the no-brainer next step. Earlier in 2022, we saw one banking brand turn this reality on its head. What would happen if a brand takes matters into its own hands and launch its very own influencer instead?
This was the case for Hong Kong-based Hang Seng Bank through the introduction of 'Hazel'. Unveiled in January 2022, the virtual influencer embodied both the impressive technology of digital and the power of data to create a persona that would resonate well with consumers. Such direction has led them to become MARKETECH APAC's 'Innovation of the Year' for 2022.
We spoke with Jordan Cheung, chief marketing officer at Hang Seng Bank, to better understand how 'Hazel' was conceptualised, and how, since her launch a year after, she's remained relevant in the digital world.
Embodying the brand's goals in a 'red sea' of advertising
Whilst banking used to have a bad rap as a complex endeavour saved only for smart and cerebral individuals, contemporary times now show otherwise–the youth are now considerably interested in taking ownership of their finances. This is where Hazel comes in.
In a bid to connect with the younger consumers and keep the brand's persona fresh and interesting, Hazel was brought forth. Cheung said she represents a unique way of driving digital engagement.
"The launch of Hazel aims at helping Hang Seng to [break through] from the advertising red ocean to secure the brand with top-of-mind awareness [showcase] our advantages on our online capabilities and offline networks, and [create] lasting impressions among our customers," he said.
But before Hazel could be launched, Hang Seng Bank revealed that there had been a more intricate process which involved conducting a study amongst its consumer base – the 18 to 30 year-old bracket. Therefore, the Hazel we now have is the culmination of today's youth's unique values and persona.
As true to her slogan #AllOfTheAbove, she aspires to be independent, not wasting time to lead a life full of excitement; and is able to explore at will, try new ideas and experiences, and always ready to take on new opportunities.
"From a [post-campaign] research tracking, we got [around] 69% of positive verbatim from [the] young generation, with 59% [of] frequent digital users showed liking towards the campaign and 68% of [the] interviewees saying they will consider Hang Seng digital banking," shared Cheung.
How Hazel built and retained her relevance
In the wide world of the Internet, influencers will always rise–and then some will fall. In order to stay relevant within social media, Cheung explained that they never stopped at Hazel appearing in one video, but instead took on multiple collaborations and launched new projects over time.
When Hazel was first introduced in January 2022, she already had a dedicated Instagram account, plus a song collaboration with Hong Kong-Canadian singer Jay Fung, 'Always By My Side'. This was then followed by another partnership with actress-singer Laiying, which further got the attention of the music industry.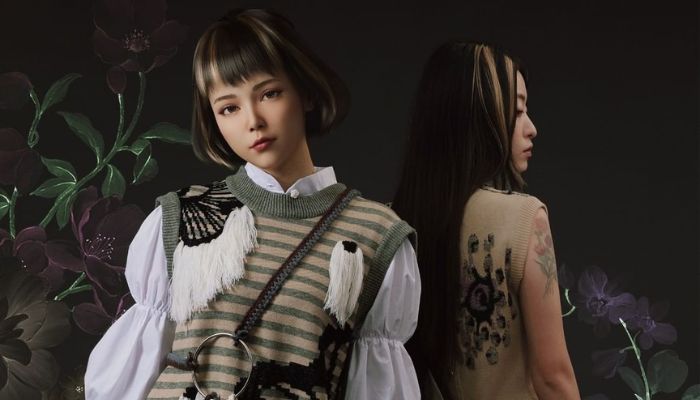 But what would be the biggest one would be the tie up with The Hong Kong Polytechnic University (PolyU), which featured Hazel donning concept sustainable costumes made by the institute's graduates in Textiles & Clothing.
Among the highlighted collections are designs which symbolised the beauty and independence of modern-day women and the 'beauty' created by eco-friendly materials.
At present, Cheung revealed that Hazel is set to appear this 2023 at the bank's metaverse branch in the virtual world, made in partnership with The Sandbox.
When asked about how they are able to manage to keep up with the trends while handling a virtual influencer, he noted that continuously understanding its fanbase helps keep them relatable.
"Understanding the trend (like how consumers are following authentic & relatable influencers
than those offering picture-perfect lifestyles), leveraging data & result to draw [insights,] and [to] keep exploring the newest technology is all what we have been focusing on," Cheung said.
So, what's next for Hazel?
With the launch of Hazel, Cheung said they have observed the market's positive reception of virtual influencers, seen through the wide traction on Hazel's Instagram page, with people voicing out that they want to see more of her.
"From YouTube Brand Lift Survey (BLS), we also [saw] a 10.7% increase in relative lift for ad recall, which is higher than industry average of 7 – 8%," he noted.
As of this writing, she has garnered around 3,000 followers on Instagram, with contentincorporating a combination of her adventures and amplification towards the bank's latest offerings, from promos to their services.
Cheung later said that for the foreseeable future, they are looking forward to combining the best of technology in AI and analytics to further improve Hazel's digital reach.
"We're working on bringing Hazel to the next level through latest technology like motion capture and AI that allows virtual and augmented interactions with customers – by then, Hazel can attend live interviews and offer live unboxing experience to audiences. We're also actively looking at other collaboration ideas that can bring to live Hazel's character and personality more," he concluded.
This recognition is based on Google Analytics results on the most-read stories of 2022, along with editorial validation on the significance of a leader's contribution, campaign results, and overall impact.