The start of the pandemic and subsequent lockdowns brought Malaysians lives to a hold. Contained at home, Malaysians were cooking more at home and ordering less delivery. This posed a challenge to quick-service restaurants like KFC who had difficulty sustaining growth as a delivery brand. However, a new pandemic trend was fast on the rise, and that people were looking at their kitchens to provide them with a sense of fulfillment.
This is what Reprise, Mediabrands' digital creative agency in Malaysia, realized. The pandemic was a chance to showcase culinary skills to friends and family and connect with the world outside. Reprise took the idea to fuel this creativity by offering KFC as an ingredient!
With KEPCI KITCHEN, Reprise turned Malaysian Kitchens into KFC Kitchens, built digital cookbooks, helped Instagram chefs display creativity, and in the process became much more popular as a delivery brand.
Malaysians asked, "How long can we keep ordering food on delivery?"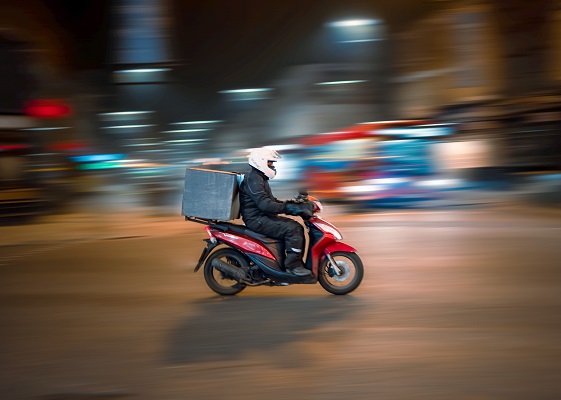 The initial Movement Control Order (MCO) saw all brands growing delivery sales, with KFC seeing an uplift of +49% in just one month. This peak soon plateaued as Malaysians asked themselves amid fears of job loss and uncertainty – how long can we keep ordering food on delivery?
The new enemy of QSR came in the form of home cooking! Malaysian households found themselves tightening their wallets and prioritizing essentials over delivery services. The country started seeing a gradual shift towards cheaper and healthier options with cooking at home. A study conducted at the end of March 2020 indicated that 62% of Malaysians said they were more inclined to cook at home.
The Challenge: How could KFC sustain business & delivery growth? KFC has a long-standing reputation as being a family brand. To sustain KFC's growth via delivery, the fast-food chain had to make sure that its biggest fans – families – kept on ordering from them.
Our low-hanging fruit: Families. As a family brand, these were KFC's natural audiences. Instead of cooking a meal for the entire family, KFC wanted to offer them a convenient and affordable option in KFC's shareable buckets. However, along with sustaining momentum, the restaurant had to grow. For this, it needed to connect with the largest group of fast-food consumers in Malaysia.
Teens & Young Adults – the new territory for growth. This was the high-value market. They ordered more frequently, with a higher-order value per person. Reprise looked to see how KFC could drive offers on individual meals and cater to this audience, amid dominance from other QSR players.
The Objective: Getting a foot in the door to achieve 3 things
With the Campaign, KFC aims to achieve three things. Even amid the rising trend in home cooking, the brand's objective is to make more people order KFC Delivery: to double the incidence and volume share of the delivery channel within its touchpoints within 3 months.
Second, it eyes to make KFC more popular in the delivery market by achieving two things: a.) growing the "Most Often Used Brand" by 50%, and b.) growing the "Brand Ever Used" by 50%.
Lastly, KFC wants teens & young adults to switch to KFC by increasing teens & young adults' visitations for delivery by +10%.
One of the biggest challenges for KFC and Reprise is how could the KFC brand simultaneously connect with two separate audiences – its stronghold of families and the avenue for growth with teens/ young adults. Reprise realized that it could not convince such a large segment to change their minds, nor take on a mammoth enemy like home cooking.
Campaign Strategy & Insights
An interesting trend Reprise observed was that social media shares were increasingly devoted to "Lockdown Cooking". Globally, everyone was keen on showing their innovative results in kitchens – be it Dalgona coffee or sourdough bread. As millions of people were deprived of regular jobs, curbed with available activities, and a limited social life, they felt useless and non-productive. That is where the kitchen came in!
The Cultural Insight
A period of non-productivity had become a time for creativity. Kitchen Creativity was fueling a way for millions of people globally to feel productive, purposeful, and fulfilled. Amid this excitement to create, Reprise asked themelves: how could KFC contribute to this game of Kitchen Creativity?
Our strategy: Repurpose KFC's product from a fully prepared meal to an INGREDIENT
KEPCI KITCHEN: Turning every Malaysian kitchen into a KFC kitchen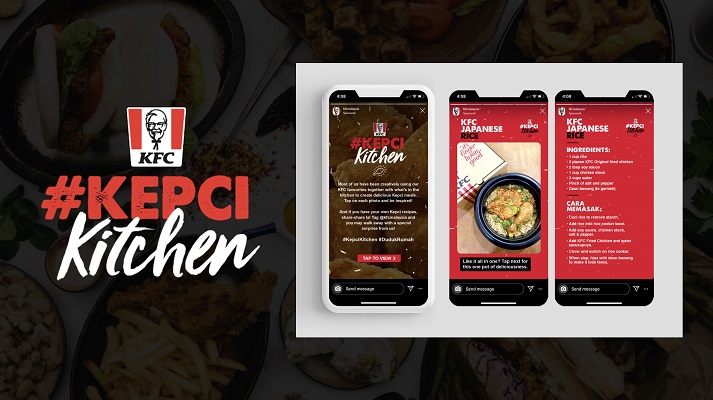 Campaign Execution
Reprise's premise was simple: Encourage Malaysians to order KFC Delivery by showing them how to use their KFC favorites more creatively through simple and convenient recipes for the family, and menu hacks for teens & young adults.
Launch: Introducing the Kepci Kitchen Instagram stories cookbook
We kicked off the campaign with the launch of our first six recipes that catered directly to the different MCO personalities – For the lazy one-pot cooks all chef; For the enlightened health & fitness junkie; For the gamer, the Netflix binger; For the one that misses the mamak; For the one that misses the warung (simple suburban café); For the one that misses 'atas' (upmarket) western joints.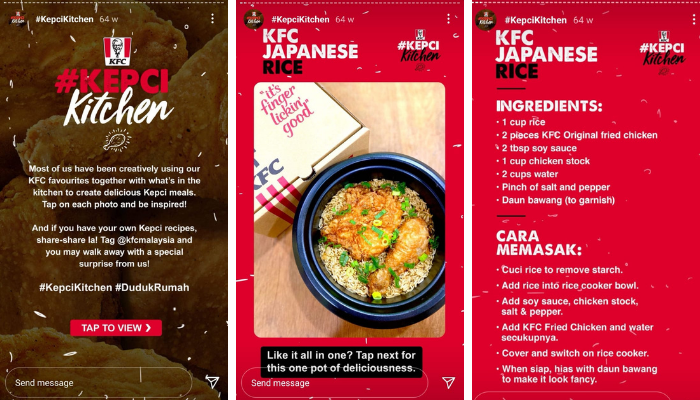 During the early stages of lockdown, local and international campaigns showed many similarities. We saw a growing trend of cooking at home and were inspired by menus that were crafted to fit into Instagram stories. Tapping into this trend, we kept the approach both natural and grounded. Malaysians are known to be great foodies and this campaign allowed them to unleash their creativity and connect with one another through these unprecedented times.

Amir Faiz, Group Creative Director, Reprise Digital
All recipes were uploaded onto the KFC Instagram account, and stored in our highlights bar to create a digital cookbook shelf where Malaysians could browse and screencap our recipes, just like a real cookbook. From the get-go, we ensured that all recipes were easy to make with accessible and simple ingredients (due to MCO restrictions) while also championing our core favorites.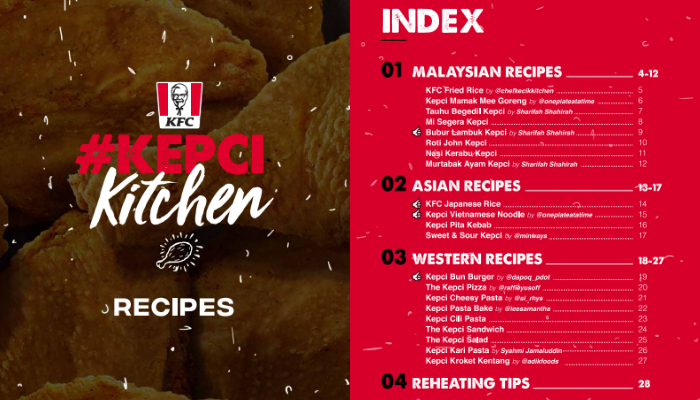 Amplification: Self-made, self-taught Instagram chefs
Reprise and KFC worked with Instagram chefs & foodies to create a new set of recipes that were broken down into three categories: big eats (5-6 pax, family sharing), mid eats (2-3 pax), and individual eats. This was to ensure that our two key audience groups could relate to KFC's diverse body of recipes, providing an endless stream of ideas to remix their KFC orders.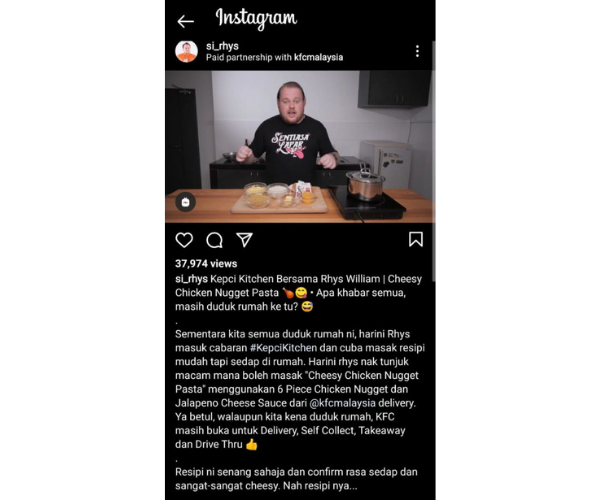 A selection of influencers was carefully selected to appeal to the audience. Each of their postings had a clear CTA to purchase products featured and promoted KFC's free delivery code.
Reaching a wider audience on TV
To extend KFC's reach to its core audience and align with the increase in TV viewership in April, KFC embarked on a four-episode sponsorship with the TV3 program "Dari Dapur Saya Ke Dapur Anda" (From my kitchen to yours). All episodes were also uploaded on TV3's YouTube, Instagram and Facebook page which broadcasted the series to a collective base of 8 million social followers & subscribers. With the cooking show being led by a well-known local influencer Sharifah Shahirah cooking up Ramadan recipes.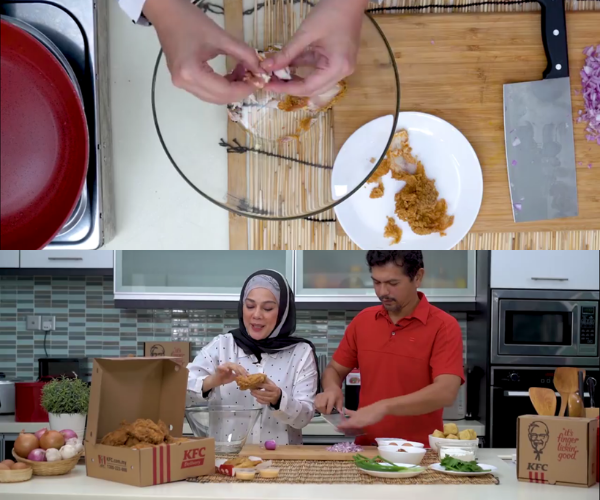 Not only did KFC repurpose its product, but Reprise found an innovative way to ride on Malaysia's desire to cook at home, creating new occasions and new ways of consuming KFC. Thus, Reprise found its strategy to combat Malaysia's newfound desire for home meals!
The lockdown has shown us tremendous opportunities for brands in the digital space. At a time where life as we knew it came to a stop, it is definitely inspiring to showcase how nothing could stop creativity. It proves that an honest, down-to-earth creative solution can connect in such a meaningful way with Malaysians. The results were beyond our wildest expectations!

Eddy Nazarullah, Creative Director, Reprise Digital
Results & Achievements
Reprise and KFC's crusade to turn every Malaysian kitchen into a Kepci Kitchen exceeded all expectations. For its first objective of making more people order KFC Delivery, it was able to overshoot its targets by a mile with KFC's incidence growing 15x while volume share growing 11x.
It was also able to hit its second objective which is to Make KFC more popular in the delivery market. According to Reprise, results were beyond the team's wildest expectations. "Brand ever used" grew by 65% while "Most often brand" grew by 80%.
Lastly, it was able to get teens & young adults to switch to KFC. Teens visitations increased by +19%, while KFC's competitor dropped a staggering -76%. A similar trend was also observed among young adults which grew by +24% but dropped by -68% for KFC's competitor.
Kepci Kitchen won the hearts, minds, and stomachs of families, foodies, millennials, and celebrities alike. We were amazed by the noise and how it drove results, and this is solid proof of the agility of the agency partners and KFC team working hand in hand to adapt to the challenging circumstances. Its proof that despite adversity, we're still able to find gems of inspiration.

Chan May Ling, Chief Marketing Officer of KFC
The campaign period ran from 2 April – 2 June, 2020.