Malaysia – To set up a digital footprint is easy for brands, but to build and keep a high social media engagement – that is another story. Nowadays, almost any business is only knowable through the lens of social media – from retail to food and customer service, and players in the cinema industry aren't an exception.
In Malaysia, local cinema brand Golden Screen Cinemas (GSC) is getting ahead of the engagement race on Facebook, according to data by Facebook Analytics, extracted by digital marketing agency Webqlo.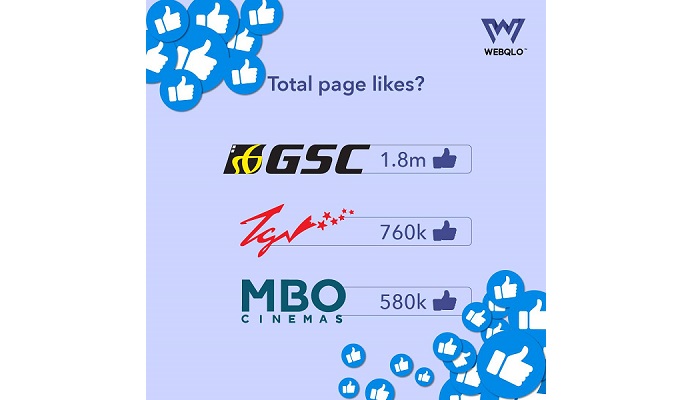 Among the three largest cinema brands in the country, GSC has the highest number of page likes with 1.8 million, followed by TGV cinemas at 760K, with MBO cinemas garnering the least number at 580K.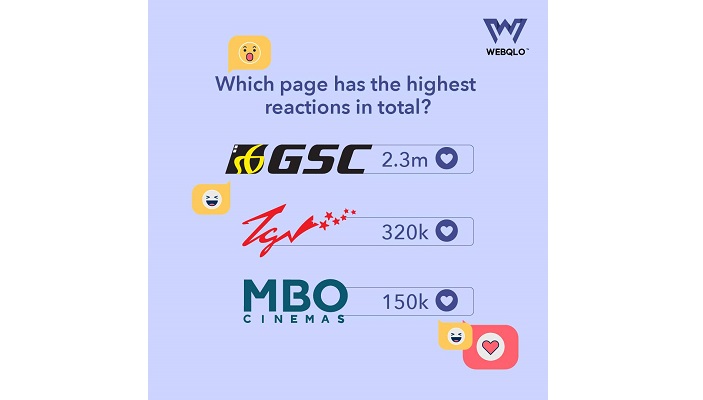 In terms of the overall number of reactions to posts, GSC still retained the top spot with 2.3 million reactions, with TGV's and MBO's count lagging with only 320K, and 150K respectively.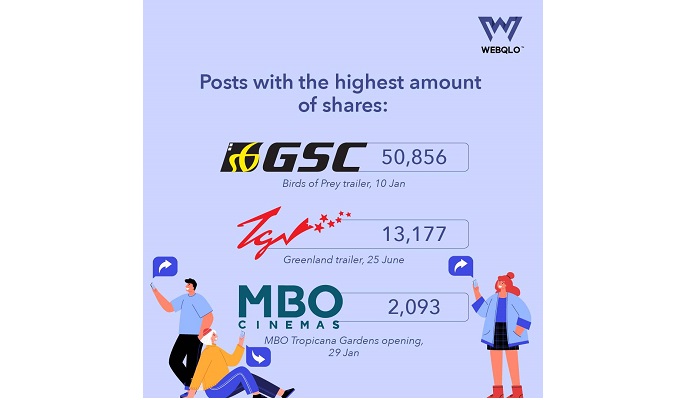 Similarly, the findings showed that when each of the brand's highest engagement posts between the period of January to September 2020 is put side by side in terms of shares, GSC still demonstrated the most promising count. 
The cinemas' posts are often movie trailers, and GSC garnered 50,856 shares when it posted the Birds of Prey trailer. Meanwhile, TGV landed on the second spot with 13,177 shares for posting the Greenland trailer. On the other hand, MBO's highest engagement post was that of the opening of its Tropicana Gardens location, which when compared to the two, still had the least shares with 2,093.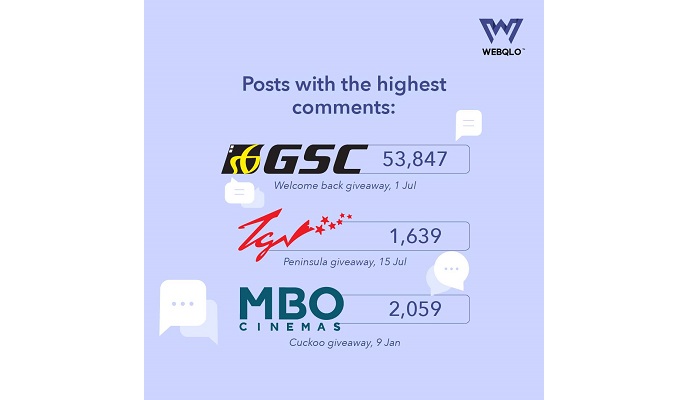 The highest number of comments to posts was also looked into. Quite different from the previous findings, TGV is now moved to the last spot, gaining only 1,639 comments for its giveaway post in July for the premiere of the film Train to Busan Presents: Peninsula. Meanwhile, GSC still led with 53,847 comments for its welcome back giveaway post that was published in the same month, followed by MBO for its January post on its Cuckoo water purifier giveaway, which gained only 2,059 comments.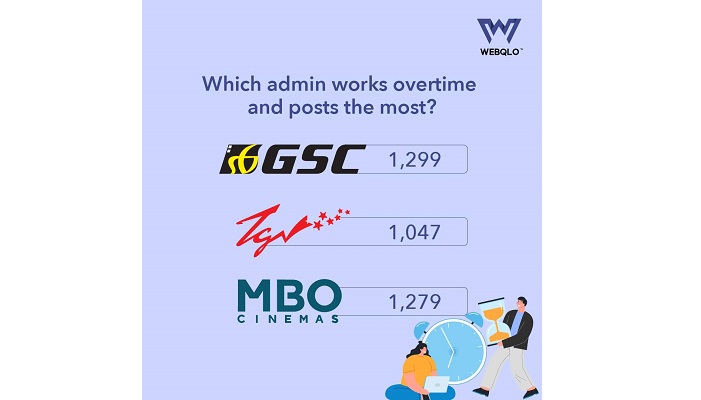 Ultimately, findings showed which of the brands' social media teams is the hardest at work, and although GSC rose to top with a total of 1,299 posts within the period of the findings, it was a close count with MBO which published 1,279 posts, while TGV showed with the least sum at 1,047.
According to Webqlo, compared to the two brands, GSC was the most proactive in boosting its posts, applying it for 32% of its posts which could explain the brand's higher amount of followers and reach.
All of the Facebook pages of the three cinema brands were opened about the same time 10 years ago.