India – In a very clever Christmas campaign by India-based delivery platform Swiggy Genie, we see a version of Santa that is all-ready and excited to explore other 'job opportunities' aside from his main holiday task of bringing gifts to everybody's household.
Created together with digital creative agency Dentsu Webchutney, delivery platform Swiggy Genie aims to present its app benefits of being a reliable hand in delivery, most especially gift-delivery this holiday, through none other than Santa, who is shown outsource the task himself to the platform, hence, now 'more available' for other work. 
To add further quirkiness to the #SantaOpenToWork campaign, the main ad has been made a parody of the emerging 'video resume' with the campaign team even cooking Santa up his very own LinkedIn profile.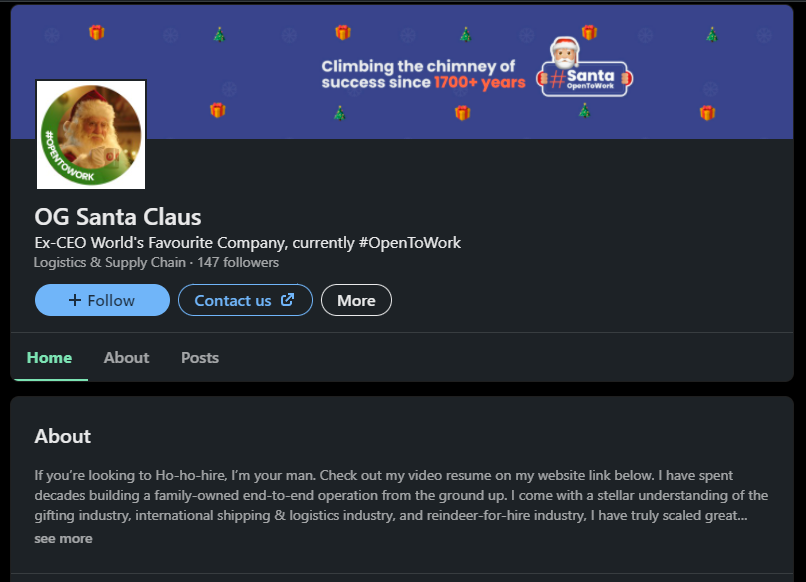 Sneha John, director for marketing at Swiggy, commented, "We wanted to remind Swiggy users and non-users alike that they can depend on Swiggy Genie to take care of gift deliveries and other chores this Christmas season. The #SantaOpenToWork campaign does just that, with some Christmas cheer and smart humor."
To create more buzz around the campaign, Swiggy has used their Genie Instamart channels to drop unbranded flyers and business cards from Santa, with a special QR Code leading people to the video. The agency shared that tear-able posters were even put across multiple corporate offices to target 'possible' employers.
Sanket Audhi, creative director at Dentsu Webchutney, shared that the campaign's idea revolved around the question – If Swiggy Genie is taking over deliveries, what will Santa Claus do?
"But we knew we had a winner when we thought of crafting the entire campaign around the #OpenToWork feature, which has become an instantly recognizable mnemonic. I hope people have as much fun watching the campaign as we had creating it," said Audhi.
Digital ads have been launched across Facebook, Instagram, Twitter, YouTube, Wynk, and Inshorts, leading people to the video resume.