Malaysia – Financial education platform HeyAlfred has launched anew the famous money savings challenge, 'Simpan Challenge', but this time in a mobile experience.
The Simpan Challenge, which encourages Malaysians to save RM1,000 or US$242 in 30 days, was first introduced in the country by well-known financial literacy advocate, Abuayubul Al-Ansari or also known as 'Abang Abu, Mekanik Wang', in 2009. Abang Abu has likewise been roped in as a partner in the campaign, with HeyAlfred also tying up with savings app Pod.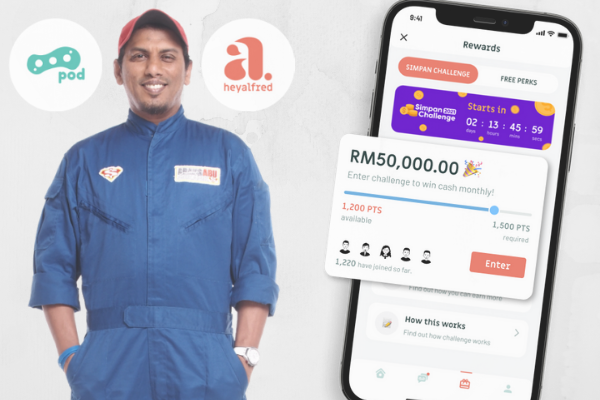 HeyAlfred refers to a Bank Negara study that 75% of Malaysians find it hard to raise RM1,000 in cash for emergencies. The campaign aims to prove this wrong by fostering a savings habit among Malaysians.
Successful savers that will be able to hit the target RM1,000 within the set period will win a cash prize from the cash pool prize, to be distributed among all the winners.
Interested participants would need to download the HeyAlfred app and sign up to join. A participant fee of RM20 is actually required to be able to join, but upon registration, an amount of RM10 will be added to the cash pool prize.
During the Simpan Challenge, participants will be able to get practical and actionable saving tips every day for the entire 30 days. Participants are encouraged to invite friends to join to increase the cash pool prize.
Participants get close to winning as they collect the required number of points by saving RM1,000 and more. More points are also added by completing in-app tasks
Winners of the challenge will have the cash prize credited to their Pods' Saving account at the end of the challenge. The challenge starts on 7 April 2021.