Singapore – Despite diversity, equity and inclusion (DE&I) being prominent across media and marketing, about 40% of ad agencies based in the Southeast Asia region admit to never checking client specification on DE&I before creating creative work for them, insights from independent global marketing consultancy R3 note.
According to the consultancy's latest report spanning 300 video advertisements broadcast in the region, there are lapses in regards to gender representation in these advertisements. About 33% of the sample ads have shown negative stereotypes on body image, 38% have portrayed negative stereotypes of gender characteristics, and 44% have portrayed negative stereotypes of gender roles.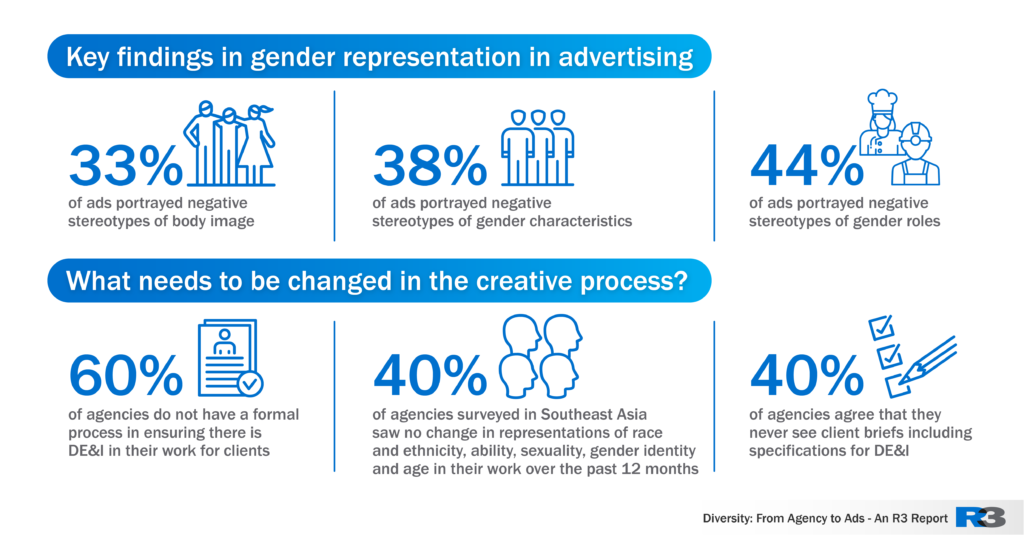 For Shufen Goh, co-founder and principal at R3, there should be a greater need for more people from diverse backgrounds in control of storytelling and production or we risk telling stories that are one-dimensional, adding that with 60% of agencies reported not having a formal process to ensure that diversity is addressed in client advertising is already considered a 'red flag'.
"Marketers can play a positive role and encourage greater change in the narratives being developed by requiring diversity among creative directors and producers and demanding more inclusive organizational design," Goh stated.
Despite the negative connotations, there are still brands who have persisted in creating campaigns that respect gender representation.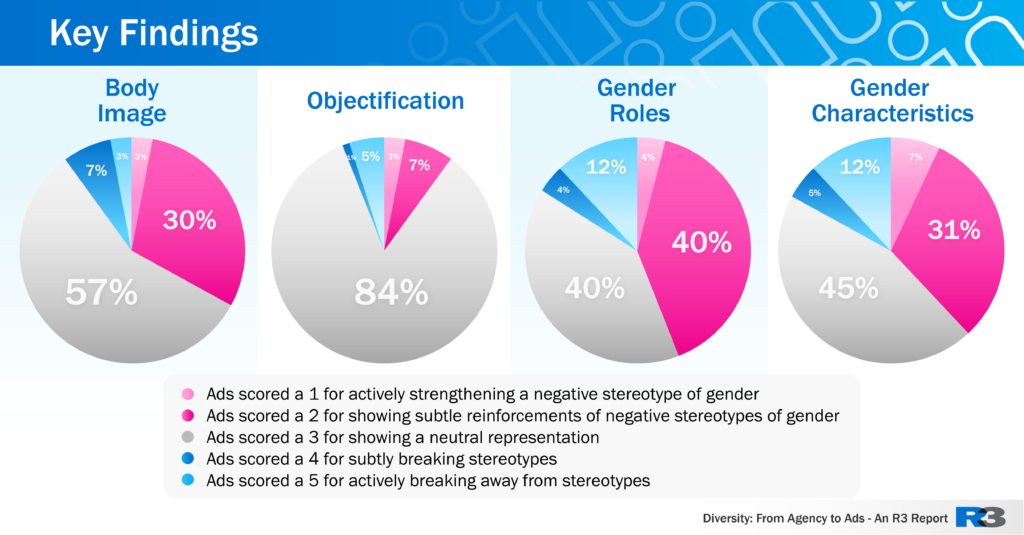 Based on the review, Kotex, Avon, Colgate, Apple, and Nike were five brands with the best gender representation in advertising in Southeast Asia. All brands scored positively in areas of avoiding objectification, positive body image portrayals, and positive portrayal of gender roles and characteristics. The best performing advertising addressed female empowerment, body positivity, ethnic and economic diversity, and sexual orientation.
In addition, female empowerment has been the focus of diversity initiatives across agencies in the region, though most activities reported were limited to educational and culture building exercises.
"If we look at progress through a regional lens, change is being made. There is greater representation across gender and ethnicity in the workforce, and more equality in agency leadership positions. Now it's time for marketers and agencies to come together and shift the topic of diversity from one of corporate culture and optional participation to tangible process and policy," Goh concluded.