The service of retail banking plays a significant role in consumers' financial lifestyle, and as the industry continuously witnesses disruptions, we can expect players in retail banking to continue to undergo considerable development and transformation. This then opens up the competition to devise newer strategies to strengthen businesses and provide customers with an enhanced banking experience.
Last December 2021, we saw this into fruition in the Philippine market. UnionBank, one of the leading banking institutions in the Philippines, specifically, the seventh-largest publicly-listed bank in the country, has revealed that it has decided to acquire Citi's consumer banking business in the country.
A few months prior to this, Citi has unveiled its new strategy to move its focus to its Institutional Clients Group in April 2021, driving them to finally let go of their consumer banking business in the Philippines. The acquisition by UnionBank entails a 'share and business transfer agreement' with various subsidiaries of Citi. Through this, UnionBank's transactions will now include Citi's credit card, personal loans, wealth management, and retail deposit businesses. It will also now own Citi's real estate interests in relation to Citibank Square located in Eastwood, one of Manila's main shopper destinations; three full-service bank branches, and five wealth centres, as well as two bank branch offices.
For MARKETECH APAC's industry deep dive The Inner State, we have invited Albert Cuadrante, Union Bank of the Philippines' chief marketing officer, to tell more about his insights regarding the marketing implications of the recent acquisition.
Impact of Citi's exit in the Philippines' retail banking industry
UnionBank is widely known as one of the most digitally transformed and future-forward banks in the country, with over four million users on its digital platform, while Citi has had the third-largest credit card franchise in the country and is a pre-eminent wealth management provider.
Cuadrante believes that, with the above in mind, the move is a very positive development for the retail banking industry because ultimately, the "real winners here are the customers."
He further shared that there is also a minimal overlap, particularly in credit cards which accounts for [a] large portion of Citi's customer base.
"The clear synergies that this acquisition presents us with opportunities to come out with even better products and further elevate our level of service to customers," noted Cuadrante.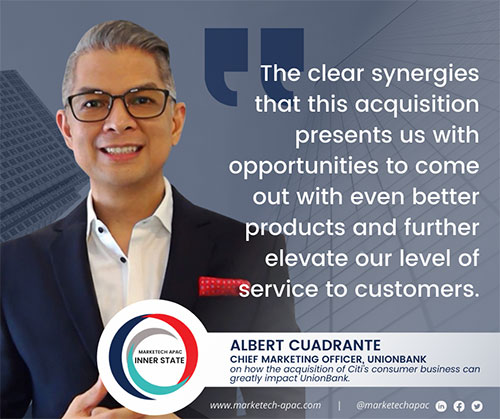 Uplifting UnionBank's brand positioning
As per the effects of the acquisition on UnionBank's brand positioning, Cuadrante said that UnionBank's aspiration is to be a 'great retail bank' focused on growing its consumer retail banking business and led by its digital transformation initiatives. With the recent acquisition, he believes that this will provide them with a transformational opportunity to fast-track their growth aspirations in the retail banking segment.
With Citi being the country's largest foreign bank and its consumer business offering a superior suite of product offerings in credit cards, personal loans, and wealth management, Cuadrante trusts that UnionBank will be able to benefit from Citi's expertise in product development, spending management, data intelligence and modelling, portfolio managing and cross-sell, and sales and distribution.
"This will enable UnionBank to effectively take the business to the next level and further strengthen our value proposition to our customers," he said.
Citi's customers transitioning to UnionBank
In terms of adopting Citi's consumer banking customers, Cuadrante noted that UnionBank is committed to ensuring the quality of products and level of customer service Citi customers are currently enjoying.
He said that customers will have access to UnionBank's digital channels, a wide range of product and service offerings, and branch network, over and above the existing branches, products, and services of Citi. In addition, customers will be able to benefit from its data-driven decision-making and omnichannel platform offering to enjoy personalised offers tailored to their needs.
Meanwhile, UnionBank plans to retain Citi's good performance amongst its clients by treating the Citi portfolio as a separate business unit until such time when they are able to fully integrate the systems and practices between UnionBank and Citi.
"Citi, on their part, is committed to supporting the transition and shall continue to provide regional support until we are able to migrate their entire consumer business to our systems and platforms," added Cuadrante.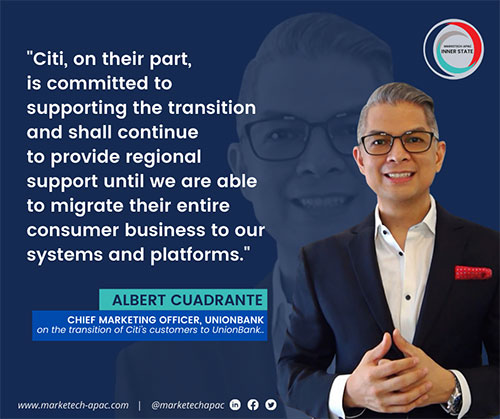 The long-term benefit of the acquisition to UnionBank
UnionBank is expecting results in significant synergies for them, particularly from the opportunity to cross-sell products to a larger combined customer base, helping them gain scale and increase profitability and grow their penetration rate.
Cuadrante said that the combined credit card portfolio will bring them to #4 in the industry, up from #10 currently, and within striking distance of the top 3. Citi also has close to one million customers, ranging from the mass affluent to the high net worth, which complements their over 10 million customer accounts today.
"The Citi customer base is largely incremental as there is minimal overlap, particularly in credit cards which accounts for [a] large portion of Citi's consumer business," he added.