Australia – It's that time again to review what has been – the good, the bad, and the exciting – in the year that's past. What people are searching on the internet has always been a top indicator of the issues and trends that are currently keeping them on their toes, and in the case of vibrant and diverse Aussies, pandemic remains to be the top tenant of their mindspace. 
How to get a vaccination certificate and how to make a DIY face mask emerged as some of the leading searches in the 'How to' category, showing how the pandemic not seeing its definitive end this year continues to keep Aussies busy on making the best of the health crisis.
Aside from the pandemic, Google found four more emerging themes in the searches of Australians over 2021 such as sports, DIY projects, world events, and home cooking.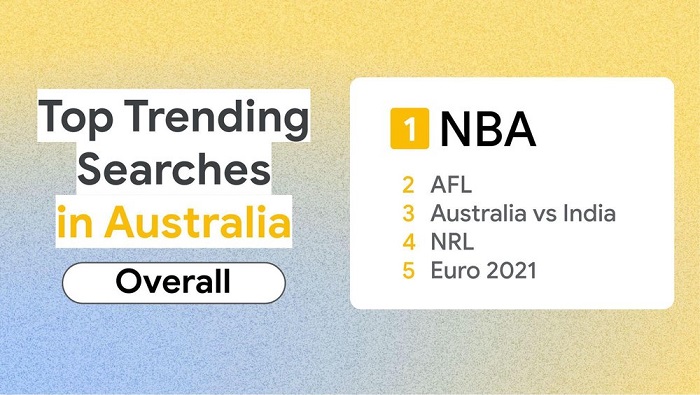 Sports-loving Aussies can't help to relish this interest with the top seven queries overall relating to basketball, footy, cricket, tennis, and the Olympics. Meanwhile, more time indoors made Aussies more comfortable exploring DIY projects where top 'How to' and DIY searches relate to curiosity in playing with candles, playdough, and paper boats. The pandemic dampening opportunities to meet people in person have made it up to themselves to break monotony day-to-day, showing keenness to explore classes in dance, pottery, piano, and even glass blowing. 
This year, Aussies were boggled with both local and world events, trying to be up to speed with the earthquake in Melbourne and the crisis in Afghanistan. The top searches also showed Aussies had been very interested in learning more about worldly concepts with search for terms emancipated, insurrection, and gaslighting leading the list.
On a lighter note, the domination of home cooking during the lockdown-heavy period didn't leave Aussies behind. Aussies' palate showed cravings for guacamole and tzatziki recipes with curried sausages coming up as an unexpected trend. Searches also demonstrated that Aussies returned to classic comfort food, craving gnocchi, lamb shanks, and minestrone soup, squeezing in their love for sweets with searches pointing to Anzac biscuits and rocky road. 
Overall, the top five searches by Aussies in 2021 were NBA, AFL, Australia vs India, NRL, and Euro 2021. 
Grouped per category by Google, here is the full list of the top searches in Australia for 2021:
Overall searches
NBA
AFL
Australia vs India
NRL
Euro 2021
Wimbledon
Olympic medal tally
COVID NSW
Coinspot
Prince Philip
News events
COVID NSW
Cleo Smith
QLD COVID update
Alec Baldwin
Coronavirus Victoria
William Tyrrell
Bert Newton
Christian Porter
Afghanistan
Melbourne earthquake
News events
COVID NSW
Cleo Smith
QLD COVID update
Alec Baldwin
Coronavirus Victoria
William Tyrrell
Bert Newton
Christian Porter
Afghanistan
Melbourne earthquake
Global figures
Alec Baldwin
Rita Ora
Travis Scott
Kyle Rittenhouse
Adele
Naomi Osaka
Pete Davidson
Simone Biles
Tiger Woods
Emma Raducanu
Loss
Prince Philip
Gabby Petito
Bert Newton
Brian Laundrie
Sean Lock
Michael Gudinski
Sarah Everard
Carla Zampatti
Helen McCrory
Larry King
Sport
NBA
AFL
Australia vs India
NRL
Euro 2021
Wimbledon
Olympics
Australian Open
EPL
French Open
Recipe(s)
Gnocchi recipes
Guacamole recipe
Curried sausages recipe
Anzac biscuits recipe
Negroni recipe
Lamb shank recipe
Brussels sprouts recipes
Minestrone soup recipe
Rocky road recipe
Tzatziki recipe
'How to…?'
How to get vaccination certificate
How to tie a tie
How to deliver uber eats
How to buy dogecoin
How to watch olympics australia
How to book COVID vaccine
How to watch euro 2021 in australia
How to link medicare to mygov
How to book pfizer vaccine
Million dollar vax how to enter
'How to make…?' DIY queries
How to make a face mask
How to make candles
How to make playdough
How to make a paper plane
How to make a chatterbox
How to make a website
How to make slime without glue
How to make a paper boat
How to make fake blood
How to make oxygen
Classes and lessons
Dance classes near me
Swimming lessons near me
Driving lessons
Pottery classes
Swimming classes for kids near me
Art classes near me
Guitar lessons near me
Piano lessons near me
Zumba classes near me
Glass blowing classes
Meanings and definitions
Emancipated meaning
Insurrection meaning
Gaslighting meaning
NAIDOC meaning
NFT meaning
Omicron meaning
Frigid meaning
Narcissist meaning
ROC meaning
Sedition meaning