Singapore – Asia's OTT video streaming platform, Viu, has launched a series of digital and out-of-home activations inspired by the latest Viu Original K-drama series, 'Again My Life', to bring Singaporeans back in time and immerse themselves in this new series.
Premiering today, 'Again My Life' is a fantasy crime thriller based on a popular webtoon and novel of the same title. It revolves around the life of 'K', which is starred by Korean actor Joon-gi Lee, a righteous and hot-blooded prosecutor who has no qualms about standing against corruption and tyranny. His investigations eventually led him to be brutally murdered, but the grim reaper offers him another chance at overthrowing his powerful adversaries.
To build excitement for the show, Viu Singapore is hosting an exclusive screening event at Zouk that will showcase the very first episode of 'Again My Life' today of its premiere in South Korea. It is expected to bring together K-drama fans in an action-packed festival filled with photo opportunities, trivia, goodie bag giveaways, and unforgettable moments. Registration was carried out on a first come first served basis and the event was fully subscribed in a week, with over 200 registered guests.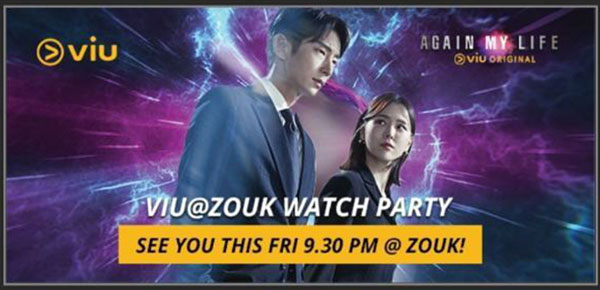 Moreover, in celebration of Joon-gi Lee's birthday on 17 April, Viu Singapore is giving out his favourite ice cream mint chocolate chip ice cream for free. To be a part of the celebration, fans can simply drop by the ice cream cart located at 313 Somerset Orchard on April 17 from 12 pm to 8 pm, flash the Viu app on their mobile device, and enjoy the sweet icy treat, while stocks last.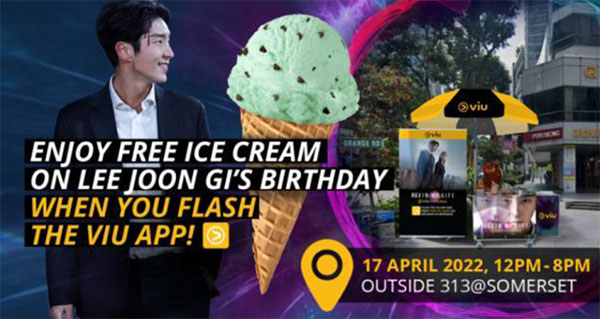 Meanwhile, fans can keep a lookout for Viu Singapore's upcoming 'Time Bolt' activation from 18 April to 8 May, which is inspired by time travel, one of the central themes in 'Again My Life'. Viu Singapore is bringing Singaporeans an immersive motion visual experience located at Waterway Point, Basement 1, where fans will get to 'travel back' in time visually, and 'see' their younger selves again, at the click of a button. This new immersive reality experience is brought to life by Neuromeka's flagship collaborative robot, Indy. Normally used by B2B industrial manufacturers to do pick and place for precision work, 'Indy', equipped with grippers, and vision sensors will be used for the first time in Asia to be programmed and work alongside humans, for this motion visual experience.
In line with the time travel and crime themes of the show, Viu Singapore is also creating an augmented reality filter contest on Facebook and Instagram, showcasing a crime scene from the past. The top three players per week to spot the five pieces of 'evidence' around the room in the shortest amount of time will stand a chance to win a $100 Shopee voucher each. This contest runs from 20 April to 11 May by simply snapping a photo showcasing the fastest time and share it on Viu's social post to win.
Cheryl Lim, Viu's country head of brand, marketing and communications for Singapore, said that they wanted to create a series of different activations that would bring to life memorable elements from the show so that it will be immersive and fun for fans and the public alike.
"We see every activation as a touchpoint for us to give Viu-ers an escape from their daily grind and into the world of Again My Life," added Lim.
In addition to the events and activations, Viu Singapore will also be launching a month-long integrated campaign supported by themed social media postings on Facebook and Instagram, display and social advertisements, influencer engagement, content strategy, and out-of-home single-decker big top bus advertisements to engage with consumers through various touchpoints across different channels.