Manila, Philippines – In times of distress and disaster aftermath, a large majority of Filipinos are purchasing more hygiene-related products, alluding to associating beauty and hygiene with dignity and self-respect even in times of hardships. This is according to the latest data from data analytics platform Packworks.
According to the data, 18% of the average total sales volume of sari-sari stores were hair care products. Laundry supplies and tools saw the second highest portion of average sales with 16%.
Other top priority purchase types of items purchased include breakfast items such as tea, coffee and creamer, and oats and cereals covered 14% and 13% of the total average sales, respectively.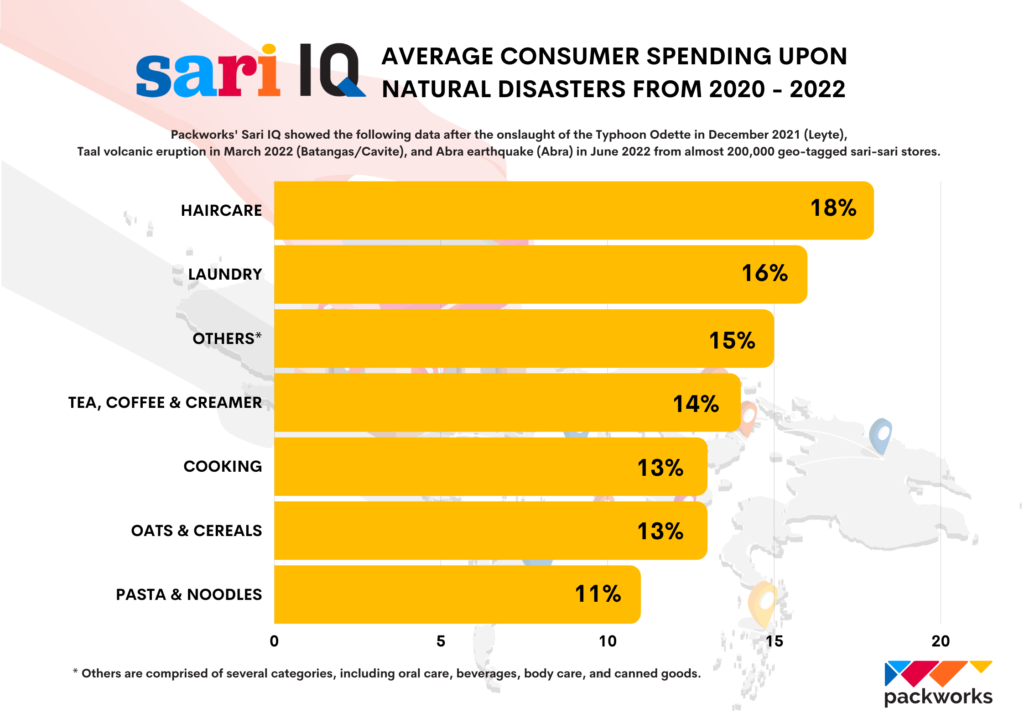 The data also notes that spending on shampoo and hair conditioner grew amid the occurrence of three natural disasters such as Typhoon Odette in December 2021 (Leyte), Taal volcanic eruption in March 2022 (Batangas/Cavite), and Abra earthquake (Abra) in June 2022.
The remaining total average sales of other sari-sari store items were evenly spread out to other fast-moving consumer goods (FMCGs) such as ready-to-eat beverages, snacks, instant noodles, canned goods, cooking essentials, and body and oral care items.
There were also specific purchasing trends on several events, including more than 50% uplift in the hair care category during the period of the Taal Volcano unrest around last week of March, and a 50% to 60% increase in food spending, specifically noodles and cooking essentials, after Typhoon Odette hit Leyte.
Andres Montiel, head of data at Packworks, said, "The Philippines is a regular target of natural disasters because of its location at the Pacific Ring of Fire. Residents at the epicenter opt to buy their immediate necessities from a nearby 'sari-sari' store rather than go to big supermarkets."
He added, "The analysis on the sari-sari stores becomes more valuable to track what items are deemed to be essential upon the occurrence of such natural disasters. This can be helpful in demand planning and product seasonality on the brand principal's end."