Manila, Philippines – As part of its Asia-Pacific campaign, soft drinks brand Pepsi and creative agency in the Philippines BBDO Guerrero have teamed up in a latest campaign that transformed Pepsi's soft drink cans into light sticks bearing the colors and figures of popular K-pop group BLACKPINK.
BLACKPINK was unveiled as the brand ambassador in the Asia Pacific region in January this year, following thereafter the launch of the limited-edition Pepsi cans that bore each of the group's members images namely Jisoo, Jennie, Rosé, and Lisa.
The campaign, launched through augmented reality (AR), is activated through a custom Instagram Stories filter, where the cans transform into the Pepsi BLACKPINK Light Sticks—giving every fan a chance to finally own a light stick and cheer for their favorite girl group.
It also comes with its own K-pop music, so fans could wave their light sticks and dance like they're in a BLACKPINK concert. Thousands of Pepsi cans lit up during its launch, lighting up the spirits of all BLACKPINK fans stuck at home.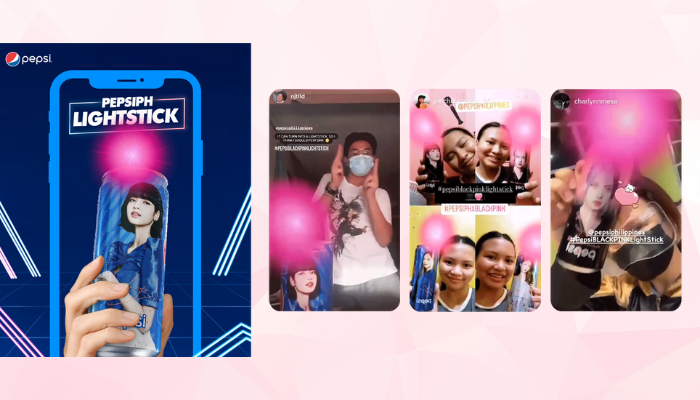 "When we announced BLACKPINK as Pepsi's newest brand ambassador, we wanted fans to have the full fandom experience especially at a time where concerts aren't the way they were before anymore. We're very happy that BBDO Guerrero was able to deliver this," said Mikey Rosales, marketing director at PepsiCo Philippines.
Said campaign has garnered 2.56 million engagements on Instagram, attesting to BLACKPINK's massive popularity among its fanbase in the Philippines, one of the biggest and most passionate K-pop fandoms worldwide.
The campaign's launch also has a functional facet, resolving the issue of donning light sticks which are an essential part of any K-pop concert-going experience. Normally, a real commercial light stick costs at least US$40, a price most fans can't afford.
"We've seen more opportunities open up in the digital space as we went into lockdown. And this Instagram filter is something that our team developed to show how existing technology can be made into something that our clients' fans can enjoy," said David Guerrero, creative chairman at BBDO Guerrero.
This is not the first time Pepsi has utilized AR technology for its other campaigns, as its Malaysian arm recently partnered with Entropia EXR to to launch a concert in a Pepsi bottle, which featured Malaysian singer and actress, Siti Nordiana (Nana), together with the winners of its #PepsiBoldTalent TikTok challenge.