Singapore – In honor of the late Dr. Yong Pung How, Singapore's former chief justice and Singapore Management University's (SMU) third chancellor, the university has announced that its School of Law will be renamed as 'Yong Pung How School of Law', effective on 11 April 2021. The said date would have been Dr. Yong's 95th birthday.
The late Dr. Yong was a respected figure in the legal profession, as he transformed the country's judiciary via key reforms that drove progress and excellence. Dr. Yong was also known in the higher education scene and was involved in the development of SMU's School of Law.
SMU said in a statement that Dr. Yong played a significant role in the development of its School of Law curriculum. He facilitated the close relationships between the school, the legal profession, and its stakeholders. He also established the Yong Pung How Professorship of Law in 2007, creating an excellent faculty.
Furthermore, he established the Yong Pung How Bursary in Law in 2013, which provides financial aid for less privileged students at the School of Law, and later in 2016, the Yong Pung How Bursary, which supports needy students across the university.
Yong Ying-I, daughter of Dr. Yong said, "My family is deeply honored and touched by the recognition that the SMU and the Singapore Government have given my father. He was greatly committed to the education of the next generation and this honor will enable his legacy to be remembered and built upon."
Meanwhile, Ho Kwon Ping, SMU's Chairman, commented that SMU has been privileged to have a deep association with the late Dr. Yong Pung How, as he was the university's pro-chancellor and then chancellor, who offered leadership and guidance.
"Dr. Yong was a force of wisdom and his legacy will continue to positively shape the growth of our University and the School of Law. We are humbled and privileged to honor Dr. Yong by naming our School of Law after him," added Ho Kwon Ping.
Similarly inspired by Dr. Yong's vision in legal innovation, the School of Law has also created in 2014 the Center for Cross Border Commercial Law in Asia (CEBCLA), which has today been renamed the Center for Commercial Law in Asia (CCLA). It has now four legal research centers, focusing on A.I. and data governance, computational law, cross-border commercial law, and international dispute resolution.
---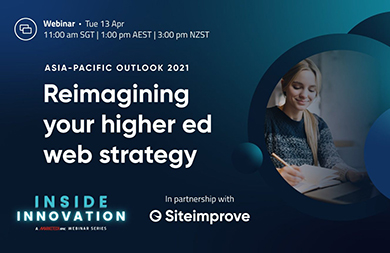 Join us as we bring you an in-depth webinar on how you can improve online strategies, one that's able to deliver a seamless and intelligent digital experience that would effectively accelerate student recruitment efforts as well as improve student retention. Register here.