Tasmania, Australia – Winter is already peeping in the land down under, and the island state of Tasmania has come to remind everyone of the great things they can enjoy in the place during the off season.
Tourism Tasmania, the dedicated organization for fostering tourism in the state, has released with creative agency BMF a new two-part spot that is as chilly and sensual as the approaching winter.
The campaign is called 'The Call of the Off Season' and the ad exploits the virtue of 'subtlety' by simply showcasing a montage of Australians living their lives through different winter recreational activities.
Tourism Tasmania wanted Australians to embrace, rather than escape winter and BMF romanticizes the season by creating an intimate 15-minute spot that is able to transport the different feelings of wanderlust, gastronomy, and relaxation through a chilly exhale, the waves of the sea, and the chirping of birds.
BMF describes it as, "Whether it's the almighty roar of a pagan bonfire, the hiss of a lakeside sauna, the beautiful mess of a seafood feast or the throb of a festival stage, Tasmania in winter is anything but chill. The off season celebrates the colder, darker months, and everything weird and wonderful that comes with it.
Thomasine Burnap, group planning director of BMF, said that the campaign aims to culturally redefine how the rest of Australia sees winter because in 'Tassie', it's "when the locals feast harder, dance longer, and embrace the very wilderness that defines them."
BMF Chief Creative Officer Alex Derwin adds, "The Off Season is a way of encapsulating not just the change of temperature but the change in attitude that happens in Tasmania during winter. It's exciting to add a new dimension to the Come Down For Air platform and we're looking forward to seeing 'offness' embraced, not just this winter, but in the winters to come."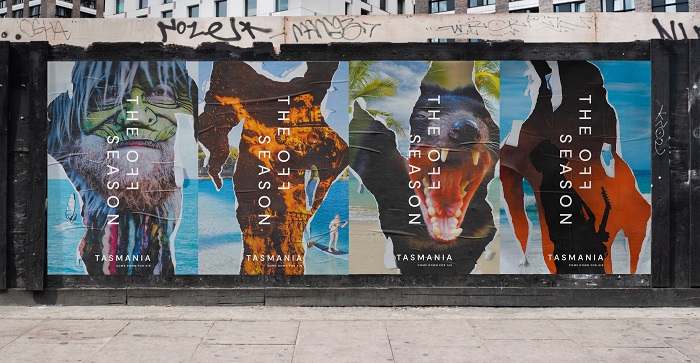 The Come Down For Air (CDFA) is a branding campaign by Tourism Tasmania which was launched in 2019. The organization also has a separate CDFA campaign for New Zealand and overall, the campaign aims to invite travelers to take a break from the stress and routine of everyday life, and explores what the island has in store to help one feel more 'human' and rejuvenated. The new ad with BMF is part of the said platform.
Tourism Tasmania CEO John Fitzgerald said, "Some people see winter as a time to hibernate and wait for the cooler season to end. This campaign invites Australians to get off the couch and embrace a wintery holiday in Tasmania. Because Tasmanians embrace the season like nowhere else – winter is when we thrive, get out and about seeking to be enriched, feel alive and connected."
'The Call of the Off Season' is an integrated campaign and includes TV, outdoor, radio, and press and is brought to life digitally by Clemenger BBDO Sydney with media buying by Initiative.