Australia – Colgate has been championing the importance of inclusivity through its 'Smile Strong' brand platform, and today, we see its ANZ team bringing a stride to this mission for the belonging of athletes. Previously, the brand has partnered with Australia's football league, the AFL, and a new project has come to the fore that involves an innovative sports equipment prototype. 
Called the 'Hear Gear', Colgate and agency VMLY&R have tied up with sports equipment maker Steeden to develop a headgear that is suitable for deaf and hard-of-hearing athletes. Traditional headgear is designed to sit flush against the head to protect the wearer, but this would also mean that for a player donning a hearing implant, not being able to maximise such assistance as the standard headpiece also absorbs the vibrations that carry sound to it.
Ideated by VMLY&R and designed, tested, and built by Steeden, the creation of 'Hear Gear' aims to help to create a more equitable environment for hearing-impaired athletes. It uses a new mould with redesigned padding that both accommodates and channels sound to the hearing implant. The lines external to 'Hear Gear' represent the sound that is now being channelled towards the ear.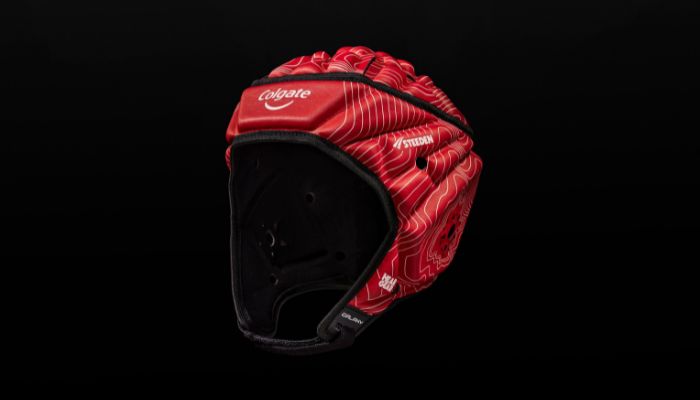 Anthony Crewes, marketing director of Colgate-Palmolive ANZ, said the 'Hear Gear' project is a truly meaningful expression of its 'Smile Strong' platform. He shared that it is mainly inspired by QAFLW athlete Jamie Howell's real-life experience as a hard-hearing sports player, which in turn, could have wide-reaching effects in the whole of Australia. 
"Now, we have moved from telling stories to actively creating them!" remarked Crewes.
Back in September 2022, we hear Howell's story for the first time under the 'Smile Strong' campaign. For the present project, Colgate has unveiled a short film that shows the amazing design of 'Hear Gear' and Howell trying it out for herself.
Colgate has funded the first production run of 'Hear Gear' via Steeden, which is the sole owner of the design, in order for AFL players to start having a more fulfilling and comfortable experience on the playing field. 
"We are so fortunate to work with a brand that doesn't just talk about optimism, they do things in the real world to create it," said Paul Nagy, CCO of VMLY&R AUNZ. "It's a connected brand really having a positive impact. Hear Gear is a simple tool that gives more Australians the ability to enjoy sport just like everybody else, and I'm proud to have been a part of it."