Singapore – Safe Travel Barometer, a comprehensive database for COVID-19 traveler health and safety protocols, has released the Safe Travel Score for airports worldwide, where Singapore emerged as the safest airport in the world.
The country's Changi airport received a Safe Travel Score of 4.7 out of 5. The score indicates preparedness of the travel industry as part of the "new normal."
The Safe Travel Score is based on an independent audit of more than 20 safety parameters applicable to in-airport experience, including COVID-19 related hygiene and safety measures announced among travelers, airline crew, and on-ground staff.
According to the travel advisory, Changi airport has taken several proactive measures, including the implementation of touchless processes to enhance the passenger experience across the landside and airside areas. These include sensor-based check-in kiosks and biometric-based immigration systems to eliminate fingerprint scanning.
Rated next to Changi airport, and included in the top 10 are Frankfurt Airport (FRA), Chengdu Shuangliu International Airport (CTU), and Delhi's Indira Gandhi International Airport (DEL). Each tied at a Safe Travel Score of 4.6 out of 5. UAE's Abu Dhabi International Airport (AUH) and Dubai International Airport (DXB), on the other hand, are tied at 4.5 each.
Other airports that made it to the list include Bengaluru Kempegowda International Airport (BLR), Hong Kong International Airport (HKG), Beijing Capital International Airport (PEK), and London Heathrow (LHR).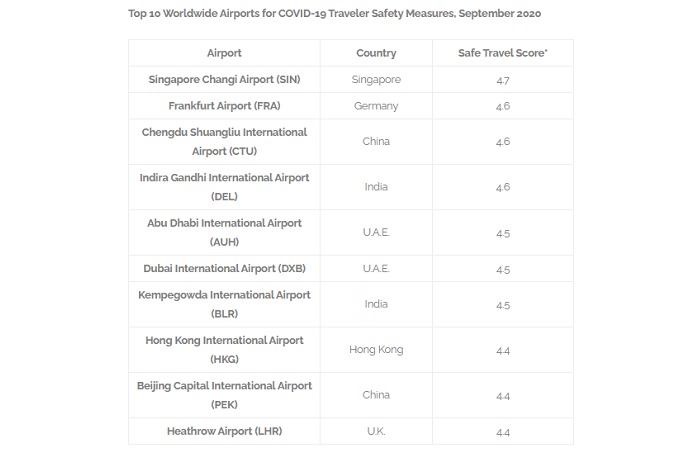 Virendra Jain, co-founder and CEO of Safe Travel stated, "Airports play a critical role in easing the passengers into the new normal. They are the first line of defense in ensuring a safe and less anxious journey. Overnight, hundreds of airports worldwide had to upend their operational processes; research, evaluate and implement a variety of initiatives to ensure traveler and crew safety and comfort, while also minimizing the chances of COVID-19 transmission."
Jain added, "The successive release of the Safe Travel Score for airlines and airports allows us to piece together a holistic view of air travel, beginning from the airside all the way through on-board experiences. Our independent rating centered on traveler health and safety measures establishes a baseline for travel brands, while equally offering travelers a glimpse into what they can expect in their journeys.