Kuala Lumpur, Malaysia – On 13 May, the Muslim community in Malaysia celebrated Hari Raya Aidilfitri to mark the end of Ramadan, and prior to the day, brands and companies each released their share of the commemoration of the festivity. 
For PepsiCo's carbonated and fruit-flavored beverage brand, Mirinda, it's a fun and light campaign that celebrates family ties in the new normal.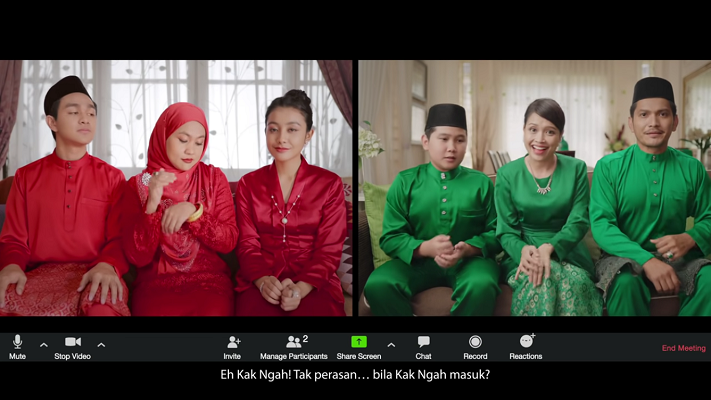 The brand has teamed up with creative agency Entropia for a film of madcap family antics. It shows a wacky and colorful family who is separated by social distancing but finds a fun and exciting way to celebrate Hari Raya this year with Mirinda. 
Undeterred by communicating only via Zoom video calls, with a bit of playful family rivalry thrown in, they sing, dance, and come together virtually in an epic rap song battle to share their Raya experiences.
According to April Toh, principal at Entropia, the idea for the campaign came about as they wanted to showcase the excitement and refreshing taste of Mirinda's flavors through the vibrant colors of the product.
"Additionally, we wanted to stand out from the various Raya ads that we see each year, and what better way than to have an energetic rap song, especially for younger Gen-Z fans of the brand," said Toh.
Jennifer Lee, beverage marketing lead of PepsiCo, said, "Mirinda is a refreshing, tongue-tingling taste that makes you go AAAH! While we encounter another socially distanced festive, we are committed to preserving the spirit of togetherness during Raya and with content that both highlights our refreshing taste, AAAH! and inspiring creativity co-created with Raya festivities."
Being its official creative partner, Entropia has also recently created an innovative AR campaign for the flagship Pepsi brand, making possible a concert experience be viewed through a Pepsi bottle. It was spearheaded by Entropia's extended reality arm EXR, and the concert featured Malaysian singer and actress Siti Nordiana.