Kuala Lumpur, Malaysia – The Malaysian arm of streaming platform giant YouTube is hosting the Pesta Game 2021, a first 'Hari Sukan' or sport's day hosted within a virtual platform.
The event is a direct inspiration from last year's status of the online gaming community, as the YouTube gaming community has garnered over 100 billion watch time hours clocked across a whopping 40 million active gaming channels worldwide.
Players will come from Malaysia's YouTube top content creators and with participation from the YouTube audience, and will be supported by partnerships with esports portal MyGameOn and video game entertainment site IGN Southeast Asia. The event will feature games, including puzzle game 'Keep Talking, Nobody Explodes', multiplayer royale games 'Valorant' and 'PlayerUnknown's Battlegrounds (PUBG)', and soccer video game FIFA 2021.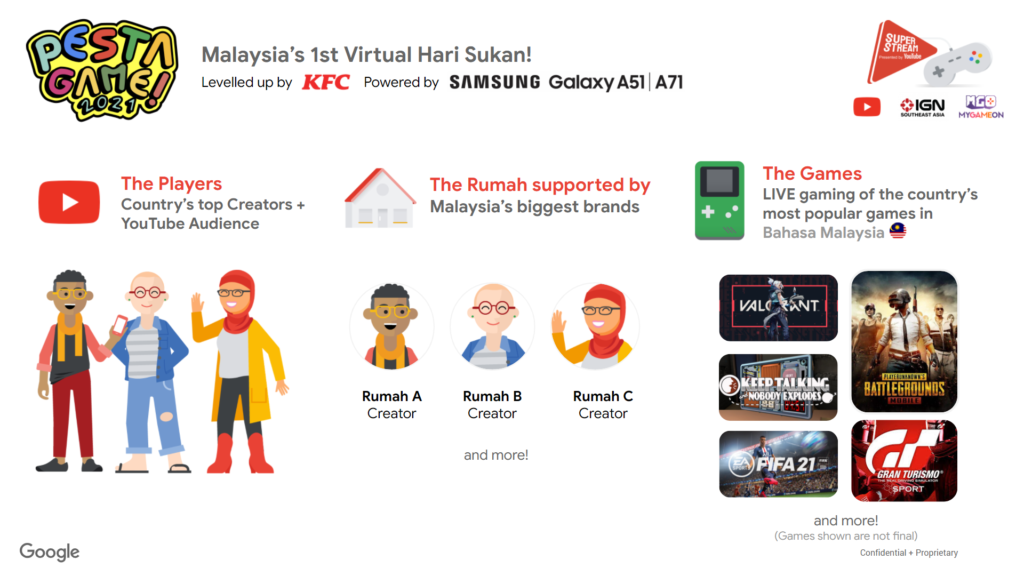 "Gaming has always been an important part of the Malaysian YouTube community, and there's certainly no better time to game than the present. Pesta Game allows us to get together safely from the comfort of our homes and be immersively entertained by countless gaming live streams featuring Malaysia's favorite Creators on YouTube across mobile devices, desktops, and connected TVs," said Ben Jern, head of YouTube Malaysia.
The event also sees a partnership with fast-food chain KFC and with Samsung A51 | A71.
"We are thrilled to be part of an event that celebrates the community of e-sports talents we have in Malaysia, while supporting the importance of gaming as a sport. We are committed to making an awesome gaming experience accessible while ensuring seamless connectivity and performance through the Galaxy A series, and with events such as this, can meaningful innovation be realized," Edward Han, president of Samsung Malaysia Electronics commented.
A spokesperson for KFC said, "KFC is excited to partner with Google for Malaysia's 1st virtual 'Hari Sukan'. As the nation's favorite fried chicken, KFC is happy to level up Pesta Game with freshly made and delicious KFC – perfect for this innovative, vibrant and energetic event! With all the happenings around the country, Pesta Game presents a perfect outlet for YouTube creators and audience to have fun, enjoy great food, and simultaneously connect with each other virtually and safely."
The Pesta Games will be livestreamed January 30th and 31st and in Bahasa Malaysia across some of Malaysia's biggest YouTube channels, from Media Prima's Drama Sangat, NTV7, TV3, and TV9 channels, to individual channels of creators participating in the games: Athisha Khan, Dumpling Soda, Fuzz Channel, Isaac Osman, Syedot ASMR, and Wiser MY.